Tito Vilanova: Leading the evolution of the Blaugrana model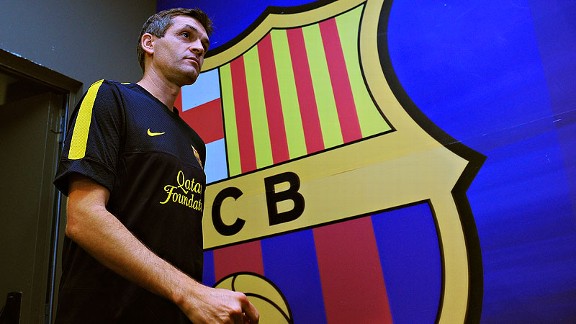 Lluis Gene/AFP/Getty ImagesTito Vilanova has the Blaugranas off to one of the best starts to a season in the club's history.
When Tito Vilanova accepted the extremely challenging task of succeeding Pep Guardiola, he explained that he would lose in any comparisons to his predecessor. I feel he was being far too humble then: The new Blaugrana coach may not be as charismatic or well-spoken, but the truth is he is doing a tremendous job, proving doubters wrong with one of the best starts to a season in the club's history.

Barcelona have won 82% of matches since Tito Vilanova was appointed manager. Sure, the team is far from perfect and some aspects need careful consideration and improvement, but what can't be denied is that the players have welcomed their new manager with open arms and are pleased with the way the transition has worked so far.

Vice-captain Xavi explained: "When Pep Guardiola was here, he talked to the players, directed training, analysed videos … Tito was not a leader then, but he is now. [He] is very well-prepared, has clear ideas and understands the Barcelona concepts and philosophy. He's our leader."

After helping the Catalans win 14 out of 19 possible titles as an assistant manager, Tito Vilanova was the clear choice to continue to build on Guardiola's legacy. Under Pep, Barcelona perfected the traditional pass-and-move idea that Johan Cruyff introduced over 20 years ago to the point that whoever came into the team played from memory, having understood all the required formations and mechanisms to perfection.

Unfortunately, it came to a point were rivals began to understand how to defend against the Pep Team. This fact became increasingly clear when the Blaugranas were knocked out of the 2011/12 Champions League after Chelsea opted for an ultra-defensive approach, which centered around man-marking Lionel Messi with up to four players and parking the bus in front their own area, hoping to create danger with quick counterattacks.

Fact: Barcelona lost the away leg in London 1-0 after taking 24 shots and enjoying 80% possession.

Lack of fitness, the absence of several key players due to long-term injuries and even Guardiola's inability to decide whether to sign a new contract or not were used as excuses at the time, but the truth is that such a disappointing defeat sent all the alarm bells ringing -- and rightly so.

I believe the main reason behind Pep's departure is simple: He felt Barcelona needed a new direction, perhaps including some painful changes, but lacked the energy to carry them out after four years trying to do too much.

Pep Guardiola's aura was such that he had the final say in most areas concerning our club: tactics, signings, youth system, public relations and even Catalan politics at times. Here's a clear indication of his importance: Since his departure, president Sandro Rosell has increased his appearances in the media, Andoni Zubizarreta has a more powerful role as sporting director and Vilanova is a coach who just coaches, rather than being involved in matters beyond the pitch.

Fortunately, it is obvious that those changes that Pep was referring to are beginning to happen under Vilanova. For example, the midfield transitions are not as long as they used to be. Players such as Xavi, Sergio Busquets or Andres Iniesta now tend to look for a through pass after a mere two or three midfield combinations, as opposed to the more elaborate approach in recent seasons. Under Tito, there is no need to constantly go back to Xavi for more side-to-side possession; once the first line of pressing is broken, the aim is to look forward for an opening. Long balls are no longer a sin, as shows the fact that Victor Valdes often simply boots the ball to the wing when he's under pressure.

I'm not saying this more direct approach is better or worse but, judging by the team results so far, the evolution seems to be working.

Final Word

As a long-life Cule, I was gutted to hear that the most successful manager in over 110 years of history had decided to leave the club despite having such talented players at his disposal. Having said that, it was clear that Barcelona had reached the dreaded "evolve or die" point.

I was unsure as to whether Tito Vilanova was going to be able to continue the great work he started in conjunction with his predecessor without the inspirational leader behind it all, but I must admit that he has surpassed my expectations so far.

The fact that Tito is beginning to change a few details and trying to put his own stamp on the previous model also shows a great deal of personality and self-belief.

May the good work continue!

Have your say

I welcome and appreciate all respectful feedback.

Would you like to share any other important points with us?

As regular readers have realized I enjoy engaging in debate using the ESPN conversation gadget. Over 31,000 Cules follow all my posts and comments at @Barcablog_com and Facebook already. Feel free to join if you would like to keep updated.