La Masia: The ultimate source of Blaugrana magic
With most of the media attention focusing on the international break (with Pedro scoring a tremendous hat-trick and Jordi Alba adding the other Spanish goal for a 0-4 scoreline at Belarus and Lionel Messi starring with a double to lead the 3-0 Argentina win over Uruguay), I would like to use this opportunity to highlight the importance of a never-ending source of Blaugrana talent: La Masia youth academy.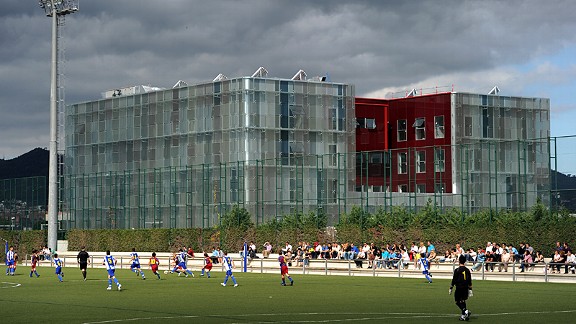 GettyImagesAn external view of the site which aims to bring Barcelona's kids through to the first team


Fact: Barcelona have invested 244 million euros to build the current squad while rivals Real Madrid have needed 501 million euros in order to gather a group of players who are able to compete at a similar level -- How is this possible?

Barcelona would not be nearly as successful if it wasn't for the constant development work carried by hundreds of coaches, teachers, mentors, cooks, doctors, psychologists and, above all, carefully selected youngsters at La Masia. The concept that former president Josep Lluis Nunez developed based on a Johan Cruyff suggestion back in 1979 has produced legendary players such as Pep Guardiola, Carles Puyol, Xavi Hernandez and a certain Lionel Messi in the process.

The Barcelona academy has become a model that many clubs around the world are trying to copy, as shows the fact that La Masia directors are constantly sharing their concepts and showing visitors around the residence. Being so open about the development of young players is certainly not a problem as there are no secrets other than a strict selection system, continued sacrifice, focus on academic success during the day and playing football following our traditional pass-and-move philosophy every evening.

Current La Masia director Guillermo Amor, a former graduate and Barcelona star himself, explained: "I don't think it's about secrets. It's about having confidence in what you do, in the work that's been undertaken for many years and on a clear bet on young people, on the youth system, because the proven results are there. Many of the players on the first team are from here, from our house. We see that we have people in the system with a lot of quality and potential to one day make it to the first team."

Out of the 25 Barcelona first team players, a remarkable 17 reached professional football after completing most or a massively important part of their development at La Masia. Sure, players such as Cesc Fabregas, Gerard Pique or Jordi Alba had to prove their worth at other clubs before making it to the Camp Nou but the concepts acquired in the Blaugrana academy helped them become what they are today.

The 2010 Ballon d'Or marked a memorable moment for La Masia, with Lionel Messi, Andres Iniesta and Xavi Hernandez being named the Top 3 football players on the planet. "For us it was a very special moment," Amor said. "The fact that a person comes out of our system, reaches the first team, achieves so much and wins the biggest individual award in world football can't be topped. But having three of them? Even better. And any one of them deserved it. Messi is a genius. He's the best and deserves it, but Xavi as well as Iniesta could have perfectly walked away with it. It helps us because people, especially the youth in our system, can see what the first team is made of, what they have achieved through hard work."

Pep Guardiola played a key role in promoting young players into the first team with ease, giving them increasing responsibility as years went by. The trust he put in players such as Pedro or Sergio Busquets proved invaluable for their development and, most importantly, boosted quality to a point that Barcelona won 14 out of 19 possible titles under his management.

Tito Vilanova now has the responsibility of continuing the work that Johan Cruyff started in that romantic, iconic stone farmhouse which overlooks the Camp Nou over 30 years ago. Choosing Martin Montoya to replace Dani Alves in the recent Clasico shows our new coach is determined to ensure our La Masia model continues for many years to come.

Central defender Marc Bartra is definitely next in line, but upcoming youngsters such as cheeky winger Gerard Deulofeu, powerful striker Jean-Marie Dongou, speedy left-back Alex Grimaldo or future commander Sergi Samper are also working tirelessly to get their chance sooner rather than later.

As a born Catalan and life-long Cule, I couldn't be prouder of the values and philosophy that the club continues to follow throughout the years. I honestly wouldn't have it any other way.

Mes Que Un Club!

Have your say

I welcome and appreciate all respectful feedback.

Would you like to share any other important points with us?

As regular readers have realized I enjoy engaging in debate using the ESPN conversation gadget. Over 31,000 Cules follow all my posts and comments at @Barcablog_com and Facebook already. Feel free to join if you would like to keep updated.