David Villa deserves better; Eric Abidal dreams of return
David Villa is the best Spanish striker in history, judging by his tremendous goalscoring record with the national team (52 in 83 appearances) and undisputed impact for every team he has played for in La Liga (243 goals, 87 assists in 471 appearances for four different La Liga teams since 2001).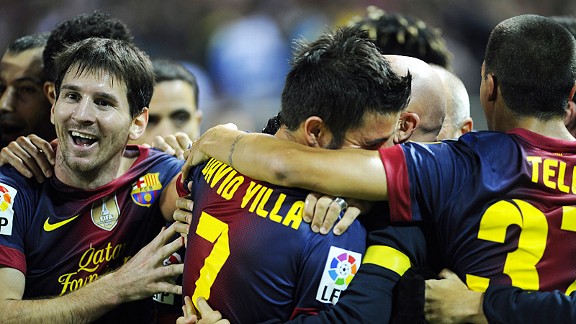 GettyImagesBarcelona celebrate David Villa's late, late winner at Sevilla
El Guaje has played for a variety of clubs: Sporting Gijon and Zaragoza were fiercely fighting to avoid relegation, Valencia's target was closing the gap to the top two teams in La Liga while working towards a top-four finish to access the Champions League group phase and, since his 40 million euro transfer to Barcelona back in 2010, a team with the ultra-challenging task of winning every competition entered.

Based on the evidence, saying his performance has been consistently excellent for the last 12 years is no exaggeration.

Barcelona really missed David Villa's goals during his long-term absence last season, caused by a terrible tibia injury while playing the Club World Cup in December 2011. Lionel Messi was forced to cover and, while La Pulga went on to score a tremendous 73 goals in the process, the truth is the Blaugranas became over-reliant on the Argentinian wizard, making the traditional pass-and-move idea easily predictable at times, especially when fitness was far from optimal in the closing stages of the season.

As I explained in this previous article, I was (and still am) convinced that Villa has what it takes to take Barcelona back to the top of world football and solve those ongoing attacking worries.

Despite the fact that El Guaje is ready to rumble again, Tito Vilanova has not given him enough playing time to show his worth yet. The Asturian forward has only played 112 minutes and been given one start in La Liga this season. The fact that he has already scored three goals in that short amount of time should have entitled him to at least feature in El Clasico against Real Madrid but, instead, he spent 20 minutes warming up before returning to the dressing room as an unused substitute.

Many players of his calibre would be desperate to use the media to their advantage in such a situation. Not Villa. Despite going through yet another disappointing episode, he has nothing but praise for his coach, team-mates and the club as a whole. A true professional, as shows the fact that Vicente Del Bosque keeps calling him up for Spain internationals despite his lack of playing time.

I sincerely hope Villa remains calm and focused on getting the chance he so clearly deserves. Sure, Vilanova also has Messi, Pedro, Alexis and Tello at his disposal but, considering the amount of matches Barcelona are expected to play (and win) every season, neglecting the team from one of our best goalscorers for no apparent reason would be a major, costly mistake.

Eric Abidal accelerates his recovery

Great news, Cules. Despite having spent over seven months sidelined due to a major liver operation, we have recently seen The French Bull stepping up his fitness regime with intense training on and off the pitch under constant supervision from his doctors.

While the main concern must be to recover the man before the player, I can't help but dream of the impact his hypothetical return to football would have. The Barcelona squad would gain a key member, an experienced player who the youngsters look up to and everyone respects and loves. His undeniable charisma, commanding presence and unlimited work ethic would be an instant boost for our vulnerable defensive line. In short: A dream come true.

Catalan optimists are predicting that Abidal will train with Vilanova's squad from November and wear the Blaugrana again before the end of 2012. While I am totally against speeding up a player's recovery until they are ready, it seems that he is perfectly happy to continue to make sacrifices in order to come back to football as soon as possible.

Admirable effort from a legendary player, a true example to future generations.

Have your say

I welcome and appreciate all respectful feedback.

Would you like to share any other important points with us?

As regular readers have realised, I enjoy engaging in debate using the ESPN conversation gadget. Over 31,000 Cules follow all my posts and comments at @Barcablog_com and Facebook already. Feel free to join if you would like to keep updated.