Barca must bounce back from Basque slip up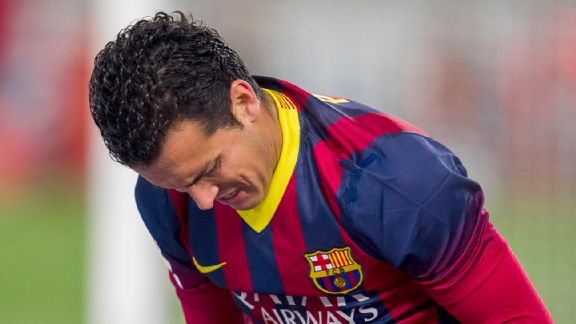 Juan Manuel Serrano Arce/Getty ImagesPedro and Barcelona departed San Sebastian empty-handed for the second straight season in league play.
Match-ups between direct title rivals are very important when it comes to deciding league winners. However, the key to success is ensuring those all-important points against mid and lower table teams are added both at home and away.

It happens every year: The most regular side will ultimately end up celebrating euphorically while those who couldn't keep their concentration levels up on a weekly basis will spend the off-season trying to wonder why they weren't capable of performing as well as possible against those so-called minor teams.

- Ledwith: Terrible night for bad Barcelona

The painful 3-1 defeat at the Anoeta against Real Sociedad may prove decisive at the end of the season, especially considering the fact that main rivals Atletico and, especially, Real Madrid aren't likely to take their feet off the accelerator until the competition is over.

Having led the table at the end of 60 out of the last 61 La Liga rounds, Barcelona are walking into unknown territory because of their own mistakes. Chasing Los Merengues by three points leaves the Blaugrana with very little room for any further slip-ups. While it is clear that there are 39 more points and several direct games between the top three which are yet to be played, the club's tranquility of being ahead can't be overlooked.

Gerardo Martino openly admitted that the way in which he prepared his team for the clash against Real Sociedad was wrong. Personally, I must agree with his harsh, yet honest judgment.

Visiting San Sebastian has traditionally been a huge challenge for Barcelona, evidenced by the fact that the Catalans' last victory at the Anoeta Stadium was back in the 2006-07 season. Having been knocked out of the Copa del Rey only last week also helped the Basques to add that extra spark to their already aggressive game.

Despite facing a team that had only lost one of their previous 12 home games and is currently fifth in La Liga, Martino chose to field a surprising six non-regulars in the starting lineup. The back-line was, as usual, regrettably weak both on set-pieces and whenever they were faced with direct counter-attacking bursts. The inclusion of Alex Song in midfield didn't add much defensive pressure and, to make matters worse, slowed the dynamic flow which the Blaugrana midfield had so encouragingly displayed in recent games. Those who started against Manchester City in midweek seemed to lack the required level of interest, as if their victory at the Etihad was somehow going to help them overcome Sociedad with minimum effort.

The list of embarrassing points about the game on Saturday could go on and on but, at this point, I'm sure you get the picture: A forgettable performance which the players must put behind them as a matter of urgency if they are to achieve the required level of success in the remainder of the season.

That said; there is still time to turn the situation around. Barcelona achieved an excellent result in their away leg of the Champions League round of 16 against the team with the most deadly attack in the English Premiership. They have also secured their place in an incredibly exciting Copa del Rey final against Madrid. In La Liga, they have given up their privileged position at the top but are only three points away from regaining their favourite spot. With Real visiting Atletico next Sunday, the Blaugranas could be back on top as soon as next week.

Modern football is becoming more physical and dynamic by the minute. With that in mind, it is obvious that any rival who defends well and is fit enough not only to chase after the ball, but also counterattack when in possession will be hard for Barcelona to overcome unless the Catalans play at their very best.

It's important for Barcelona to learn from the obvious mistakes committed in the Basque Country and ensure that, from the very next match, every minute against whichever rival is given the required level of attention and focus.

The quote: "This was a difficult loss, seeing how equal the league is right now. I don't know if this is a step back, but the feelings after the match aren't good. We didn't interpret the game like we were supposed to, and we paid for it. This defeat shouldn't make us give up. We have to work hard and turn this situation around. There are many points left, and we have games against direct rivals." -- Andres Iniesta.

More than 319,000 Cules follow Francesc Tomas at @TomasESPN and Barcablog Facebook for news and opinion notes on Barcelona.