Barcelona secure superb result in Manchester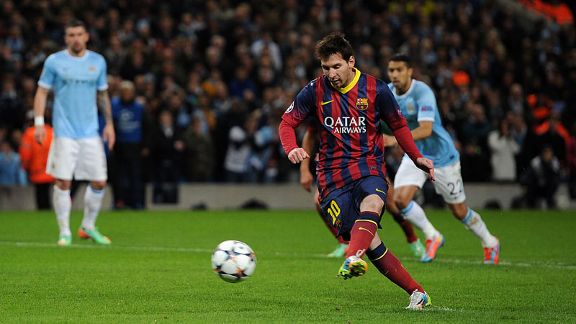 PA PhotosLionel Messi strokes home a penalty to send Barcelona into the lead.
Barcelona secured a valuable 0-2 win against Manchester City at the Etihad Stadium in the first leg of the Champions League last 16. Lionel Messi and Dani Alves scored the goals for the Blaugrana, who enjoyed 67 percent of possession, created 10 goal-scoring chances and attempted seven shots, four of them on target.

Key 1 - As expected, Gerardo Martino fielded a team full of skillful playmakers who ensured that Barcelona retained as much possession of the ball as possible in order to control the midfield battle.

Xavi, Andres Iniesta, Sergio Busquets and Cesc Fabregas were instrumental from the initial whistle. The way in which they controlled the pace of the game was too much for the determined Citizens to handle. While it must also be said that the Blaugranas lacked some more depth in their final attacking third at times, the truth is that their midfield dominance enabled them to grab a hugely positive result in Manchester.

- Hunter: Barcelona show patience
- Brewin: Three Things - Man City v Barca
- Pellegrini vents fury at Swedish ref

The key moment came as a result of a quick attacking combination between Iniesta and, who else, but the legendary Leo Messi. The quadruple Ballon d'Or winner was fouled by Martin Demichelis right before entering Joe Hart's area. While the fact the 33-year-old Argentinean was sent off as a result was not surprising at all, I totally understand that many could feel that awarding the Catalans a penalty was debatable.

From that moment on, Barcelona continued to dominate the game and managed to control their advantage thanks to their traditional passing style. Sure, Manuel Pellegrini introduced some changes to chase the match, but, ultimately, the Blaugranas made their vast experience in games of this calibre count and ensured their possession-based football did the rest of the talking.

The late goal by Dani Alves, following yet another combination with substitute Neymar, was a hugely welcome addition.

Key 2 - While it is obvious the 0-2 victory is a huge boost for Barcelona, the tie is far from over. With yet another 90 minutes to be played at the Camp Nou, it would be both unreasonable and dangerous to underestimate City and start thinking about the next round before qualification is actually achieved.

Don't get me wrong, I do believe Barcelona are capable of defending their favourable result in front of their adoring home crowd. Having said that, Manchester City are a solid team full of world-class stars who will definitely relish the chance of proving their worth in the return match.

As long as Martino's men stick to the very same game plan displayed at the Etihad Stadium (meaningful possession, dynamic runs into space and reasonable aim in front of goal), Cules have every right to trust their team will progress to the next round. However, the obvious threat posed by their English opponents must be taken seriously, as any unnecessary distractions could bring City back into the tie at any point.

Key 3 - Victor Valdes was, once again, decisive. The Catalan goalkeeper made several key saves when his team needed it the most and, thanks to his consistency and leadership, was able to keep his under-pressure back line on the right track.

Despite having already announced his intention to leave Barcelona at the end of the season, Valdes keeps excelling week in, week out. His professional, determined attitude is hugely welcome by teammates, coaches and supporters.

Many fans will be gutted to see a player of such unique skills and experience (first player to reach 50 games in the Champions League knockout stages) leave for free in the summer. To be totally honest, I still don't quite understand why he is looking for a move elsewhere, but, having said that, fans are left with no option but to accept his decision and thank him for the memories.

The quote: "It's a fantastic result for us, but we can't think the tie is over yet. They pushed us to the limit, even after going down to 10 men. The penalty was clear and the sending off was fair; he was the last defender. Our idea was keeping the ball and looking for some away goals. City have many great players, so we had to take our chances." - Iniesta.

More than 306,000 Cules follow Francesc Tomas at @TomasESPN and Barcablog Facebook for news and opinion notes on Barcelona.