Golden Messi ensures the eight-point gap prevails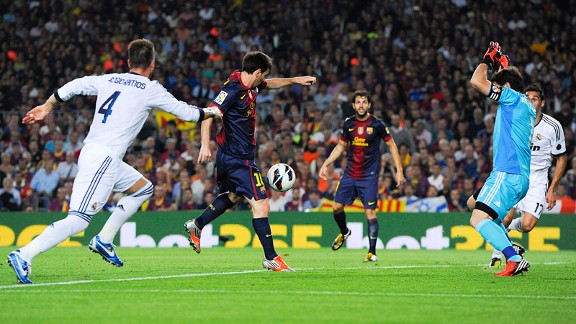 GettyImagesLionel Messi of Barcelona scores his team's first goal past Iker Casillas
Barcelona earned a valuable 2-2 draw against Real Madrid at the Camp Nou in Matchday Seven of La Liga. Lionel Messi scored both goals for the Blaugranas, who enjoyed 64 percent of possession and attempted 10 shots, two of them on target and one that hit the post. This result helps Tito Vilanova's side keep their eight-point advantage over Los Blancos in the overall standings.

• Graham Hunter: Clasico honours shared
• Blog: 'What ifs' for Madrid

The best two teams in world football

This was certainly not your typical Barcelona performance, mainly due to the fact that Real Madrid largely impeded their midfield buildup with their constant hassling and aggressive pressure. There really was nothing between both sides, with every player on the pitch giving their all for their respective clubs.

Contrary to what many expected, Real Madrid actually tried to attack to win the game, with Jose Mourinho moving on from the ultra-defensive formation he has used against Barcelona in the past. A positive decision which gave us a highly entertaining, competitive match.

Barcelona showed great character, a relentless desire to win and didn't lose composure despite going through difficult moments, especially during the first half. Sure, they weren't able to fully take the opportunity for a potentially killer blow, but keeping the momentary eight-point gap at this early stage of the season can prove invaluable several months down the line.

The Messi versus Ronaldo rivalry reaches new heights

Much has been written about the great rivalry between Lionel Messi and Cristiano Ronaldo. Judging by the way they both carried their respective teams forward, it can't be denied that we are talking about two truly outstanding players who will undoubtedly compete for the Ballon d'Or for many years to come.

Their impact is huge, as proved by the fact that Real Madrid have never lost a La Liga game in which Ronaldo has scored and Barcelona have never lost a game when Messi has scored twice. With 17 goals, La Pulga is now only one goal behind Alfredo Di Stefano as El Clasico's top all-time goal scorer.

Seeing their clinical finishes, courageous commitment and tireless effort tonight proved that the pair are determined to extend the long-running debate even further. True technical excellence at its best, a joy to watch. The pair are slowly but surely reaching legendary status.

Adriano stepped in central defence

Tito Vilanova certainly surprised us all with the unexpected inclusion of Adriano as centre back. His defensive partner Javier Mascherano revealed after the game that Barcelona had apparently been training with that defensive lineup the whole week, but I must admit I didn't see it coming.

Despite the fact that Barcelona's makeshift defence performed to a somehow decent standard, this can't hide the fact that they are far too vulnerable at times. Sure, Real Madrid's attack is world-class, but Barcelona's ongoing defensive weakness keeps hurting them repeatedly. If they are to challenge for the biggest trophies in world football, they simply can't afford to give other teams that much advantage.

The Barcelona philosophy is defending through attacking but they simply can't suffer this much whenever they lose possession. Their lack of height truly causes my heart to sink whenever they concede a simple corner. Not good enough, not at this level.

Let's hope Gerard Pique, Carles Puyol and Eric Abidal recover soon. Barcelona desperately need them back.

Player Ratings (0-10; 10=best)

Victor Valdes - 5 - Real Madrid had three shots on goal and scored twice. I felt he could have done better to save Ronaldo's first.

Dani Alves - 5 - Gave Ronaldo too much time to score his first, should have pressed him much faster. Substituted after 27 minutes due to a left thigh injury which will keep him out of the squad for at least three weeks. There goes another one of Barcelona's regular starters.

Adriano - 6 - Surprise inclusion as centre back. Decent performance given the circumstances. Played Ronaldo onside for his second, allowing his deadly run.

Javier Mascherano - 7 - Solid. Took the massive responsibility of organizing Barcelona's back four. Very intelligent defending at times.

Jordi Alba - 7 - Energetic display. Always able to provide Barcelona with much-needed width. Combined well when joining attacking positions.

Sergio Busquets - 7 - Kept position well, mostly capable of stopping rival counterattacks before they actually happened. Ensured the ball flowed well in midfield.

Andres Iniesta - 6 - While his commitment to creating danger was as good as ever, he lacked that extra gear to beat the Madrid defence. The playing time he earned today will help him on his way to full fitness.

Xavi Hernandez - 7 - Generous effort. Remained faithful to Barcelona's pass-and-move philosophy despite being under constant pressure.

Cesc Fabregas - 6 - Rotated in Barcelona's attacking third as he has been doing recently, but unfortunately for Barcelona his recent goal-scoring form didn't continue.

Lionel Messi - 10 - Man of the Match - Rescued Barcelona when morale was low, scoring a valuable goal when the game was at 0-1 after half an hour and Madrid looked at their most dangerous. His majestic free kick for Barcelona's second will go down in history as one of the most beautiful Blaugrana masterpieces ever. A legendary performance which kept the team alive.

Pedro - 6 - Gave good width. Could have scored the winner with a late counterattacking effort, but it wasn't to be.

Substitutes:

Martin Montoya - 7 - Substituted Alves after 27 minutes. Confident despite being thrown into a game of such magnitude. Chipped the ball over Iker Casillas with a tricky effort, hitting the crossbar with only a couple of minutes left on the clock.

Alexis Sanchez - 6 - Substituted Cesc after 61 minutes. Gave the Madrid defenders another reason to be worried, providing width and trying to run behind their back four.

Coach:

Tito Vilanova - 6 - His decision to play Adriano was surprising, to say the least, but it sort of paid off. I must say I am still wondering why David Villa and Cristian Tello finished the game as unused substitutes though, their late inclusion may have tipped the balance of the match in Barcelona's favour.

Have your say

What did you think of Barcelona's performance versus Real Madrid?

Who was your Man of the Match? What are your player ratings?

I welcome and appreciate all respectful feedback.