Messi tunes up against Sociedad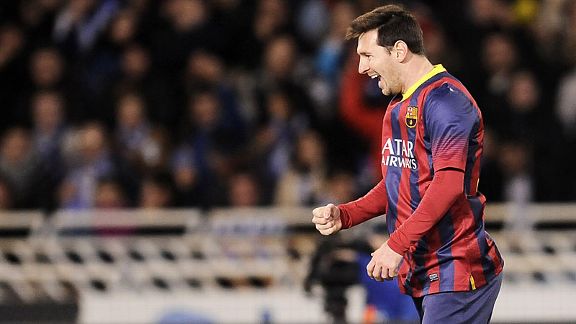 GettyImagesLionel Messi celebrates after putting Barcelona in front against Real Sociedad.
Lionel Messi did it again for Barca on Wednesday night, and they will now face bitter rivals Real Madrid in the Copa del Rey, almost certainly in Valencia, on April 19. All the talk on Thursday is about that game, but before then there is a league game between the two giants in the Santiago Bernabeu on March 21 and the imminent Champions League tie with Manchester City that starts away from home next Tuesday, where Messi's return to form can be the key to success.

Three goals in two games, all brilliant, have been enough to silence those critics who were all too quick to declare the Argentine a changed man since his injury at the turn of the year. Now he has more records in his sights as he warms up for City with a home league game against Rayo Vallecano on Saturday night.

- Barca cool Copa Clasico importance

Despite Spanish TV's best attempts to have us believe that the tie was alive, Sociedad needed to haul in a 2-0 deficit, and it took just one moment of class from Messi to kill off any miraculous comeback from Real Sociedad and safely ensconce Barca in the first final of the season.

After an opening 23 minutes in which the Blaugrana had managed to quell the initial push from the home side with energy sapping bouts of possession, Messi took centre stage with one of his trademark runs at the home defence, which concluded when he decided he had enough room to squeeze in a shot that Sociedad keeper Claudio Bravo could not get enough on to divert wide.

That goal means Messi is now level with the legendary Athletic Bilbao player Telmo Zarra on 335 career goals. And this weekend he will have the chance to overtake two Real Madrid legends in Raul and Alfredo Di Stefano to go third in the all-time La Liga goal scoring charts.

Raul got 228 in his La Liga career and Di Stefano 227, a hat trick on Saturday from Messi would put him joint third and in the sights of the number one Zarra who got 251 goals, truly amazing numbers.

It was thanks to his goal Barca did not suffer too much in San Sebastian, but they still faced a young and ambitious side that had to be put to the sword. The performance from the little Argentinian was one of the differences on the night and bodes well for the Blaugrana as the season reaches a critical stage.

With Andres Iniesta at the centre of things in his first full 90 minutes since Jan. 5, the ball was zipped around and possession kept for long periods in an attempt to stifle any danger from the home side.

Even a late equaliser for Sociedad, with the hard work already done, could not cover up what was one of the better performances of the season and it is interesting to note that it came as Martino fielded Sergio Busquets, Xavi, Cesc Fabregas, Iniesta and Messi together for only the second time this season.

The other occasion came in the league win over Real Madrid and the form and fitness of all of them should see them being the first names on the team sheet in Manchester. If that is the case, the idea will be to rest as many as possible against Rayo, while putting out a side that guarantees an important win over La Liga's second bottom side.

With that quintet on the pitch, Barca managed to dominate 72 percent of the possession against Sociedad while completing 969 out of 1058 passes. That is a massive amount of passing, and Barca appeared to take advantage of the second half to sharpen it up. The ability to dominate proceedings and not allow City to have the ball will come in handy next Tuesday.

The only definite change in the side for the Etihad Stadium will be Victor Valdes replacing Pinto. Alexis will contest a place with Pedro, who he replaced on Wednesday, for the right to partner Messi further forward and there are those who still think Marc Bartra should be given his chance at the centre of defence ahead of Javier Mascherano, he may get the opportunity against Rayo to win it.

Real Sociedad did manage to fire a warning of what can hurt a sometimes static Blaugrana defence. Their equaliser on the night came from a quick move involving some precise passing that quickly breached the heart of Barca's defensive line and was converted by Antoine Griezmann.

While Manchester City had the frustration of a league game against Sunderland postponed due to high winds on Wednesday, Barca can look back at a job well done and forward to another exciting Cup final. The business end of the season has only just begun, and they will return to San Sebastian for the league encounter a week on Saturday after the trip to Manchester. If Messi is still in the same form, things should be going well.