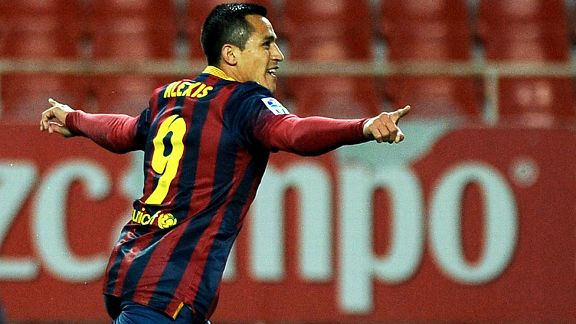 AllsportAlexis Sanchez's goal started the Barcelona comeback at Sevilla.
Barcelona achieved a hard-fought 1-4 win against Sevilla at the Sanchez Pizjuan in Matchday 23 of La Liga. Alexis Sanchez, Lionel Messi (brace) and Cesc Fabregas scored the goals for the Blaugrana, who enjoyed 63 percent of possession, created nine goal-scoring chances and attempted nine shots, five of them on target.

- Report: Sevilla 1-4 Barcelona

Key 1: Lionel Messi responded to the significant criticism he has faced since returning from injury with an impressive double which, ultimately, ensured the Blaugranas grabbed the three points from one of the most difficult stadiums in the domestic league.

After yet another disappointing start, where Sevilla deservedly scored and were hugely unlucky not to extend their lead, Messi finally decided to step his game up. The Argentinean wizard crossed perfectly for Sanchez for the first Catalan goal and, shortly after, beat Beto with a confident trademark strike to finish a remarkable attacking transition. His decisive second came after the break following an impressive combination with the very inspired Andres Iniesta.

Despite having missed several games due to lack of fitness, the truth is that Messi's influence has already made a huge impact this season (21 goals, 10 assists in 24 appearances). While it's obvious that he hasn't returned to his former best yet, seeing the Number 10 back in the scoresheet is an encouraging factor which Cules had been eagerly awaiting.

Key 2: Andres Iniesta returned to the starting lineup after several matches of coming in as a late substitute or sitting on the stands due to manager Gerardo Martino's strict rotation policy.

The impressive way in which Don Andres lead the Barcelona midfield made the difference when his team needed it the most. The vast majority of attacking plays came through a player who is virtually unstoppable when motivated and confident, especially when combining with eternal partners in crime Xavi and Messi.

Iniesta's individual skill, when fully fit and trusted, allows him to shine above the rest, making him an indispensable player that no manager in their right mind would ever be capable of doing without -- as evidenced by the fact that he finally completed a match after being substituted in far too many occasions this season.

Key 3: Marc Bartra replaced Javier Mascherano in the centre of defence and, unsurprisingly for most, performed at a convincing standard thanks to his aggressive, determined approach. Despite facing the powerful Carlos Bacca in front of the relentless home crowd under the incessant rain, the 23-year-old showed the necessary maturity and composure.

Personally, I strongly believe that Bartra is now ready to become a regular starter next to Gerard Pique. The young Catalan has definitely improved dramatically this season and, considering the below-standard performances of some of his defensive partners, should be given the nod whenever major matches are to be played in the near future.

Key 4: Victories in La Liga started being awarded three points (instead of two) in the 1995-96 season. A lot of years have passed since but, in all that time, fans have never seen three teams tied with the same number of points at the top of the table -- until now.

Barcelona, Real Madrid and Atletico (in that order, due to goal difference) are currently levelled and, to be honest, it really looks like such tight competition is likely to continue until the very last match. After 23 games, each top three team has only been defeated twice -- an impressive return by anyone's standard.

Considering the minimal differences in terms of performance between the top three teams, mental strength and the ability to cope well under pressure will be decisive in order to determine the winner of the most exciting title race in recent Spanish league history.

The Quote: "We played poorly for the first 20 minutes, but once we equalised we played better. We're aware that we're at a crucial part of the season, the match could have been tied up 2-2 but we managed to control the end of the match. You have to know when to choose to be direct and when to have more possession. Being first on the table again brings tranquility." -- Martino.

More than 279,000 Cules follow Francesc Tomas at @TomasESPN and Barcablog Facebook for news and opinion notes on Barcelona.