Barcelona need to get it right on the road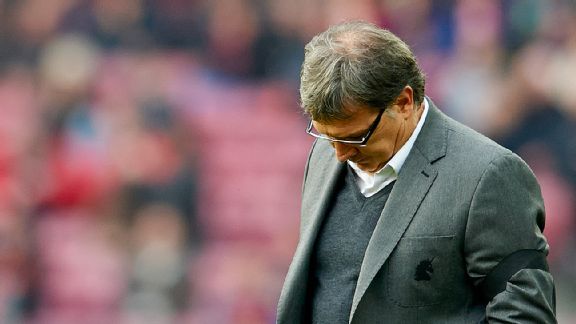 Manuel Queimadelos Alonso/Getty ImagesGerardo Martino has a few issues to address at Barcelona.
Barca go to Sevilla on Sunday looking to improve on a dip in form away from home that has opened up the chase for the La Liga title in recent weeks. With the side now in the strange position of being three points behind Atletico Madrid, Barca have become the chaser rather the chased and they must begin their new role with three points in the Sanchez Pizjuan.

They will have to overcome an improving Sevilla side that appears to have found their place in La Liga in seventh position, but have lost their last two games 3-2 -- to Levante and Malaga -- and failed to win in four.

- Pedro: Messi as motivated as ever

Before the home defeat to Valencia last Saturday Barca had lost all nine of the points dropped this season away from home, including seven in the last four away trips as draws at Levante and Atletico Madrid and the first defeat of the campaign at Athletic Bilbao in December allowed Atletico to catch up at the top.

They now must show some ability to again pick up wins away from Camp Nou, with Atletico Madrid also away at Almeria on Saturday and Real Madrid hosting Villarreal the same day.

One player who will be looking to up his performance at Sevilla is Lionel Messi. In a season in which he has struggled with injuries he has still managed 19 goals in all competitions, but while not playing badly you get the feeling there is a lot more to come, and with a crucial run of games to come now is a good time to start.

Tata Martino will be aware of this and was keen to protect him in the pre-match press conference on Saturday.

"There can't be a headline about Messi every day. Sometimes I feel like asking them (the journalists) to not write about him for a few days. How about if we leave Messi in peace for a bit? I prefer to leave him alone and in no time we'll be enjoying the best player in the world again," he said when asked about his star.

With just one goal in the league since his return at the beginning of the year, a penalty in that Valencia defeat, Messi is surely going to steadily improve as his recent injuries become a distant memory.

Of course, Messi's game should not be measured merely by goals, he has been providing more assists than ever from a more central position, due, perhaps, to a slight change in position that sees him playing from a deeper area and has lessened his focus on getting goals.

Both Alexis on 13 and Pedro with 12 have got more than Messi's nine goals in the league this season, but with the side getting its 100th and 101st goal of the season in the Cup win over Real Sociedad on Wednesday, goal scoring is not an area that needs to be improved on.

With Neymar set to come back at some stage in February and Messi certain to improve there is even less to worry about in the attacking half of the pitch. It is at the back where they need to improve and this weekend they will have to do it without both Jordi Alba and Javier Mascherano who are suspended.

Sevilla is always a difficult place to go for any team and in the Croatian midfielder Ivan Rakitic they have a player that is surely ready to step up to the next level at one of Europe's biggest clubs.

Rumours this week have placed him as part of Barca's plans for summer signings and it would not be strange to see him landing such a move. The Sevilla captain is the lungs of his side with the ability to pick out a pass and shoot from anywhere; he has 10 goals this season in 20 games for Sevilla and is said to be currently negotiating a contract that finishes next year. However, on current form he will be playing his football somewhere else after he leads his country in the World Cup this summer.

Martino is fully aware of the problems his side will face in Andalusia's capital, Sevilla came back from two goals down in the Camp Nou to give the recently arrived Argentinian his first shock as Barca coach back in September. Alexis grabbed a last minute winner then and goals are to be expected this time around as well.

"Sevilla is a well organised team that plays with intensity and we had trouble beating them the first time around. They have their strategy and it will be a game that is decided by small details," Martino outlined to the press.

With the games coming thick and fast in all competitions it is key Barca find better form especially away from home, by the end of the month they can be looking good in all three competitions or struggling badly in all of them if they do not improve on the road, Sevilla is the first step on that journey.