Despite media criticism, Barcelona encouraging in Copa win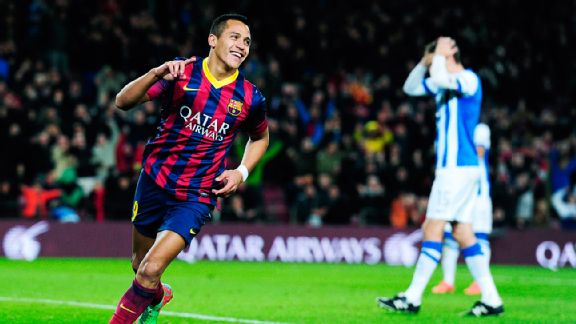 JOSEP LAGO/AFP/Getty ImagesIt wasn't the prettiest Barcelona win but there were plenty of encouraging signs for Tata Martino's team.
Despite a 2-0 victory on Wednesday in a Cup semifinal first leg over difficult opponents, it would appear that all is still not well in the world of Barcelona, which is perhaps more a symptom of the times we live in than the actual reality of the situation.

In this new age of instant reaction on social media where everybody is able to share opinion in real time alongside the already traditional media overload, it was possible to hear all types of negative comments about Barca's win over Real Sociedad.

The general opinion was that Barca was lucky to come out of the first leg so close to the final. Indeed both Spanish Cup semifinals on Wednesday night left us with very little doubt about who will be in the final on April 19 as Real Madrid won their home tie 3-0 over Atletico Madrid in very different circumstances, but again enjoying a few strokes of luck.

For Barca, most of the post-match talk had been negative. Once again the poor refereeing debate has lifted its ugly head as Real Sociedad were denied what looked to be a penalty and a certain sending off for Javier Mascherano just before Barca's first goal.

To make matters worse the ref then sent off Sociedad player Inigo Martinez for challenging his decision after the Barca goal. If you watch again the incident in which Mascherano is supposed to bring down Carlos Vela, as he surged in on goal, you will see the referee is at least 30 to 40 metres behind the play and in no position to see if there exists foul play by Mascherano. Even with the luxury of various TV replays with a frontal view it is difficult to judge who pulls who down.

Understandably, Real coach Jagoba Arrasate felt aggrieved after the game claiming "everyone has seen; it was clearly a penalty and a red card. The ref has not been brave enough to give it but he has to then send Inigo Martinez off."

What the sending off did achieve was to spoil what was turning into a pulsating cup tie, but according to the referee's report he was merely following the letter of the law by sending Martinez from the pitch after the player shouted obscenities at him following an initial booking for complaining.

Conspiracy theories abound in Spain when it comes to the big two -- they normally revolve around rumours of favours from referees and administrators alike and sometimes they are very hard to disbelieve -- but on Wednesday it is more likely that Barca struck lucky from hard decisions the referee Gonzalez had to make in a short but vital period of time just before the break.

The fact Barca managed to add only one more goal, a very fortunate one at that as the Sociedad keeper pushed the ball into his own goal, in the second half against a stoic 10-man defence added further to the idea that they got more from the game than they deserved.

All of that talk takes away from much good play in what was another typical passing performance from Barca, who enjoyed a record for the season 83 percent of the possession. The team made 807 passes to Real's 157, while Xavi on his own produced just 20 passes fewer than the away side.

Despite these stats, one Twitter feed that specializes in 24-hour coverage of all matters Barca described the first period as "not a good half" by the Catalans.

On the fulltime whistle the Madrid-based Marca nailed its colours firmly to the mast. The online version of the paper triumphantly lauded Real's 3-0 win over Atlético, with two deflected goals, directly next to a report that described Barca's play as "without shine" under a headline that cried "all in Barca's favour."

What this reporting fails to underline is that Barca managed 26 shots to La Real's three, it also plays down the defensive toughness of strong opponents that qualified for the Champions League last season and are having another good season in La Liga.

Much of Barca's play on Wednesday was reminiscent of the first half against Valencia on Saturday when they were dominant. What happened afterward we all know and is the reason Atletico Madrid now lead the La Liga table.

Sergio Busquets, who had a poor game on Saturday, scored on Wednesday and was his side's best performer, and Barca can only be accused of playing one half of bad football in those past two games. Every side is allowed that luxury.

The reality is that form and results have dipped slightly but Barca remain well positioned in three competitions, though many commentators and media outlets will have you think all is not well and the season is going to cave in on the club at any time. Do not believe them just yet; there is a long way to go.