Unconvincing Barca closer to Copa final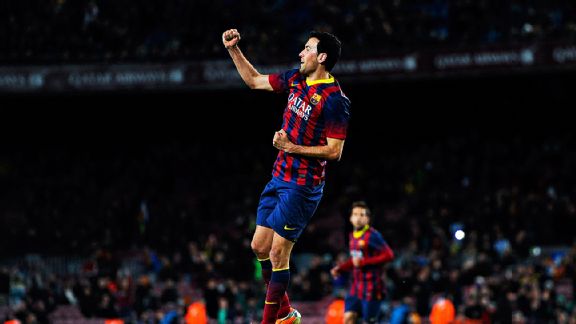 David Ramos/Getty ImagesSergio Busquets scored for Barcelona, but they were hardly convincing in their 2-0 defeat of Real Sociedad in the Copa del Rey semifinals.
Barcelona achieved an unconvincing 2-0 win against Real Sociedad at the Camp Nou in the first leg of the Copa del Rey semifinals. Sergio Busquets and Enaut Zubikarai (own goal) scored for the Blaugrana, who enjoyed 83 percent of possession, created 27 goal-scoring chances and attempted 24 shots, eight of which were on target and two to the post.

Key 1: Barcelona were unable to materialise their huge amount of possession into a result that decided the tie. Unfortunately, the Catalans became very predictable in attack due to the general lack of tempo and little amount of dynamism between the lines and, especially, behind their opponents' back line. They did get close to the goal several times but weren't always fortunate in front of goal.

- Hunter on Real Madrid's fiery win over Atletico
- Video: Atletico's poor tactics

The visitors played an ultra-defensive game based on defending deep into their own final third in the hope of creating some chances on sporadic counterattacks. That said, Gerardo Martino and his men should have expected such a game plan and thought of effective ways to break such deadlock from the initial whistle.

The Blaugranas didn't run without the ball in their usual manner. The vast majority of their passes went directly into a teammate's foot rather than into space.

Barcelona's very calm approach to the game yielded a decent result ahead of the second leg at the Anoeta Stadium. However, next week's match would have been little more than a glorified friendly if Martino's team had shown the expected level of desire to beat a rival that, let's not forget, went down to 10 men and was already losing 1-0 right before the halftime whistle.

Key 2: Andres Iniesta was used as a late substitute for the eighth time this season. El Manchego, who has been instrumental in the Catalans' attacking transitions for more than 10 years, has completed only 11 out of a possible 37 matches since Martino took over in the summer of 2013.

The 29-year-old Iniesta has been subject to the Argentinean manager's strict rotation policy. While I fully understand the long-term reasoning behind such a decision, my feeling is that the inclusion of Iniesta in the starting lineup against Real Sociedad would have provided the team with a much-needed sense of urgency.

Iniesta's vision and ability to beat defenders one-on-one always gives Barcelona a special edge. A fit Iniesta, both physically and mentality, is key for the Blaugranas' to achieve the expected level of success this season. Let's hope Martino allows him to shine in major matches to come.

Key 3: 38,500 Cules attended this Copa semifinal game. While many clubs around the globe would be delighted with such number of fans at a home game, it was in fact the second-worst attendance of the season. Even their last 16 return match in late December against Cartagena attracted more fans to the stadium.

Something is very clearly wrong here. Sure, yet another 10 p.m. kickoff time on a Wednesday in the middle of winter isn't ideal, but, ultimately, the bottom line is that Barcelona have regularly attracted many more fans at that very same kikcoff time.

The board, led by president Josep Maria Bartomeu since Sandro Rosell's resignation, should take a hard look at themselves and find solutions to a situation that is both puzzling and, to be totally honest, quite embarrassing.

Key 4: The world's media are already looking ahead to a possible Clasico in the Copa del Rey final. While I understand the prospect of a clash between the two archrivals is exciting, I strongly believe that both Atletico de Madrid and Real Sociedad deserve to be respected and not counted out until the return game in their home turf is played next week.

Barcelona and Madrid have achieved favourable results, but, with another game to be played before the final, talking about hypothetical scenarios can be interpreted only as a pointless exercise.

The Quote: "We had one more player for a long while and wanted more goals but it's a positive result and didn't concede, which is important. We created many chances against a team which sat back and defended deep. We need to wait for the return game now." -- Xavi Hernandez.

More than 265,000 Cules follow Francesc Tomas at @TomasESPN and Barcablog Facebook for news and opinion notes on Barcelona.