Barca must not take Real Sociedad lightly
Barca can quickly get their season back on track by putting Real Sociedad to the sword in the first leg of the Spanish Cup semi-final on Wednesday night. A convincing win would stop any doubts from creeping in about the Blaugrana's campaign and with a potential treble still to play for, it would boost confidence ahead of a return to league action at Sevilla on Sunday.

To do that they need to find a way past a talented opponent that has gradually got stronger after a poor start to the season. Their coach Jagoba Arrasate says that his side must escape from the Camp Nou with the tie still in doubt ahead of next week's second leg on the north coast, while Valencia showed in the 3-2 win on Saturday that weaknesses can be found in the Barca defence.

Look deeper than that defeat on Saturday and Barca's recent form looks even shakier. The loss of seven points from a possible 12 in the past four games has meant an end to their reign at the top of La Liga after 59 consecutive games at the summit. And so the Catalans enter a crucial spell: with Manchester City also on the horizon this month, suddenly all three of those titles are in play this February.

- Tomas: Early warning signs
- Marcotti: Valencia loss just a blip?
- FC TV: What's wrong with Messi?

Coach Tata Martino believes in his side's ability to put things right. "Just because we played bad for 45 minutes does not mean I can stop believing in Barça. If I do not believe, who will," he said in Tuesday's pre-match press conference.

"The game after a defeat is always a chance to put things right, especially if it is a decisive Cup semi final," he continued.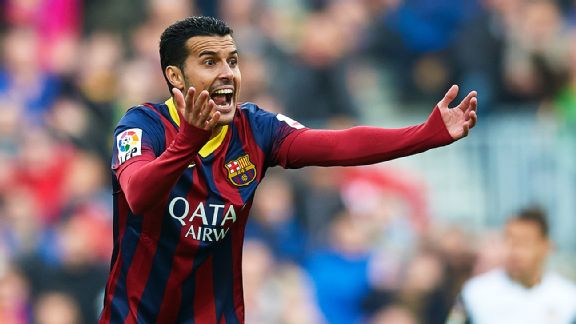 Manuel Queimadelos Alonso/Getty ImagesThe likes of Pedro must inspire Barcelona back to their attacking best in the Copa del Rey.

What does worry the boss is the possibility that the Camp Nou does not present its most intimidating side on Wednesday. "I hope that lots of people come to the Camp Nou tomorrow but I understand it is 10 o'clock at night and on a work day".

Last week's home cup match with Levante in the previous round kicked off at the same time and attracted less than 26,000 to the stadium. With more rain forecast for Wednesday afternoon in Barcelona, it may be just a half-empty stadium that the two sides walk out to.

What Barcelona fans have to remember is that in all the triumphant seasons of recent years their side had to get over purple patches of form like the one they are experiencing now. Martino admits he is worried about current form but that the Valencia match was a "strange" one.

"I try to believe that we will not have another display like that. We still depend on ourselves but if we trip up again we won't."

Sociedad have not been in a final since they lost 1-0 to Barca in the Santiago Bernabeu in 1988 but they certainly have the talent available to put that stat straight. After a disappointing Champions League campaign that saw them finish bottom in their group, the team from the picturesque city of San Sebastian have picked up in the league, firmly in contention for more European competition again next season.

Young players such as Ruben Pardo, Carlos Vela and Antoine Griezmann make Arrasate's side attractive to the eye and dangerous in attack, but as a result they are also sometimes too open at the back as Sunday's 4-0 defeat at Atletico Madrid proved.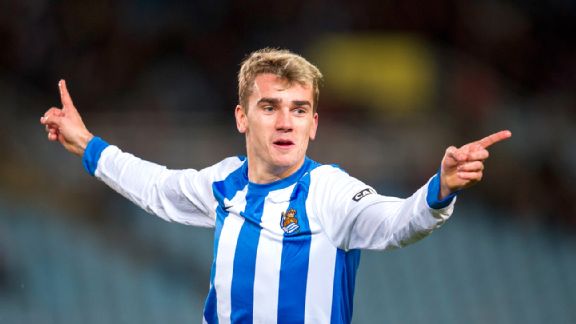 Juan Manuel Serrano Arce/Getty ImagesAntoine Griezmann is one of several Real Sociedad stars who could take advantage of Barca's shaky defending.

Currently sitting sixth in La Liga, seven points behind local rivals Athletic Bilbao and another crack at the Champions, Sociedad would consider a place in the Europa League a triumph after a disastrous start in which they won only once in the first eight league games.

Arrasate knows his team will need to defend if they are to avoid a repeat of the 4-1 La Liga defeat to Barca in the same stadium back in late September. "We have to be more aggressive, [Barca] is a team that attacks, but if you ask them questions they can suffer at the back. This generation of players wants to play a final, and that takes more than words, they have to show it out on the pitch," he said on Tuesday.

Neymar opened the scoring in that 4-1 Barca win earlier in the season but won't be available on Wednesday -- his battle to return in time for Manchester City on the 18th of this month continues with individual work away from the group.

The weekend after that game Barca return to Sociedad in the league, it remains to be seen which side will go into that game as Cup finalists. Wednesday night in a rainy Camp Nou will go some way to telling us; as such, expect a big performance from the visitors that will put a fragile Barca to the test.