Barcelona can't ignore early warning signs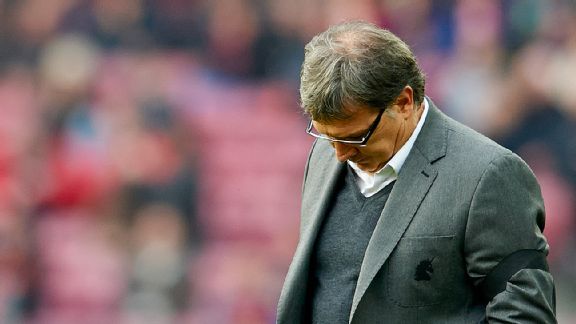 Manuel Queimadelos Alonso/Getty ImagesGerardo Martino has a few issues to address at Barcelona.
Barcelona were deservedly defeated 3-2 by Valencia at the Camp Nou on Saturday. The way in which they failed to react to their rivals' attacking advances was shocking. To make matters worse, Atletico de Madrid and rivals Real Madrid both managed to add points to their tally and brought the Catalans' impressive 59 consecutive weeks at the top of La Liga to an abrupt end.

- Ledwith: Slack defending leads to shock defeat
- Report: Messi rues Barca's "bad day"

Gerardo Martino's men put forth one of the poorest defensive efforts I can remember in recent club history. The intensity demonstrated by players such as Sergio Busquets, Gerard Pique or Javier Mascherano left a lot to be desired and ultimately enabled the visitors a way back into a game that Barcelona had dominated comfortably during the first 30 minutes.

Unfortunately, the Blaugranas seemed to give the game up even before the first half ended, as if their momentary 1-0 advantage at the time guaranteed the three points, despite one more half of football to be played. Considering the tremendous amount of desire and determination these very same players have demonstrated over the years, seeing them lose at home after such careless effort is both shocking and disappointing.

Having said all of the above, the current situation is more than fixable. Sure, nobody at Barcelona is proud of being three points behind Diego Simeone's ferocious Colchoneros, but ultimately, there are still a massive 16 more matches to be played in the domestic league. Players of the calibre of Lionel Messi, Neymar and Andres Iniesta are more than capable of bringing the team back up to their usual winning ways -- they just have to show an increased level of dynamism to reach their opponents' goal and improved desire to regain possession when chasing.

The fact that time is on Martino's hands, however, can't hide the fact that they have lost seven out the 15 points played for in La Liga since the start of 2014. Having only beaten Elche and Malaga at home in January is definitely not the return Cules would have hoped for. Even the normally faithful Camp Nou fans are showing their current lack of enthusiasm by leaving a rising number of empty seats on a weekly basis.

Personally, I strongly believe that supporters should support their players, especially during difficult times. While celebrating magical goals and collective trophies is easily enjoyable, those who truly love the club should make a conscious effort to support the club and pull through together.

Obviously, paying members of the club are perfectly entitled to criticise their team. Every opinion, positive or negative, must be respected. However, hearing key players such as Dani Alves complaining about lack of support from his home crowd is disheartening, to say the least.

It is obvious that the institutional instability brought by the departure of former president Sandro Rosell, and his successor's decision to stay until summer 2016 despite not having been directly elected by the Socis, isn't helping either. Sure, players and coaches have told the media that political matters don't affect their performances, but preparing games under this much unwanted attention can't be easy.

Only a conscious collective effort from everyone involved will make the current season a success. Every single squad member must give their all in every single play, showing their rivals that they are prepared to fight for each ball whenever dispossessed. Coaches must guide the players and make improvements when possible, even if that means taking unpopular decisions. Fans must ensure the Camp Nou stadium becomes an unbreakable fortress once again.

Time to get back up!

The Quote -- "It hurts a lot to lose the three points at home. There are still 16 matches left and we have to change things so that what happened on Saturday won't happen again. We still have to play our two closest rivals. It's clear that the margin of error from now until the end of the season is practically zero. Now it's us who have to push on. We have to improve things but not send out negative messages. It's all in our hands, and we still have a chance in all three competitions." -- Mascherano.

More than 260,000 Cules follow Francesc Tomas at @TomasESPN and Barcablog Facebook for news and opinion notes on Barcelona.