Fabregas comes of age for Barcelona
Bringing Cesc Fabregas back to Barcelona after his incredibly successful stint at Arsenal was definitely one of the longest and most documented transfer sagas in recent football history.

Though his return from a fast-track into professional football under Arsene Wenger appeared to be a fairytale, however, in his first two seasons at the Nou Camp, a point was reached when Cesc may have begun to wonder whether he could ever achieve as much recognition as he had from adoring Arsenal supporters.

Pep Guardiola played a key role in convincing the youngster to continue his career as a Blaugrana. The pair met for the first time back in 2001, at the time Fabregas was one of the most exciting La Masia prospects and Pep captained the first team.

To help support the youngster while his parents divorced, Guardiola gave him a Barcelona shirt with the message: "To Francesc Fabregas, hoping that I can see you wearing No.4 at the Camp Nou in a few years!"

And the rest, as they say, is now history. Fabregas returned to the club in 2011 and took with both hands the chance to proved his worth at his home club.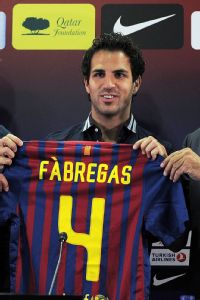 Lluis Gene/AFP/Getty ImagesFabregas returned to Barcelona in 2011.
That being said, however, the truth is that his first two seasons at the Camp Nou weren't as successful as Cules would have expected.

Sure, the Spanish international made a significant impact in terms of statistics -- 15 goals and 20 assists in 48 appearances followed by 14 and 12 in 48 -- but many fans were argued whether such a return was enough to justify the 40 million euros paid for a player that decided to leave for free a few years beforehand.

Despite Guardiola's efforts to adapt his system to accommodate the former Arsenal captain, Fabregas found it difficult to feel comfortable in a team of stars such as Lionel Messi, Andres Iniesta and Xavi Hernandez.

Being able to play in virtually any attacking position also meant that the versatile Cesc would be the first piece to be moved around Pep's complicated puzzle. Such a lack of continuity affected his performances and self-confidence.

Tito Vilanova took charge at Barcelona following Guardiola's departure and, as a former coach of Fabregas during his time at La Masia, it was felt that he would be ideally suited to get the best out of him.

However, ongoing health problems forced the new man to miss large periods of his first season in charge and the Barcelona squad as a whole struggled without their leader.

The unexpected arrival of Gerardo Martino at the start of this campaign could have gone either way, to be honest. Trusting a non-La-Masia, non-Cruyff-related manager for the first time in over a decade was always going to be a case of hit or miss.

Fortunately, the Argentinean coach has empowered Fabregas to become a more mature version of the youngster who lead Arsenal with such brilliance.

Regular nurturing off the field and constant playing time on it has brought the best out of the No.4. Fabregas is a goal-scorer who is also capable of assisting and someone whose improved fitness allows him to chase the ball relentlessly whenever dispossessed.

Fabregas has become a confident playmaker who makes his teammates better thanks to his dynamism and vision; a leader capable of putting the interests of the team first.

His improved performances have been crucial in order to achieve positive results during the continued absences of Messi or Neymar. Having scored 13 goals and added 13 assists -- including two vs. Rayo Vallecano on Saturday, this is clearly Fabregas' best season since his return.

A Champions League last 16 clash against Manchester City is imminent and it is clear that the Blaugrana success will, in part, depend on his effectiveness, not only from an individual, but also a collective level.

Fortunately, as this quote from last month suggests, their No.4 is in a good place.

"Martino has given me confidence, always believed in me," said Fabregas. "He knows what type of player I am and what I can give. He doesn't ask me to do things I can't. He always tries to maximise my virtues. I feel my teammates trust me more and feel stronger physically. I feel more important within the team."

More than 300,000 Cules follow Francesc Tomas at @TomasESPN and Barcablog Facebook for news and opinion notes on Barcelona.