Barcelona extinguish fire with much-needed goalfest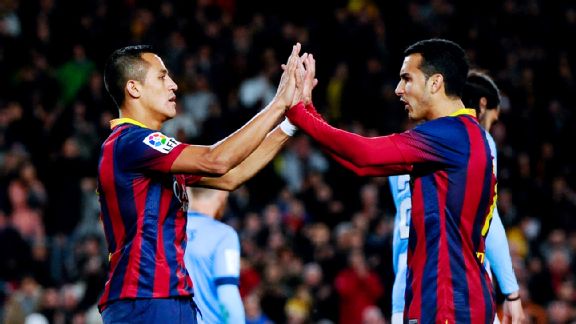 David Ramos/Getty ImagesBoth Alexis Sanchez, left, and Pedro, right, scored in Barcelona's 3-0 win over Malaga.
Barcelona achieved a much-needed 3-0 win against Malaga at the Camp Nou in Matchday 21 of La Liga. Gerard Pique, Pedro Rodriguez and Alexis Sanchez scored the goals for the Blaugrana, who enjoyed 73 percent of possession, created 23 goal-scoring chances and attempted 17 shots, 10 of them on target.

- Report: Barcelona 3-0 Malaga

Key 1: This game was a hugely welcome distraction from all the off-the-pitch politics which have been damaging Barcelona's name and reputation in recent times.

In what was an unexpectedly busy week, Sandro Rosell shockingly gave up his presidential seat at the Camp Nou and left his vice president in charge of the proceedings. Newly appointed chairman Josep Maria Bartomeu confirmed his intentions to finish the current mandate (which is meant to last until the summer of 2016) despite 61 percent of the members having voted for a project led by someone who is no longer working for the club -- a decision which, in my eyes, makes very little sense in the long term.

From the moment the ball started rolling, however, the club's focus returned to those who truly deserve it: Lionel Messi, Xavi Hernandez, Cesc Fabregas and the rest of their highly committed teammates. While Cules are obviously eager to voice their opinion about who should lead their club at the institutional level, knowing that the players are able to continue to win despite all the unwelcome pressure on their shoulders is reassuring.

Key 2: Messi failed to find the opponents' net once again but, as he has been doing since his return after a couple of months of intensive recovery, managed to be decisive in every goal the Blaugranas scored against Malaga.

Perhaps due to the visible way in which players such as Pedro, Sanchez, Fabregas or Neymar stepped up during his absence, La Pulga has become a much more generous player who takes as much pleasure from scoring as he does from assisting open teammates.

Messi's more selfless approach enabled him to drop deeper into midfield and build Barcelona's attacking play alongside Xavi, rather than roaming in the limited space ahead of him. Rival centre-backs were therefore forced to momentarily leave their position within the back-line and press further up the field, leaving gaps which the Catalans' speedy wingers keep exploiting time and time again.

Considering the fact that both Andres Iniesta and Neymar missed this game due to injury, the team is likely to get even stronger in coming weeks. Unless major disaster strikes again, manager Gerardo Martino will have every single one of his key players to choose from ahead of the crucial Champions League clash against Manchester City.

Personally, I can't wait to see what this more direct, less predictable Barcelona can do against major rivals at European level. The best is yet to come!

Key 3: The legendary Xavi celebrated his record 701 appearances for Barcelona with a brief, yet emotional tribute from the Camp Nou fans. The record-breaking midfielder then went on to demonstrate that, despite his 34 years of age, he is still capable of ensuring the Blaugrana midfield dominates games from start to finish. A true inspiration!

Key 4: Ibrahim Afellay returned to action a massive 20 months after his last appearance for Barcelona. Realistically, I don't quite see the former Dutch international establishing himself as a regular starter but, regardless, coming back to the team after a couple of career-threatening injuries was tremendous news for a player who has given everything to return to his former level.

Key 5: After years of battling against arch-rivals Real Madrid at the top of La Liga, seeing the robust Atletico de Madrid fighting for the title after 21 matches is both refreshing and encouraging for the competition as a whole.

Many supporters, especially outside Spain, had been arguing that the two-horse race between Blaugranas and Merengues were turning the formerly known as Liga de las Estrellas into a glorified version of the Scottish league, taking the element of surprise away from fans who very rarely witnessed any major upsets.

We are definitely heading toward the tightest race for the domestic Spanish league since the 2006-07 campaign when Sevilla also challenged for the title. Diego Simeone is not likely to allow his players any distractions until the last second. Real Madrid's Carlo Ancelotti has such a powerful squad at his disposal that it would be unrealistic to think that they will not be challenging until the end.

Having led the table for a record 57 consecutive weeks, Barcelona have yet another great chance of lifting the trophy at the end the season. It will certainly not be an easy journey, but the Catalans are clearly on the up and gearing up for whatever challenge comes their way in the future.

The Quote: "We dominated the game from the first minute. We scored one in the first half, but could have converted some more. We are a compact, solid team and can stay at the top of the table for a long time. Despite the change of president, we will compete as usual and fight to win every title." Pique.

More than 231,000 Cules follow Francesc Tomas at @TomasESPN and Barcablog Facebook for news and opinion notes on Barcelona.