Are Barcelona ready for this Clasico?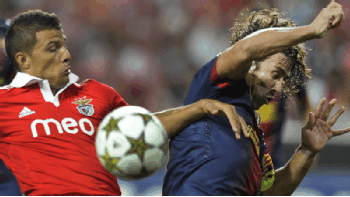 GettyImagesCarles Puyol's absence will be keenly felt at Camp Nou
Heads up, Cules. El Clasico is upon us and there is no way back now. The momentary eight-point advantage won't mean a thing once that ball starts rolling around our very Catalan Camp Nou. Sure, the pressure is on Madrid, but we want to make sure this golden opportunity for a potentially killer blow is not wasted.

• Preview: Real Madrid v Barcelona

• Xavi: Clasico won't decide La Liga

• Jose: It's just another game

• Blog: Real's positive problems

• Blog: Are Barca ready?

• Blog: Pressure is on Madrid


The eyes of the world will scrutinise our every move, our every breath. Many doubt Barcelona are actually ready for the challenge ahead, given the many problems that Tito Vilanova faces in order to field a competitive defensive line which is able to counter the Ronaldo/Di Maria threat from the wings -- No need to panic though.

Carles Puyol is irreplaceable

Tito Vilanova is certainly busy trying to find an effective solution to compensate for the horrific elbow injury suffered by Carles Puyol against Benfica in mid-week. A difficult task indeed.

The Catalan press reports that Gerard Pique is fighting desperately to recover his sprained ankle but, honestly, I don't feel he will be ready on time and, even if he made it, his fitness would be far from optimal. Some suggest the Catalan Giant could even consider an infiltration but I would much rather allow enough time for his joint to recover naturally than risk an even more serious long-term injury.

I am also against using La Masia graduate Marc Bartra as a last-minute replacement, as the repercussions of a possible mistake against Real Madrid could affect his confidence at this early stage of his career. As for Andreu Fontas, there is simply no chance: Tito Vilanova has no faith on him, as shows the fact that he hasn't played a single minute this season and our coach was desperate to loan him out a couple of months ago.

Considering the above, I feel our best option is trusting the partnership between Alex Song and Javier Mascherano has grown enough and is ready to step up to the challenge, as they have shared that central defense spot for a couple of games now. Let's hope our Cameroonian signing is able to keep his position and follow El Jefe Argentino's guidance in order to start our creative play from the back.

I know this solution is far from ideal but I honestly feel this is the best we can do with the players we have.

Cesc Fabregas has earned his right to start El Clasico

It wasn't too long ago that I was urging Tito Vilanova to find a way to accommodate Cesc into our formation. Judging by the way the Catalan midfielder has rediscovered his goalscoring form in recent times, we can safely say that things are looking up.

Fabregas has established himself in the team during the absence of Andres Iniesta due to injury. His partnership with Lionel Messi has re-flourished thanks to their constant False 9 position swapping and La Pulga's more determined effort to drop deeper into midfield in order to prioritize assisting to scoring for the greater good of the team.

Barcelona doctors are confident that Don Andres is ready to play the full 90 minutes which is great news for Barcelona but a positive headache for Tito Vilanova.

Our team certainly needs a player of El Blanquito's caliber and experience as he is one of the few who has the skills to read, control and change the game with a spark of magic. Cesc is on fire. Who should sit this game out then?

My opinion on the matter is clear: Both must play, as benching one of them would give Real Madrid far too much advantage. The solution? Use Cesc as interior midfielder, give him the freedom to move anarchically and rotate with Messi and Xavi. As for Iniesta, position him in the wings and let him rotate with Alexis or Fabregas himself at different stages of the match.

In other words, play the best players available and interchange their positions depending on how the game is unfolding, ensuring they all have the chance to show their worth.

The Camp Nou, proud of its Catalan roots

The current economical crisis in Spain has created a difficult situation in the streets. Over one million citizens recently flooded the streets of Barcelona under the slogan "Catalunya, a new European state" in what can only be understood as a clear shout for a self-determination referendum to the central Spanish government.

With the above in mind, Sandro Rosell has taken the decision of turning the Camp Nou into a giant Catalan flag. Cules will form an massive Senyera by raising 98,000 yellow and red cards to receive our arch-rivals while our Cant Del Barca bursts through the speakers of our legendary stadium.

Xavi explained ahead of the game: "I think it's a good idea, and it seems like a normal thing to me. It won't be the first time we've done it either. People should be free to express their beliefs, we live in a democracy. We are Barcelona, we represent Catalunya, and we support what Catalans want. We know that it will be a politically charged day and that people will want to express themselves but players will try and isolate ourselves from anything not related to football."

I understand that Barcelona regularly decide on the message to convey to the hundreds of millions of people who will be watching our matches, and this is the one they chose this time around.

While this hot topic can obviously not be overlooked, I am generally against mixing sport and politics and would much rather focus on the football than on the ferocious debate off the pitch.

Final Word

Barcelona are ready for El Clasico, the biggest match in world football. We are far from our optimal best, but our team is growing in the right direction under Tito Vilanova. We have won 8 out of 8 matches since La Liga and Champions League started and are leading both competitions comfortably. As a result, the pressure is on Madrid, not us.

True, we lost La Supercopa before then, but that was mainly due to our own mistakes and lack of concentration. As long as our players are focused (which they will definitely be), there is no reason to doubt ourselves.

I feel Barcelona should stick to our traditional 4-3-3 formation to face Real Madrid. My preferred line-up would have Valdes in goal; Alves, Song, Mascherano, Alba in defense; Busquets, Xavi, Cesc in midfield; Alexis, Messi, Iniesta as forwards.

Time to gather all our strength for the very difficult challenge ahead -- Tots units fem forca!

Have your say

I welcome and appreciate all respectful feedback.

Would you like to share any other important points with us?

As regular readers have realized, I enjoy engaging in debate using the ESPN conversation gadget. Over 31,000 Cules follow all my posts and comments at @Barcablog_com and Facebook already. Feel free to join if you would like to keep updated.