Messi-Tello connection lifts Barca to Copa win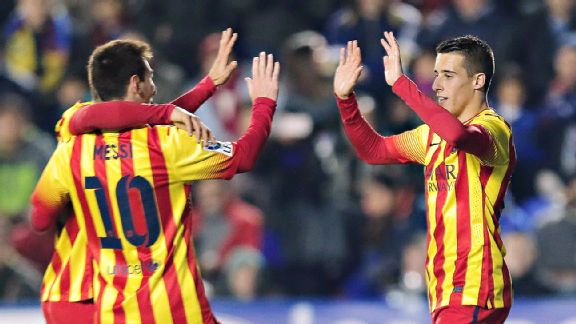 Jose Jordan/AFP/Getty ImagesCristian Tello took full advantage of Lionel Messi's service vs. Levante.
Barcelona achieved a valuable 1-4 win against Levante at the Ciutat de Valencia in the away leg of the Copa del Rey quarter-finals. Cristian Tello (hat-trick) and Juanfran (own goal) scored the goals for the Blaugrana, who enjoyed 82 percent of possession, created 22 goal-scoring chances and attempted 17 shots, nine of them on target. Here are some keys to the game.

Key One: Cristian Tello excelled with an impressive hat-trick which proved what a tremendously incisive forward he has already become despite the lack of regular playing time in recent months.

The 22-year-old hasn't featured as much as he deserves to under Gerardo Martino based on the obvious progression he showed last season. The level of confidence and performance demonstrated in his fifth start of Barca's 33 matches since September was definitely worthy of more regular playing opportunities in the near future.

- Copa wrap: Tello hat-trick carries Barca

Tello unbalanced the game thanks to his dynamism and his ability to open the pitch wide and with diagonal runs behind his marker's back. The way in which he connected with Lionel Messi time and time again was definitely the highlight of the night, a welcome weapon to which the hosts didn't really have an answer in the second half.

The speedy La Masia graduate succeeded in taking his chance to showcase his talents when the team needed them most. Let's hope Martino doesn't forget that in Tello, he has a hungry forward who is capable of rising to the occasion and add a different, more dynamic flavour to the Blaugrana attack when faced with ultra-defensive opponents.

Key Two: Messi celebrated his 400th Barcelona appearance with three magical assists, all of which Tello is certainly grateful for. Considering his record-breaking 331 goals in just 10 seasons as a professional, it is kind of strange he didn't put the icing on the cake with yet another individual goal-fest. Still, he was decisive each and every time his team found the net against Levante.

After a fairly quiet first half, La Pulga decided to drop further back into midfield and focused on enabling others rather than looking for non-existent spaces in between the rivals' centre-backs. Such subtle tactical changes transformed the Catalans' attack in the second half by allowing their wingers and overlapping full-backs to push more often into attacking positions.

Messi reached yet another significant milestone in his already legendary career. Despite his hugely impressive records, we can't overlook the fact that the Argentinean wizard is still only 26 years of age and, based on his evident year-on-year improvement, the best must definitely be still to come.

Key Three: Those who didn't watch the game may be inclined to look at the convincing scoreline and think that this was yet another walk in the park for Barcelona. They couldn't be more wrong.

Martino fielded a team full of players who, for whatever reason, haven't become regular starters yet. Carles Puyol, Marc Bartra, Alex Song, Sergi Roberto and the above-mentioned Tello were given the opportunity to shine in the Copa del Rey and would have been hugely disappointed with the adverse 1-0 result at half-time. Clumsy passing, careless defending and sloppy marking resulted in one of the worst first halves in recent Blaugrana history.

Fortunately, an inexplicable own goal scored by Levante's captain, Juanfran, while trying to clear a loose ball within his area allowed Barcelona back into the game shortly after the break. Then the impeccable Messi-Tello connection, piled on the serious confidence knock suffered by the hosts, was enough for the Catalans to achieve a positive result which should ensure qualification for the next round after the return leg at the Camp Nou next Wednesday.

Having said that, Martino should do everything within his power to ensure his team stops allowing easy goals from set-pieces. The fact that six of his side's 13 goals conceded in La Liga came as a result of corners is little short of embarrassing. High-calibre rivals such as Manchester City, Atletico and Real Madrid will certainly be relishing the chance of hurting Barcelona in the air whenever they meet in the remainder of the season.

The Quote: "We lacked mobility and ball circulation speed in the first half. Levante defended well and, luckily, made a mistake in the second half, which we took advantage of. When our rivals defend deep, key players such as Messi help us unlock the game. Tello needed a game like this, he will feel much more confident from now on." -- Martino.

215,000 Cules follow Francesc Tomas at @TomasESPN and Barcablog Facebook for news and opinion notes on Barcelona.