El Clasico: The pressure is on Real Madrid, not Barcelona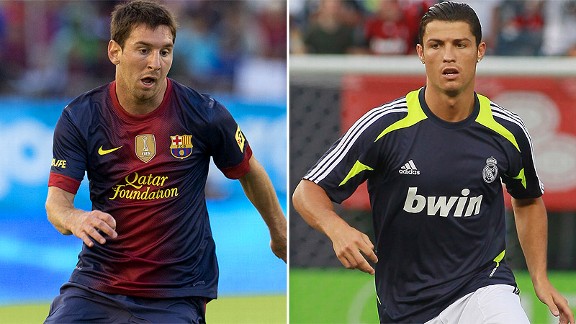 The focus will be on Lionel Messi and Cristiano Ronaldo once more


Despite the numerous times that Barcelona has faced Real Madrid in recent years, I just can't get enough of these high-tempo, nail-biting battles. Get ready for yet another titanic clash between the best two sides in world football: El Clasico is back!

On this occasion, Barcelona are a considerable eight points ahead in the table. If you analyse our performances so far this season, we have been far from brilliant at times so to think we have a clear edge above Real Madrid simply because of our momentary point advantage would be foolish. Cules must be prepared for yet another difficult contest against a world-class team, there's no two ways about it.

While it's obvious the fact that Los Blancos dropped points against a couple of wrongly-called minor teams doesn't make Barcelona better, it certainly shows that we have shown more desire to win the title so far. A clear example is how both teams performed away at Sevilla: Madrid lost miserably after being unable to overcome an early goal, Barcelona fought until the end to grab an extra-time winner.

A Barcelona win in El Clasico would mean we would walk away with a massive 11-point advantage after having only played seven matches. We would be in a very favorable position to win the title and get a valuable morale boost for the long road ahead. But my point is that, even if we lost, we would still walk away from this match with a considerable lead over Madrid. In other words, Barcelona have a golden chance of pulling away from our main competitors but a defeat would not be a disaster.

On the other hand, Real Madrid can definitely feel the pressure building on their shoulders as a negative result would take them even further away from the top of the table. For them, winning is a must. Sure, there will still be a further 93 points to play for after Sunday's match but they certainly don't want to miss their chance of shrinking Barcelona's lead.

Having said that, I feel Los Blancos face their crucial match at the Camp Nou in a much better position than they were a couple of weeks ago. The Spanish media has been focusing on the ongoing battles between Sergio Ramos and Jose Mourinho but I feel this may simply be overshadowing the fact that their team is actually coming back to form: Cristiano Ronaldo has netted eight goals in the last four matches and, having scored five times in the last five Clasicos, we can expect him to ask a few questions to our increasingly vulnerable defense.

La Liga would certainly not be over if the Blaugranas managed to defeat their arch-rivals, as such a competitive championship can certainly not be considered won in early October, but a positive result would definitely help us on our way.

Lionel Messi explained after the win at Benfica: "We won today and that is what is important. Now a match unlike anything else awaits. We know how the El Clasico derbies can be and we have to be ready. We just want to win in front of our fans."

It will be tough, but I trust our players to make us proud. Tito Vilanova still has a couple of days left in order to solve the defensive dilemma created by the absence of Carles Puyol and decide where, if at all, to field in-form Cesc Fabregas given the return of Don Andres Iniesta.

Looking forward to the biggest match in world football.

Have your say

I welcome and appreciate all respectful feedback.

What do expect from the Barcelona vs Real Madrid match?

Would you like to share any other important points with us?

As regular readers have realized, I enjoy engaging in debate using the ESPN conversation gadget. Over 31,000 Cules follow all my posts and comments at @Barcablog_com and Facebook already. Feel free to join if you would like to keep updated.