Defensive excellence trumps attacking guile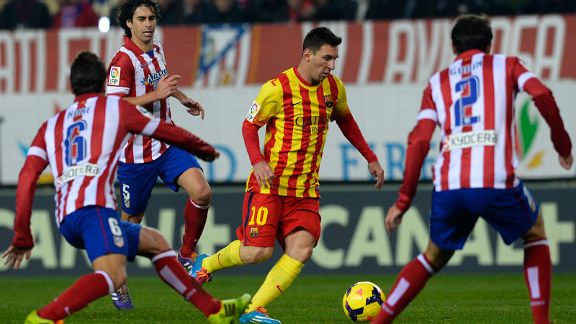 GettyImagesLionel Messi could not break the deadlock for Barcelona.
The goalless draw achieved in the Vicente Calderon on Saturday can be seen as a good result for Barcelona. On another day it could have been three points, but while they finished the better side in a tense and tight contest, they had to endure some difficult opening minutes and a passionate home crowd.

As is common with these clashes, the game between La Liga's top two sides did not live up to expectations, but Barca can be happy to be the first side to take points away from the Calderon this season. While nothing spectacular, it was a job well done against as good an opposition as they are likely to face all season.

For the casual observer, it was not the best of spectacles as both teams showed huge respect for the other and it turned into a game of chess at times, with neither side able to create any clear-cut goal-scoring opportunities.

On occasion, a football match threatened to break out, but the fact that both world-class keepers were required to make just one decent save each -- Victor Valdes from Arda Turan and Thibaut Courtois from Lionel Messi, within 60 seconds of each other midway through the second half -- tells a story in itself.

Afterward, both coaches talked up their side's performance using words such as "solid" and "intelligent," and the relief at not losing the game was palpable. For Barca, that relief will be greater. Their consistency makes them favored to edge ahead of Atletico in the next 18 games before the two teams close the season in the Camp Nou.

Now the question is whether Real Madrid can capitalise on the draw and go just three points behind the two teams with a win at Espanyol on Sunday night. If that is the case, we very much have a three-horse race for La Liga on our hands with Barca visiting the Bernabeu in March.

Barca came into the game with big decisions to make about their attacking options. The trio of Pedro, Cesc Fabregas and Alexis that Gerardo Martino decided to stick with all merited selection for their recent performances. The decision was made easier by Neymar and Messi having not played enough minutes this year to be thrown in from the beginning against a side as good as Atletico.

The opening minutes were difficult for the Blaugrana as Atletico looked to get in an early blow. The crowd tried to play its part, and Turan had them on their feet with a run down the right before Diego Costa managed a shot. The boos were deafening when Barca attempted to keep possession for the first time in their opponents' half on five minutes.

But from that moment, the game developed into a scrappy battle in which both sides stifled each other. For Barca, the defensive performance of Gerard Pique was key. In the first minute, Costa went off on a charging run that took him further than expected, but a minute later Pique was like a greyhound out of the traps to cover him wide on the right. He was majestic again on 26 minutes to close down the Brazilian-born striker when Koke found him in the area with a floated pass.

Pique, with the help of Javier Mascherano, dominated proceedings at the back throughout. One small but decisive interjection came in the last minute when he was quickly across again to deny Costa on the halfway line, and that tells a lot of the story. Defensive excellence won the day over attacking guile; Joao Miranda was equally as important for Atletico.

Special mention must also be made for the defensive work of Alexis, Fabregas and especially Pedro, who had to get back deep to help Barca out of some holes in the first half, which stopped them from causing any damage in advanced positions.

At halftime, Messi appeared for Andres Iniesta. At times he looked like he might inject something into Barca's game, but a well-organised, compact Atletico side always managed a well-timed tackle to stop his probing play.

Atletico created a few more half chances, and the stadium erupted. Barca needed something extra at a crucial stage of the game and sent Neymar on with 25 minutes to go, but the Brazilian appeared sluggish until the dying minutes when he finally found his creative feet and caused Atletico some problems. But it was too little, too late.

A point apiece and both teams reach 50 points together. Identical records and the third draw of the season between the two demonstrate how close they really are. At the moment, there is nothing to separate Barcelona and Atletico Madrid, but Barca can be confident that a second half of the season with Messi and Neymar in full flow should be enough to see them pull ahead.