Barca cruise to win thanks to returning Messi
Lionel Messi returned with two late goals against Getafe on Wednesday to wipe away any doubts after an absence of almost two months with a hamstring injury. Barcelona beat Getafe 4-0 in the first leg of this Spanish Cup last-16 clash, but it was Messi's late performance that will allow the Blaugrana to dream of greater successes this season.

The Argentine took a little more than 25 minutes to look like the four-time Ballon d'Or winner we all know and have enjoyed in recent years. As the match entered extra time his return could be termed only satisfactory, but then he burst into life to score twice and put the tie to bed.

Appearing as a 63rd-minute substitute with his side 2-0 to the good, Messi understandably looked rusty at first. His first meaningful pass was over-hit as he tried to spread play out to Adriano on the left. Then he was called on for a dead ball situation and hooked in a cross that caused chaos in the Getafe defence.

On 72 minutes he accelerated away from one defender on a diagonal run across the area before succumbing to the next who ushered the ball to safety, but moments later he was again a live wire in the area, creating panic in the box before Alexis hit a shot at the keeper's legs. It was a slow but sure start and when he skipped past a healthy challenge and then past two more opponents while looking to create more mischief, it was clear he was back.

With nine minutes remaining he showed speed to peel away to the left before crossing inches from Pedro's head and it appeared that would be all we would be getting, but that late burst showed the "look of a killer" that boss Gerardo Martino has seen in him since he arrived back to Spain last week, after a month of intensive preparation to get back to full fitness in Argentina.

When his first goal came he was in the right place at the right time after Sergio Busquets and Martin Montoya had found space in the Getafe area -- Messi simply prodded the ball home to produce a relatively happy ending.

- Report: Messi returns with a bang

What came next wiped that; his curled, left-footed shot around the wall narrowly missed with a long-range free kick, but with the last play of the match, Messi burst into the area from the right in his usual manner and slotted home to make it 4-0. All in all, his cameo ramped up expectations for him to be used from the start in Saturday's top-of-the-league clash at Atletico Madrid.

There were only just short of 40,000 spectators present for what was a late 10 p.m. kickoff on a cold Wednesday night, but they got what they had come for and could leave the Camp Nou 100 percent certain that their idol was back. Now Martino must decide whether to use him from the start in the Vicente Calderon on Saturday. It could be a risk so early after Messi's return, and it's not as if Martino has not got other alternatives.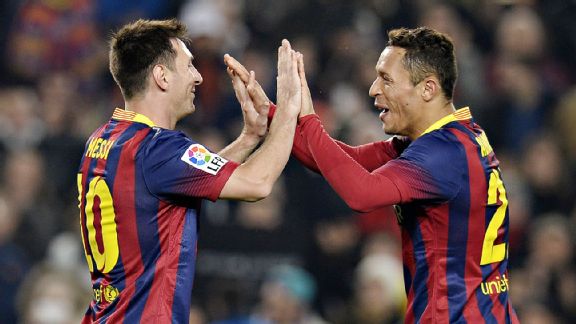 Lluis Gene/AFP/Getty ImagesLionel Messi made a happy, winning return to the Barcelona fold.

Barca's relentless passing game clicked into gear from the start with Pedro and Alexis continuing where they had left off with a hat trick each in the past two league games. When Cesc Fabregas headed home a Pedro cross from the left after just nine minutes, it came as no surprise.

Getafe lost badly by three goals to Sevilla at the weekend and never looked like threatening Barca. It was clear early on that the only question was if they were capable of keeping the score down to a respectable level that would make next week's second leg of any interest. Though they parked the bus and controlled Barca quite well for much of the first half, they must have known what was coming later from the bench.

Within five minutes of the restart Fabregas guided a Pedro cross inches wide just as the main man himself trotted along the sidelines to warm up. We were promised half an hour and eventually he entered the field of play on 63 minutes after a long session of stretching.

By that stage Fabregas had already had three more shots and just as Messi was about to come on, the former Arsenal captain converted a penalty to make it 2-0 after Pedro had been tripped.

Sergio Roberto got 90 minutes in the middle as Xavi was rested. In defence Marc Bartra was left out as a precaution and Carles Puyol was given the chance for a rare workout. Meanwhile with Victor Valdes back to full fitness after playing on Saturday, it was the turn of Jose Manuel Pinto to deputise again in the Cup. He was given as easy a night as he will remember.

The one save he did have to make came on the half-hour mark from a glancing header, and was of a sufficient quality to remind everyone why he has never let Barca down in the Cup or during Valdes' recent absence.

The other good news on the night for Barca was the reappearance of former coach Tito Vilanova, who is battling against throat cancer, to the stadium for the first time this season. The TV cameras focused on Vilanova early in the game and the news quickly spread across Spanish media as fans and pundits alike passed on their best wishes.

Let's hope he didn't leave before the end and witnessed Messi's final moments of magic, and more importantly that he can finally beat the illness that forced him to leave the club and Barca to contract Martino in the summer.