January transfer window ins and outs at Barcelona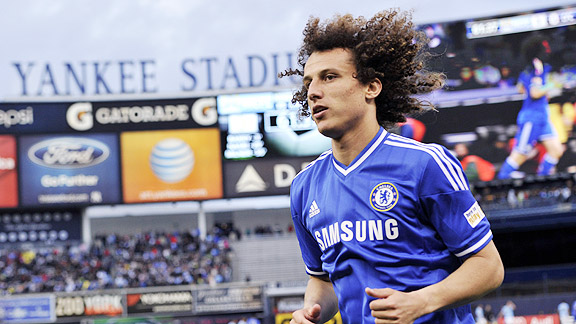 AllsportBarcelona could be considering the signing of David Luiz.
Whom should Barcelona bring in during the January transfer window, and whom should they ship out?

HIT LIST
Unfortunately, neither coach Gerardo Martino nor the Barcelona board have expressed much enthusiasm for reinforcing the team during the current winter transfer window.

Having recently welcomed speedy left-back Jordi Alba, solid goalkeeper Victor Valdes and quadruple Ballon d'Or winner Lionel Messi back into the squad after a painful period sidelined due to injury, club directors are arguing that their anticipated return should be enough of a boost for a team that, let's not forget, has managed to lead La Liga from the start and qualify for the Champions League knockout stages before the winter break.
However, I personally believe that the Catalan squad has been crying OUT for the addition of a reliable, experienced, taller centre-back for far too many seasons now and, regrettably, decisive action to solve such an obvious problem is long overdue. With Carles Puyol in clear decline given his ongoing injuries, Marc Bartra not given the clear nod by Martino and Javier Mascherano playing out of his ideal position, it's obvious that the board should invest heavily to find Gerard Pique a world-class partner.

The problem is that the type of player that Barcelona are craving is either unavailable at this moment in time or simply not tempted by the wages that the Blaugranas could offer. Having famously been priced out by PSG in their chase of Thiago Silva in past windows, club directors could now be considering the signing of David Luiz from Chelsea and Mateo Musacchio from Villarreal, with the 23-year-old Argentinian being the more realistic target.

The Catalan media has also reported that Barcelona could be interested in adding Romelu Lukaku as a more traditional reference striker, but, despite his nine goals and three assists in 18 Premier League appearances for Everton, I strongly believe that strengthening the team's back line is a far more important priority at this moment in time.

EXIT LIST
If the addition of a new signing seems highly unlikely, so does the possibility of offloading any of the current players. Considering the strict rotation policy that Martino has implemented since his arrival last summer, most of the 25 first-team players at his disposal have the chance of playing a key role in coming months.

Personally, I would like to see Cristian Tello showing off his blistering pace at the Camp Nou much more often. Otherwise, it would make perfect sense for Barcelona to loan him out to a topflight club where he could get regular playing time and gain valuable experience -- following the examples set by Gerard Deulofeu (Everton) or Rafinha Alcantara (Celta). Such an argument is also valid for Jonathan Dos Santos.

The cases of Isaac Cuenca and Ibrahim Afellay are slightly different as, unfortunately, they both suffered long-term injuries while on loan at Ajax and Schalke last season and have struggled since. A move elsewhere in search of playing time is their only way forward, but I would be surprised if any major European teams show any interest unless they can clearly show a potential return to fitness.