Barcelona midseason player ratings -- part one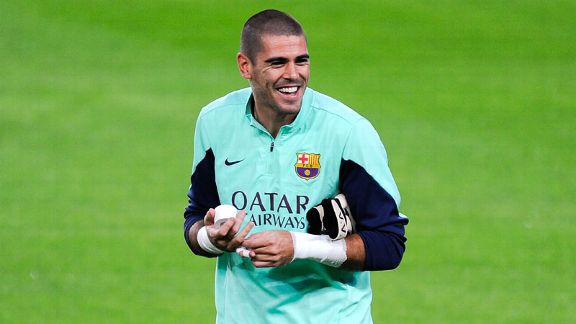 GettyImagesVictor Valdes has enjoyed a fine season despite his impending exit.
Following the recent Barcelona midseason review, here are my Blaugrana player ratings so far:

Victor Valdes, goalkeeper: 9 -- Despite his bizarre decision to leave the Camp Nou at the end of the season, the Catalan goalkeeper has remained fully focused and has been decisive on many occasions, earning several points for the team as a result. The Barcelona board will certainly have a tough job to find a worthy replacement in the summer. Fact: 48 saves, 10 goals conceded in 17 appearances.

Martin Montoya, defender: 7 -- This La Masia graduate has become a much more important piece of Gerardo Martino's rotation puzzle. His discipline, fitness and commitment have enabled him to start a considerable 10 games so far. Constantly overlapping into attack, he must improve his final passing touch to establish himself in the initial lineup. Fact: 81 balls recovered in 12 matches.

Gerard Pique, defender: 7 -- The Catalan centre-half has been the only constant in Barcelona's weakest area. No longer having a world-class partner leaves him exposed more often than not, but those who regularly blame him for any goals conceded should try to answer the following question: Would the Blaugrana back-line be able to cope without Pique at this moment in time, given the board's refusal to reinforce that position? I don't think so. Fact: 20 starts, 215 balls recovered.

Carles Puyol, defender: 4 -- Unfortunately, Barcelona's courageous captain has failed to break into Martino's preferred XI after a couple of years of fighting an endless string of injuries on the sidelines. Despite having the green light from the club's medical department, Puyol hasn't been able to reach the level of fitness he would have hoped for. Although it hurts to say this, I feel that the 35-year-old would be right to consider retirement unless he can get back to something closer to his best form before the summer. Fact: three league starts out of a possible 17.

Cesc Fabregas, midfielder: 8 -- The former Arsenal captain has become a key man thanks to his ability to adapt to different positions within Martino's formation. Whether played as an interior midfielder or false striker, Cesc has used his incisive passes and forward runs to make Barca more direct when needed. Many among the Camp Nou faithful keep holding the 40 million euro transfer fee against him but, ultimately, evidence shows it was money well spent as he will be key for many years to come. Fact: seven goals and nine assists in 16 La Liga appearances.

Xavi Hernandez, midfielder: 6 -- The most successful player in Barcelona's history (22 collective titles) continues to play a key role in the team's build-up play. For the first time in many years, however, I have felt that his patient approach has slowed the team down at times, especially when competing against rock-solid defences. Fact: two goals scored and one assist in 13 La Liga appearances.

Jonathan Dos Santos, midfielder: 4 -- The Mexican youngster refused to leave Barcelona in the summer despite having many top-flight offers. Having only played 26 minutes of football since, it is clear the 23-year-old should seriously consider a move elsewhere to develop his skills further if he is truly serious about his future. Fact: three matches played as a late substitute.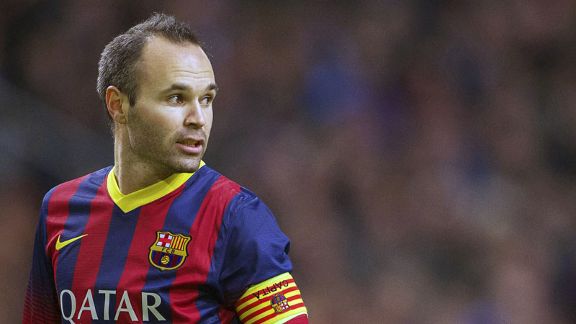 GettyImagesAndres Iniesta has struggled to reach his own extremely high standards this season.
Andres Iniesta, midfielder: 6 -- The Spain international is clearly one of the most talented players on Earth but, unfortunately, his poor fitness after the summer break and Martino's strict rotation policy haven't allowed him to shine at his remarkably high usual standard. Having said that, Don Andres has improved in recent games and will surely reach his best during the second half of the season. Fact: 17 matches as a starter, substituted eight times; one goal and two assists.

Pedro Rodriguez, forward: 8 -- El Canario is certainly one of the most improved players since Martino took over in the summer. The 26-year-old winger has responded to the manager's trust with electric dynamism, creating a lot of space thanks to his diagonal runs and, most importantly, improved accuracy in front of goal. Fact: 14 goals after only taking 34 shots; 24 appearances, only 15 as a starter.

Alexis Sanchez, forward: 8 -- The 25-year-old Chilean has, after a couple of below-par seasons following his 37 million euro transfer from Udinese, finally managed to make a positive impact for the Catalans. His relentless attitude, exceptional fitness and improved confidence is slowly but surely turning him into a crowd favourite among the highly demanding Camp Nou fans. Fact: eight goals and three assists in 11 La Liga starts.

Lionel Messi, forward: 8 -- The quadruple Ballon d'Or winner has struggled with muscular injuries since April and, despite having played a considerable number of matches since, has failed to reach optimal condition. Whenever available, Messi has continued to be decisive, finding the net often and creating spaces for his teammates to run into. His highly anticipated return in early January should also protect him from the damaging off-the-pitch rubbish that the Madrid-based media regrettably continues to make up on a regular basis. Fact: 14 goals scored in 14 appearances.

Neymar, forward: 9 -- Despite the amount of negative publicity before landing at the Camp Nou, the Brazilian youngster has already justified the 57 million euros that Barcelona invested on him during the summer. His freshness, professional attitude, confidence when facing defenders and blistering pace instantly improved the Blaugranas' attack, as rivals now have another major star to worry about. He led the team during Messi's absence, and his unpredictable talent could give the Catalans the edge when faced with robust, no-nonsense defences in upcoming months. Fact: 10 goals and 44 crosses into the area in 21 appearances.

Follow Francesc Tomas at @TomasESPN and Barcablog Facebook to ensure you don't miss Part 2. 148,000 Cules have already joined.