Barcelona midseason review: 8/10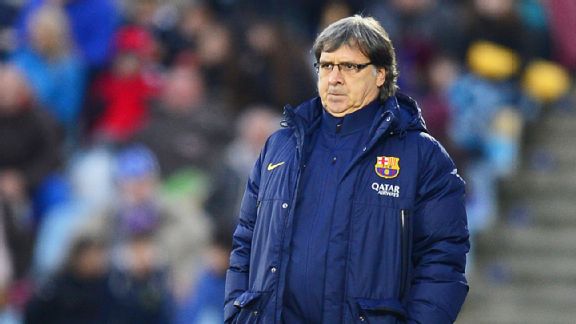 Javier Soriano/AFP/Getty ImagesNew boss Gerardo Martino has led Barcelona to the top of the La Liga table and into the Champions League round of 16.
After the forced departure of Pep Guardiola's successor, Tito Vilanova, due to a devastating cancer relapse, Barcelona was faced with a huge dilemma: who to appoint as the new manager of the most successful generation of players in club history.

Surprisingly to most, the virtually unknown Gerardo Martino was given the responsibility. Sure, the 51-year-old Argentinian had shown his worth by leading Paraguay to the World Cup finals and Newell's Old Boys to the Argentinian Torneo Final championship, but to be honest, the prospect of coaching the Blaugranas was certainly going to be his greatest challenge to date.

- Ledwith: Presents for Barcelona
- Report: Iniesta contract rubber-stamped

If we analyse the results achieved by the club since "El Tata" took over, it is clear that the Catalans should be satisfied: a total of 27 matches played in all competitions with a balance of 21 wins, four draws and only two defeats, scoring 73 goals and conceding 18 times in the process.

Under Martino's guidance, Barcelona have led La Liga from the start and are currently level on 46 points with Diego Simeone's impressive Atletico de Madrid and five ahead of archrivals Real Madrid. As for the Champions League, the Blaugranas qualified for the knockout stages after winning Group H and are already gearing up for their upcoming clash against Manchester City in February.

Despite all the positives described above, there is still a considerable number of Cules out there who aren't totally pleased with Martino. In their eyes, the fact that his Barcelona doesn't always stick to the club's traditional, patient passing approach is little short of sacrilege. His direct, no-nonsense personality during news conferences has also raised a few eyebrows within the Catalan media, more used to Guardiola's gentle, almost philosophical words in recent years.

Personally, I am delighted with the job Martino is carrying out at the Camp Nou so far. The heavy defeat against Bayern Munich in the Champions League semifinals in May showed that, however successful the huge focus on possession may have been in the past, a more direct approach was needed. Throwing some long and through passes in the mix has definitely helped to make the Catalans' attack less predictable -- a much-needed evolution is certainly underway.

Defensively, the whole team is showing a more decisive attitude towards recovering control of the ball when dispossessed, although more work needs to be done to reach their former level. Defending set pieces is still a weakness that the manager is trying to solve. In my opinion, this point will continue to hurt the team until the board finally signs the world-class centre-half this squad has been craving for far too many years but, regrettably, I don't quite trust the current president to complete any transfers in the near future.

Martino has established a strict rotation policy which, quite frankly, many of his key players dislike with a passion, as they haven't enjoyed as much playing time they would have hoped for until this point. However, I strongly believe that the manager is right: Ensuring that more veteran members of the team reach the decisive stages of the season (April-May) in optimal physical condition is essential to achieve the success that Cules are so desperate for.

The arrival of Neymar has definitely given Barca the edge they were missing last season, a fresh alternative up front to the ever-present Lionel Messi. The Brazilian youngster has made a huge impact (especially during La Pulga's absence due to injury) and has already become a crowd favourite thanks to his dynamism, confidence and relentless effort to make his teammates better.

Players including Alexis Sanchez, Cesc Fabregas and Pedro Rodriguez have also responded to Martino's confidence with a considerable number of goals and assists thus far. If the manager can find a way for his attacking players to make a similarly positive contribution once Messi returns in early January, the Catalans' chances of conquering further silverware this season will certainly be boosted enormously.

Full credit must be given to a manager who has taken virtually no time to adapt to a new city, squad, league and footballing tradition. His honest, up-front approach while trying to put his own spin on Barcelona's successful model is certainly helping him along the way. The players' attitude towards these changes is also to be applauded and admired.

Doubters are likely to look back to Guardiola's glorious era and shake their heads in disbelief at times but, hand on heart, it was time for the Blaugranas to move on and make slight tweaks if they were serious about reaching the very top of world football once again.

Keep up the good work, Barca!

PS: On a personal note, I would like to thank all of those who take their time to regularly read and comment on this column, making it one of the most popular discussion platforms for Barcelona supporters around the world.

Merry Christmas and Happy New Year to you -- Looking forward to an even better 2014!

147,000 Cules follow Francesc Tomas at @TomasESPN and Barcablog Facebook for news and opinion notes on Barcelona.