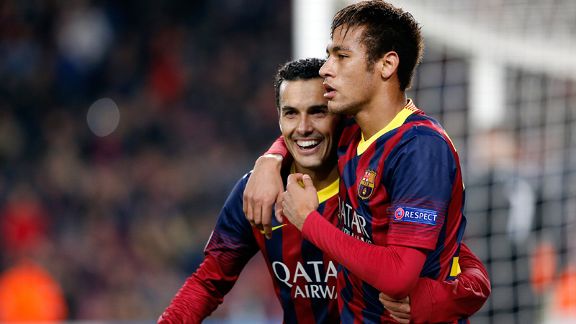 GettyImagesPedro and Neymar celebrate a goal during Barcelona's win against Celtic.
So Barcelona end 2013 where they started it, at the top of La Liga for the 55th consecutive week as we enter the Christmas break. The reason is mainly thanks to Pedro's nine minute hat trick in Getafe on Sunday -- helping to seal a 5-2 win when trailing by two goals -- and now is the perfect time to make a list of potential Christmas presents for players and staff at the club.

Pedro's gift is easy, after Sunday's performance he can have whatever he wants! Here are some other ideas for the rest, so feel free to add your own underneath.

For Leo Messi I would buy a gift voucher for one of the top steak restaurants in his hometown of Rosario. Messi will be spending Christmas there and improving his physical fitness after completing the recovery stage of his return to fitness from a hamstring injury. Rosario also happens to be the hometown of Messi's boss Gerardo Martino who will also be there over the festive period. The two of them are apparently planning on getting together and what could be a better way of plotting success in 2014 than over a nice dinner of Argentine beef?

For Martino, although it may be pricey, I would suggest he gets a thicker skin. It looks like he may need it after his recent appearances before the press. His manner has changed quickly from the mild mannered gentleman that arrived in the summer and his mood darkened at the first talk of a crisis by the hugely analytical local press corps, which comes after any defeat.

After rumours he would quit the club this summer, Tata got the hump and became defensive and even went to the lengths of telling the press pack that he could go back home and leave all of this behind when the moment took his fancy. But, despite his handling of the press, his Barca side have still only lost two official games since he took over. He just needs to keep his focus on the pitch.

It would be a DIY hairstyle kit for Neymar to give us all something to talk about. When the Brazilian arrived in the summer the whole of Spain was waiting breathlessly to see his wild and wacky hairstyles (as well as his silky football skills), but he has left us all a bit underwhelmed so far. The rumours and daily reports about what his next style could be seemed to stop some time ago as he has abandoned his outrageous efforts for more sober and serious cuts. His flamboyant dress style did shine through recently after scoring a hat trick against Celtic, when he appeared after the game dressed in what seemed to be a top hat and tails.


For Xavi Hernandez I would buy a flyswatter so he can bat away all the critics who are lining up to write him off as finished. Xavi will turn 34 next month and his influence on the side has obviously decreased over the last few years, although his standards are incredibly high. For me Xavi was, and still is, the most important piece of the jigsaw for club and country. He is the glue that keeps everything together in midfield with his precise passing game. A Spanish friend who supports Atletico Madrid insisted on telling me the other day that Xavi is kaput, basing his evidence on the recent 1-0 defeat at Athletic Bilbao that he happened to have watched. He must have missed the exquisite first time ball Xavi made to put Neymar clear of the Athletic defence only to be hauled down on the edge of the area.

To Victor Valdes, I would give an intensive course in how to play poker. His pokerface may come in handy next season at his soon-to-be-announced next club -- strongly rumoured to be Monaco. Valdes could surely have his pick of Europe's top clubs; he could go to the Premier League or Bundesliga and play for a side guaranteed to play in the Champions League. So if the rumours are true, there can only be one reason why he would pick the team from the principality, and poker at the famous casino will be the perfect place to spend it quickly.

For the club's finance VP, Javier Faus, I would buy a new calculator. He'll need it to calculate Lionel Messi's next contract. This is the man about who Messi famously exploded in the press last week while in Argentina, saying he knows nothing about football. Messi's outburst came after Faus had put his foot in it back in Barcelona when he told the press that renewing the terms of Messi's contract is not a process that needs to happen every year.

Messi added that Faus wants to run the club like a business when it is not that, and made it clear that neither he nor anyone on his behalf has asked for a new contract. What Messi has done however is make it clear that when the world's best player does actually decide he want a pay rise, he only has to ask. Denying him could prove very costly to the club.