Barca should respect, not fear, Manchester City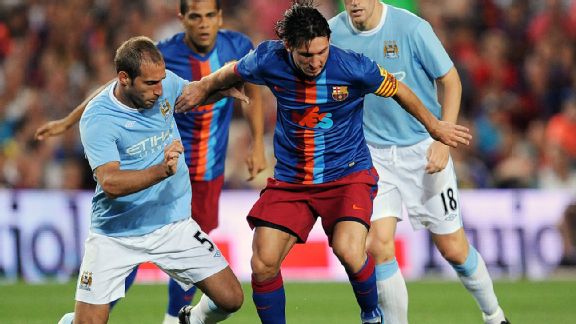 Jasper Juinen/Getty ImagesLionel Messi and Barcelona last faced off against Champions League round of 16 rivals Manchester City and Pablo Zabaleta in a 2009 preseason friendly.
Barcelona will face Manchester City in the last-16 round of the Champions League. The away leg will be played at the Etihad Stadium on Feb. 18 and the return at the Camp Nou a couple of weeks later.

- Report: City will be ready for Barca
- Report: Barca expect tough battle vs. City

For Barcelona, facing a team that has scored 47 goals in just 16 matches and won every home game in this season's Premiership is undoubtedly not ideal given the well-documented weakness of the Blaugrana defence in recent times -- especially when challenged with set pieces, unfortunately.

The prospect of the current back line being challenged by the likes of Sergio Aguero, David Silva or on-form Alvaro Negredo is uncomfortable, to say the least. The return of the much-loved Yaya Toure will, at least, bring some good memories back to the many Cules who adored him during his stint as a Blaugrana before he departed in search of a better wage and more playing time three and a half seasons ago.

City manager Manuel Pellegrini -- who formerly managed Real Madrid, Malaga and Villarreal -- has faced Barcelona countless times and will surely use his prior experiences to his team's advantage. The fact that he has already pointed out the fact that the Catalans are currently on the slide shows that, once again, he is prepared to play his traditional mind games from the start.

That said, the truth is that a team of Barcelona's calibre has been built to face difficult opponents such as the Citizens. Barca's degree of experience in such big occasions and continued ambition to achieve success within the current squad will certainly play a decisive factor. The fact that this will be Manchester City's first attempt at reaching the Champions League quarterfinals could very well play to the Catalans' advantage.

The Blaugrana players will definitely be eager to prove that to their supporters (and themselves, for that matter), and despite the criticism they have been suffering in recent weeks, they have what it takes to succeed against their very wealthy opponents in the next round of European football. The core members of the squad have reached the semifinals every year since 2008 and are not likely to allow such an impressive run to end without a fight.

Considering that the clash against the Citizens is nine-plus weeks away, it is still very early to predict what the key battles on the pitch may be at the time. However, the fact that Lionel Messi and Victor Valdes will (hopefully) be back in the squad by then should give Barcelona a huge leap forward in terms of self-belief, defensive stability and firepower up front.

I do believe that the Blaugrana have what it takes to beat their English rivals if they ensure the ball flows quickly across the park, if transitions into attack are more direct when needed, and if key men such as Messi, Neymar and Cesc Fabregas take without hesitation any chances the team creates.

At the same time, Manchester City would have a good chance of qualifying for the next round if they are capable of impeding the Catalans' passing game, close space within their back line, and hurt their rivals with long-ball counterattacks.

Whatever the outcome, football fans around the world are in for a treat. Both teams have a clear attacking philosophy and will surely put on a great show for all to enjoy while fighting relentlessly toward the next round.

Bring it on!

The Quote: "They are a team who find it easy to score -- we'll look to have a good tie and, more importantly, win it. They are an important rival with very good players, but form will be influential. Maybe they would have preferred not to play against FC Barcelona. We have to ensure we go into February in good form". -- Martino

146,000 Cules follow Francesc Tomas at @TomasESPN and Barcablog Facebook for news and opinion notes on Barcelona.