Neymar and Sanchez sink the Yellow Submarine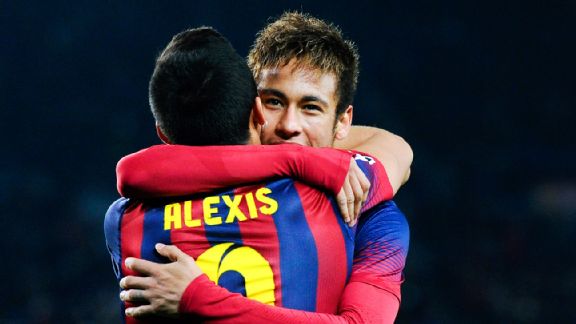 David Ramos/Getty ImagesNeymar and Alexis Sanchez teamed up to help earn Barcelona a 2-1 win over Villarreal.
Barcelona achieved a convincing 2-1 win against Villarreal at the Camp Nou in match-day 16 of La Liga. Neymar (brace) scored the goals Saturday for the Blaugrana, who enjoyed 77 percent of possession, created 13 goal-scoring chances and attempted 12 shots, seven of them on target and two that hit the post.

- Report: Barcelona 2-1 Villarreal

Key 1: Neymar was, for the second consecutive match, capable of showing his undeniable goal-scoring instinct when the team needed it the most. In yet another display of relentless desire to find spaces and willingness to cause trouble up front, the 21-year-old continued to step up to the virtually impossible challenge of covering Lionel Messi's absence.

Neymar's five goals this week are credit to a player who has been humble enough to listen to those around him and take advice in order to adapt to his new team in very little time. The way in which established teammates such as Andres Iniesta or Jordi Alba were constantly connecting with him on the pitch clearly shows the amount of respect and admiration he is gaining within the squad, thanks to his consistent performances of late.

Having already scored eight goals in front of the Blaugrana supporters at home, it is clear that the dynamic Brazilian is slowly but surely earning his place in the hearts of the highly demanding Cule crowd. The way in which Neymar has led the way this week, after a couple of disappointing performances which had created a negative atmosphere around the team, is both admirable and impressive -- and definitely something true fans are not likely to forget any time soon.

Key 2: Despite the fact that Neymar will surely make all the headlines once again, I actually feel that Alexis Sanchez deserves a huge amount of recognition as well.

The Chilean forward is becoming a key man and continues to grow in confidence and importance on a weekly basis, to the point that the Camp Nou faithful are now chanting his name regularly in gratitude for his tireless runs, courageous attitude and ability to stretch defences by forcing his markers out of position.

Sanchez's fitness at this point is definitely giving him an edge which Gerardo Martino has astutely spotted and exploited. His pace and strength enables him to not only sprint into space and run at rivals in attack, but also to track back and attempt to recover possession whenever he loses control of the ball -- a trait of the most successful Barcelona during the Pep Guardiola era which, fortunately, seems to be making a return in the last two matches.

After a couple of disappointing seasons where he struggled to adapt to the Barcelona formation and the pressure of playing for such a huge club, it is fantastic to see Sanchez establishing himself as a regular starter and becoming an even more decisive player as a result.

Key 3: Barcelona completed one of the best matches of the season, dominating the game from beginning to end. However, the fact that the team allowed yet another goal from a set piece continues to be a worry which, regrettably, keeps coming back afloat on a regular basis. On this occasion, it was young La Masia graduate Marc Bartra who failed to defend his rival as well as Cules would have hoped for.

Don't get me wrong, I do feel that the Catalan youngster has plenty to offer and should definitely not be crucified for a simple mistake but I still believe Sandro Rosell and Andoni Zubizarreta should, once and for all, sign a taller, experienced centre-back who can be the ultimate defensive partner to Gerard Pique for years to come.

In modern football, as in life, it is often the smaller details which make all the difference between resounding success and shameful failure. Barcelona were clearly the better team Saturday but, ultimately, only won the match by one goal in the latter stages of the second half. If Martino's men had been better defensively and not allowed themselves such painful mistakes, the Camp Nou crowd would have certainly appreciated it and breathed easy much earlier.

The Quote: "We're doing very well, it's a shame that the Christmas break is so close. The three points improves the morale of the players, but what gives me a boost is the sacrifice these players make on a daily basis. This is the match that has made me the most happy since I've been at Barca because of the way we played and because of the quality of our rival." -- Martino.

145,000 Cules follow Francesc Tomas at @TomasESPN and Barcablog Facebook for news and opinion notes on Barcelona.