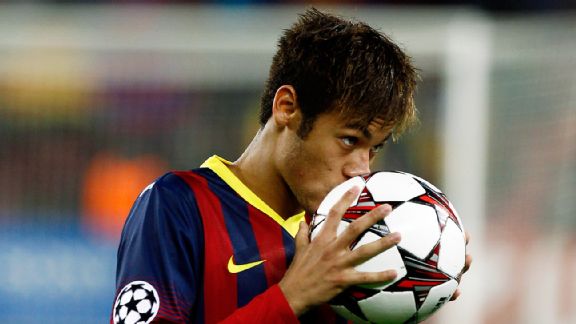 QUIQUE GARCIA/AFP/Getty ImagesNeymar had reason to celebrate after scoring a hat trick in Barcelona's win over Celtic.
Neymar dazzled the Camp Nou with a stellar performance against Celtic in the final match of the group stage of the Champions League, ensuring that Barcelona qualified for the next round atop their group. Considering the significant amount of pressure that the team had been under before the game, such an impressive display was certainly welcome.

- Ledwith: Barca and Neymar back to their best
- Report: Montoya confident of Barca stay

The 21-year-old was, at last, able to demonstrate glimpses of the goal-scoring instinct that helped him make his name as a teenager in Brazil with Santos and had, unfortunately, not been that obvious since he was signed by the Catalans for 57 million euros in June.

In fact, Neymar hadn't been capable of scoring once in the biggest competition in European football until Wednesday. As they say, good things come to those who wait: His jaw-dropping hat trick against the Scottish champions should keep those who were beginning to doubt him (and his team, for that matter) quiet in the foreseeable future.

Having scored eight goals and given 10 assists in 21 appearances for Barcelona, it is clear that the Brazilian youngster is becoming a more important player as time goes by. Considering the way in which many newcomers have struggled to adapt to the Blaugrana systems and formation, the fact that Neymar seems fully integrated within the squad is a reason to celebrate.

The absence of Lionel Messi has enabled Neymar to continue his progression toward becoming the main Blaugrana reference in attack. His best game was no coincidence and came as soon as coach Gerardo Martino gave him the freedom to roam around the central striking position and drop back into either midfield or the wings whenever he felt appropriate.

While it is clear that the Brazilian forward deservedly grabbed all the headlines after the match against Celtic, I would also like to highlight the great effort, work ethic and generosity demonstrated by his two attacking partners -- Alexis Sanchez and Pedro Rodriguez. The two dynamic wingers managed to connect with Neymar often, enhancing each other's game as a result.

Because of the young Brazilian's fantastic attacking display, his relentless defensive work is often overlooked. Despite the arrogant, selfish image that the media tried to portray of him before he signed for Barcelona, it is now evident that Neymar is willing to backtrack and chase his marker whenever needed.

Such positive attitude has shown his coaches, teammates and the club's supporters that he is hugely committed and prepared to put the collective success of the team ahead of his own -- a refreshing ethos, especially in times when the Ballon d'Or debate continues to focus the attention of far too many, far too often.

Neymar was certainly buzzing after his best performance as a Blaugrana, and to be honest, I just couldn't be any happier for a player who has given his absolute best from the moment he landed at the Camp Nou.

His heavy price tag and preconceived negative image could have affected his progression, but admirably, the youngster has been able to put it all behind him and move on by focusing on finishing the job at hand to the best of his abilities.

At 21 years of age, the prospect of seeing Neymar fulfill his full potential at Barcelona is massively exciting. His freshness, confidence and technical skills are tremendous and can get better with time.

Let's trust that Martino can ensure his progression continues even after the return of the currently injured Messi. Great players should always be able to work together, and this case should not be any different.

Obrigado, Neymar!

The Quote -- "I needed a match like this; I hope it continues. I'll save the match ball so that my teammates can sign it. I'm very pleased that I scored a hat trick in the Champions League. We played really well, and that's what is important." - Neymar

145,000 Cules follow Francesc Tomas at @TomasESPN and Barcablog Facebook for news and opinion notes on Barcelona.