Barca search for peace in must-win clash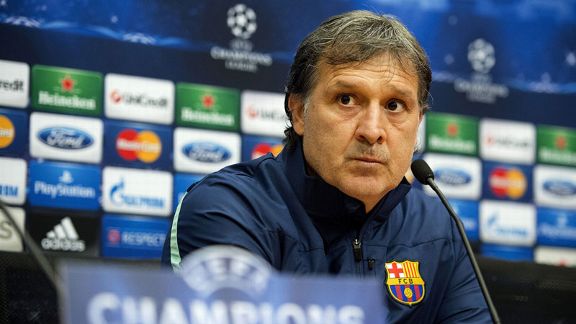 GettyImagesGerardo Martino has some big decisions to make in attack and defence.
Most of the media attention has been firmly focused on Barcelona's need to reinforce their current squad in the upcoming winter transfer window given the team's disappointing defeats against Ajax in Amsterdam and Athletic in Bilbao. To be honest, not even the much-needed victory against Cartagena on Friday in the Copa del Rey managed to lift the supporters' spirits.

Fortunately, under-pressure manager Gerardo Martino has another chance to prove doubters wrong on Wednesday. Since Barca supporters can easily drop from over-the-top euphoria to ultra-negative pessimism in a matter of days, a convincing win over Celtic in Champions League action at the Camp Nou would definitely lift spirits after a below-par fortnight.

Having earned 10 points in their five Champions League matches, the Blaugrana could actually qualify for the next round and top Group H by achieving a mere draw at home against the Scottish side. However, failing to beat their opponents in front of the Catalan crowd would definitely not bring any peace to an already polluted atmosphere.

Barcelona should certainly show Celtic plenty of respect if they want to succeed in their upcoming contest. We all know that recent history doesn't really count for much, but Barca's hard-fought win in the reverse fixture (only achieved by a late Cesc Fabregas header) and their shocking defeat at Celtic Park last season should be firmly placed at the back of everyone's mind.

El Tata will, once again, be forced to field a starting 11 without the injured Lionel Messi and Victor Valdes. In other words, the coach will have to cover the absence of his attacking and defensive leaders by looking for alternatives within the squad -- a virtually impossible task in the case of the Argentinian wizard, the best player in the club's history.

Tata could field a back line of Marc Bartra partnering with Gerard Pique in the two central positions, and I strongly believe the young Catalan can become a regular starter if given enough confidence and time to show his worth. The returning Jordi Alba and emerging Martin Montoya could be preferred options as full-backs.

In midfield, one option would be mixing the freshness of Sergi Roberto and the creativity of Andres Iniesta in front of the solid Sergio Busquets. As I argued here, Barcelona are in desperate need of more ambitious dynamism at the moment, and the inclusion of 21-year-old Roberto could be exactly what the team needs.

The challenging job of covering Messi's absence up front should be given to Cesc Fabregas, Neymar and Alexis Sanchez. In my opinion, the three forwards should rotate positions constantly in order to lose their markers and create unexpected gaps within the Scottish defence.

Many would argue that Cesc should take the false striker position, but swapping positions with his attacking partners would be a more beneficial option, which would throw more necessary unpredictability into the mix.

A solid victory against Celtic at the Camp Nou would enable Barcelona to recover some of the credit they have regrettably lost in recent times.

The Quote: "This is an important game in all aspects -- we have to finish top, we have to win and put in a good performance. For us, every game is tough and each one has consequences. We have to be accurate and fast in our buildup and in moving the ball around. We'll be playing in a 30-yard strip of pitch and we need to keep up the pressing, too, to stop Celtic hitting us on the break." -- Martino

145,000 Cules follow Francesc Tomas at @TomasESPN and Barcablog Facebook for news and opinion notes on Barcelona.