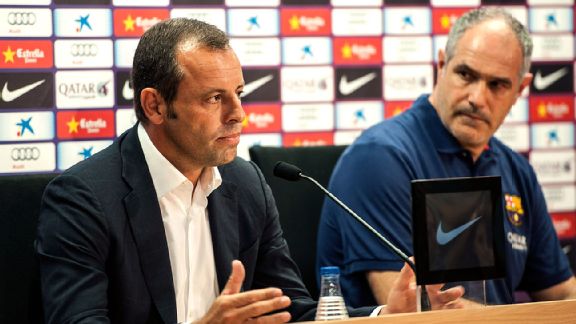 David Ramos/Getty ImagesBarcelona president Sandro Rosell, left, and sporting director Andoni Zubizarreta need to re-evaluate the Barcelona roster.
After many seasons at the top of European football, many are arguing that it is time for Barcelona to look into the future and start replacing a number of key players whose level of performance, inevitably, is beginning to drop as the years go by.

Evolution and regeneration is part of professional sport. There are many athletes who have the skills to succeed. However, it is only those who are physically and mentally prepared not only to enjoy success but also to endure failure through difficult times who go on to enjoy successful, lengthy careers.

Living under the spotlight for such a prolonged period of time is rarely an easy ride. Ultimately, survival comes down to mental strength and prolonged dedication. Sporting legends such as Paolo Maldini, Kobe Bryant or the Catalans' own Carles Puyol or Xavi Hernandez are clear examples who show that those who believe they can succeed ultimately do.

Unfortunately, nothing lasts forever though. One day, a younger, fitter athlete will pop out of somewhere and, with the right guidance and attitude, will ultimately take the place of those who most believed would be capable to stay at the top of their game forever.

I found an analysis of how the Blaugrana preferred XI changed during the Pep Guardiola era fascinating. It was a clear indication of how the most successful manager in Barcelona's history managed to change his team in front of the eyes of the world without many even realising.

Let's have a closer look: Puyol, Yaya Toure, Sylvinho, Samuel Eto'o and Thierry Henry started for the Blaugrana in Barcelona's 2009 Champions League final victory. Those five were replaced by Dani Alves, Javier Mascherano, Eric Abidal, Pedro and David Villa a couple of years later when Guardiola's team lifted the European trophy again in Wembley in 2011.

I find the fact that Neymar and Jordi Alba are the only newcomers who have managed to establish themselves in the starting XI in the past couple of years quite worrying. Despite the fact that key squad members keep arguing that they remain as hungry for victory as ever, I can't help but think the arrival of at least one other fresh reinforcement is essential.

Given the many injuries suffered and lack of form shown by the always courageous Puyol, my feeling is that the focus must be on reinforcing that central defensive spot. That is a point I have been making for more than three years now and, regrettably, president Sandro Rosell and sporting director Andoni Zubizarreta have managed to postpone for no valid reason.

Marc Bartra has impressed whenever trusted this season but, at least for now, it doesn't look as if coach Gerardo Martino wants to give him a regular spot in the starting lineup. Mascherano is, undoubtedly, a highly intelligent and committed player but expecting him to contain forwards such as Cristiano Ronaldo, Zlatan Ibrahimovic or Robert Lewandowski is perhaps a step too far. Even the usually solid Gerard Pique has looked vulnerable in recent times.

It is imperative for Barcelona to sign a defensive leader who can freshen up the current back-line. Whether that means trusting the developing Bartra unreservedly or investing heavily in someone such as Jan Vertonghen, Mats Hummels, Eliaquim Mangala, Inigo Martinez or Nicolas Otamendi is up to the coaches. Personally, I would rather see what the La Masia youngster can truly offer before splashing out but would also be pleased with an impact signing.

The decreased influence that more attack-minded players such as Dani Alves, Xavi or Andres Iniesta are having this season has meant that many Cules are also beginning to question their futures. In my opinion, the gradual inclusion of Martin Montoya and Sergi Roberto, as well as making the role that Cesc Fabregas is playing even greater, is certainly the way forward.

Farther up the field, it is becoming increasingly clear that a pure, more traditional striker would certainly be a huge help up front, especially during the times when Lionel Messi may be unavailable for whatever reason. Sure, Alexis Sanchez and Pedro are improving their on last season's goal production, but, honestly, it still feels as if a key piece is missing whenever the team is battling against a rock-solid, powerful defensive line.

Let's hope Rosell and Zubizarreta finally realise that in football, as in life, those who fail to move with the times get left behind.

144,000 Cules follow Francesc Tomas at @TomasESPN and Barcablog Facebook for news and opinion notes on Barcelona.