Alexis Sanchez must prove his worth against Benfica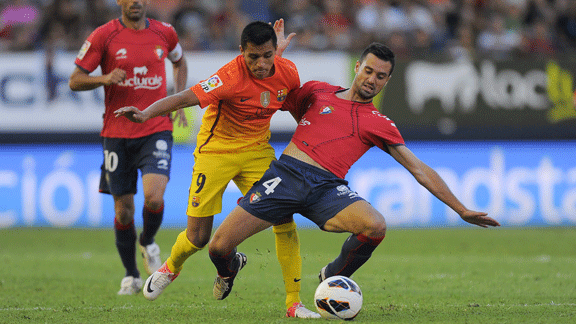 GettyImagesAlexis Sanchez: Expensive Chile international
Alexis Sanchez landed at the Camp Nou in the summer of 2011 after Pep Guardiola highlighted the Chilean forward as his number one priority to reinforce our attack after a season when Messi, Villa and Pedro virtually played every game -- taking us to Liga and Champions League glory, may I add.

After months of negotiations, a total fee of 38.5 million euros, including many variables, was agreed. I must admit I didn't know much about Alexis before he landed at the Camp Nou, so I found myself watching some archived Udinese and Chile matches in order to learn why Barcelona were prepared to invest so heavily on a player who had only scored 21 goals and given 11 assists in 112 appearances in Serie A. I quickly realized that it must have been due to his direct approach, confident dribbling, relentless defensive work-rate and potential given his 22 years of age.

As with any new signing, Cules had very high expectations and were eager to see what the Nino Maravilla could add to our successful team. Unfortunately though, his first season at Barcelona was disrupted by a constant string of short-term injuries which didn't really allow him to fulfil his undeniable potential.

Pep Guardiola was not impressed, as he felt Alexis lacked the ability to read the messages his body was sending him before these injuries occurred, normally after long transatlantic journeys back and forth to play full matches for his national team in South America. The Catalan coach showed his frustration back in March 2012: "Barcelona are going to lose Alexis for another 3 weeks. It pains me to lose him like this. We need him more than ever, we can't afford to lose him again."

Alexis Sanchez managed to score 15 goals for us last season but the general feeling was, and still is, that the Chilean kid should have done better. The added pressure on his shoulders due to his heavy price-tag was probably not helping either but that's how football works: The more expensive you are, the higher the expectations.

When Tito Vilanova took over from Pep Guardiola before the brief summer break, he highlighted Alexis as a key player who should share the goalscoring responsibility alongside the great Lionel Messi and the rest of our skilled forwards. The result? Alexis got injured while playing a meaningless friendly for Chile just three days before La Liga started in mid-August and hasn't scored yet despite making 7 appearances since.

While we can't doubt Alexis' courage and eagerness to succeed, the truth is that his performances so far don't justify why Barcelona paid such a vast amount of money for him. Sure, the fact that he has picked up six injuries in a year doesn't help, but we must begin to wonder whether there is underlying problem behind all this, whether it is fitness, diet or the inability to cope with the pressure. Whatever it is though, it must be fixed as a matter of urgency.

Explained Sanchez himself: "The best Alexis hasn't arrived yet, I rate my performances at Barcelona so far as a 5 out of 10. I accept the criticism because it makes me stronger. I can give a lot more of myself and I know how good of a player I am. I have to earn a spot in the starting line-up. I'm going to make it difficult for my team-mates - they're going to have to work for it as well."

Having said all of the above, the truth is that I would be delighted to see the Chilean forward prove all doubters wrong with a string of regular, constant, confident performances and, why not, a sackful of goals in the next few months -- the upcoming Champions League match against Benfica sounds like the ideal opportunity to start putting things right.

If the legendary Guardiola trusted Alexis enough to sign him, we must give him a chance to prove his worth. Barcelona is a big club where expectations are huge but I am confident he has what it takes to turn this situation around.

Benfica, a challenging test

Barcelona now travels to Portugal to face Benfica in the second match of the Champions League group stage on Tuesday. A win at the always challenging Estadio Da Luz would be a huge step in order to ensure we qualify for the next round.

Andres Iniesta, Adriano and Carles Puyol are back in our squad after the doctors gave them the green light. The return of our eternal captain is of paramount importance, as his spirit, leadership and experience have been dearly missed during his absence. On the other hand though, it has been officially confirmed that Thiago will be out for a further two months after damaging a ligament in the right knee. Devastating news for the promising youngster and our midfield as a whole -- I'm gutted as I was really looking forward to seeing him in the near future.

I feel Barcelona should stick to our traditional 4-3-3 formation to face Benfica. My preferred line-up would have Valdes in goal; Alves, Puyol, Mascherano, Alba in defense; Busquets, Xavi, Cesc in midfield; Alexis, Messi, Pedro as forwards.

Away matches at the Champions League are always difficult and, despite the fact that Barcelona are superior in theory, any silly mistakes or concentration lapses would make our lives very difficult.

Stay focused, grab the victory, worry about El Clasico against Real Madrid after.

Have your say

I welcome and appreciate all respectful feedback.

Do you trust Alexis Sanchez to succeed at Barcelona?

What do expect from the Barcelona vs Benfica match?

Would you like to share any other important points with us?

As regular readers have realized, I enjoy engaging in debate using the ESPN conversation gadget. Over 31,000 Cules follow all my posts and comments at @Barcablog_com and Facebook already. Feel free to join if you would like to keep updated.