Fabregas and Pedro key in Copa win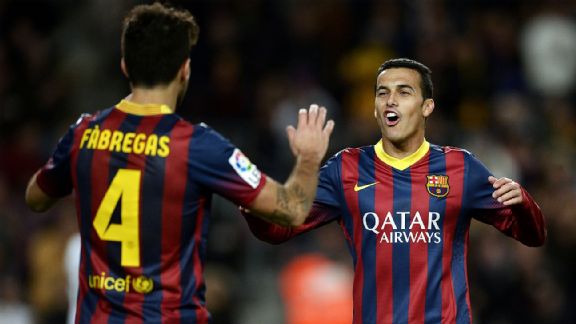 Lluis Gene/AFP/Getty ImagesBarcelona will need more top-level performances from Pedro and Cesc Fabregas as the season progresses.
While the rest of the world was contemplating events in Brazil and South Africa on Friday, the Barcelona squad was ensconced in a hotel on the South East coast of Spain staring at the prospect of slipping on a huge banana peel.

The Blaugrana arrived in Cartagena to take on the local heroes in the much-maligned Spanish Cup. The opposition currently sit third in Group 4 of the Spanish 2B -- a regional level split geographically into four leagues after Spain's second tier -- but nothing could be taken for granted. The home side had struck gold in drawing Barca and for their players this was the biggest moment of their sporting career.

- Tomas: Breath of fresh air for Barca
- Lowe: Minnows hope in flawed Copa

For Barca, the game had taken on a different kind of importance. It did not matter that the two-legged tie would give them the chance correct any slip-ups in a second leg at the Camp Nou in eleven days' time. They had to win, and even more importantly, provide a performance convincing enough to wipe recent defeats in Amsterdam and Bilbao from the memory.

And eventually that it was they did, running out 4-1 victors, but when Fernando Rodriguez put the home side ahead on 16 minutes there must have been some doubts in the minds of 'Cules' all over the world.

Imagine the headlines if things had stayed that way; but football is a 90 minute game and awards nothing for an early goal. In time, Barca were able to slowly gather some collective composure and produce the football required to get out of a particularly worrying situation.

In doing so they called on the services of two players very much at a career crossroads at the moment. Pedro Rodriguez and Cesc Fabregas grabbed the first half goals to turn the game around and give Barca a 2-1 lead at the break -- both were excellent all evening, but the two Spanish internationals need to push on from this win and prove themselves over the coming months.

With the World Cup looming, this is a big season for two players who could play important roles in Spain's attempt to hold on to the famous trophy. On the flipside, they could be unused in Brazil -- or in Pedro's case -- even miss the plane if he does not get more game time at Barca.

With Lionel Messi of course missing through injury and Neymar rested on the bench, it was left to these two, now highly experienced but still relatively young heads, to take the game to the lower league side.

Fabregas, playing as the false nine, was key in the leveller with a beautifully weighted pass for Pedro before hitting a tremendous right footed drive to put Barca in the lead before the interval and dissipate any doubts.

Even more impressive was Fabregas' movement and the way he made space for his teammates in that difficult first period, and it is a role in which Vicente del Bosque may still want to use him for Spain despite the number of attacking alternatives at his disposal.

Pedro's own personal situation is more dramatic. He has featured in all but one of Barca fifteen league games this season but has only completed a full 90 minutes on just four occasions, starting too often from the bench. Premier League clubs have been alerted to Pedro's desire to play more and he has been linked to Manchester United and Liverpool in January in recent days, although reports of Pedro saying he would be willing to leave may be wide of the mark with no comments being directly attributed so far to the player.

With three trophies to play for in 2014, manager Gerardo Martino would do well to keep Pedro happy at a time when just a handful of injuries have shown weaknesses in Barca's attacking play.

Pedro completed his brace in style in Cartagena with a lovely shimmy with just the keeper to beat as Barca completely bossed the second half. The Tenerife-born winger then hit the post for debutant striker Jean Marie Dongou to pounce on the rebound for his first goal in his first team debut.

Remembering of course that it was against weak opposition, the Friday run-out can only be seen as a positive for a Barca side in the strange position of needing a win. Any potential embarrassment was avoided and along with a neat performance from Sergi Roberto, there was 80 minutes for Jordi Alba back from a long break with injury.

Martino admitted as much afterwards when he said victory was an obligation -- two more in the next week at home to Celtic and Villarreal and those two away defeats will soon be forgotten.