Much-needed breath of fresh air for Barcelona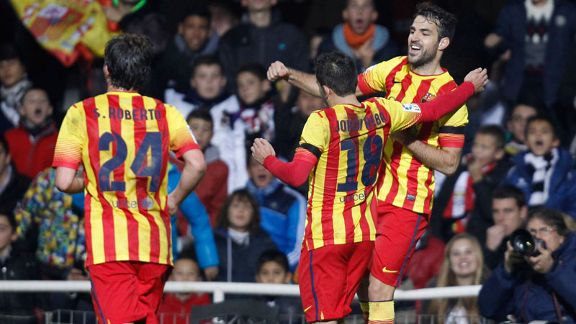 APBarcelona celebrate a goal in the Copa del Rey.
Barcelona achieved a much-needed 4-1 win against Cartagena at the Cartagonova Stadium in the round of 32 of the Copa del Rey. Pedro Rodriguez (double), Cesc Fabregas and Jean-Marie Dongou scored the goals for the Blaugrana, who enjoyed 76 percent of possession, created 25 goalscoring chances and attempted 20 shots -- 10 of them on target.

• Copa del Rey wrap

Key 1 -- Under-pressure manager Gerardo Martino will certainly be pleased with the Blaugranas' performance after a couple of disappointing defeats in their last two matches. The negative press will hopefully stop after this game but, having said that, doubters may still argue that Barcelona's victory was not only expected, but also an obligation.

The Catalans' coach was able to rest many of usual players such as Xavi, Andres Iniesta, Gerard Pique or Neymar given the vast superiority in terms of squad and budget between the two clubs.

I was thrilled to see the speedy Jordi Alba back in the line-up and, as usual, the Catalan full-back didn't disappoint. While it is clear that his fitness and sharpness are still far from his very best, his desire to push forward and cause trouble for rival defences remains unchanged. Considering the recent difficulties Barcelona have experienced when chasing games, the return of Alba is certainly a reason to celebrate.

The inclusion of Sergi Roberto in the starting eleven was also welcome as, once again, the La Masia graduate demonstrated that his passing skills and ability to read the different stages of the game keep improving despite having enjoyed very little playing time so far this season.

Despite conceding an early goal against the clearly inferior Segunda Division B side, Barcelona were ultimately able to impose their game and achieved a comfortable victory which, to be honest, could have been scandalous had their forwards been more accurate when shooting on goal.

It was certainly reassuring to see that, despite recent criticism, mainly aimed at the team's longest serving players due to their poor form in recent times, the team was able to put it all behind and get on with the job in hand.

Key 2 -- Fabregas became the offensive leader that the Blaugranas have been missing since Lionel Messi suffered his latest muscular injury. While everyone must agree that any team would miss the world's best player, the former Arsenal captain covered his absence as the false striker extremely well.

The Catalan playmaker opened up spaces for others with his dynamic runs and generous through passes. His confidence and determination to find the rival's net certainly pushed the team forward and, fortunately, his impressive goal gave Barcelona the advantage just before the half-time break after a hesitant start.

Fabregas' connection with Pedro allowed El Canario to score a valuable double which virtually qualifies Barcelona for the next round of the Copa, making the return game at the Camp Nou little more than a glorified training match within the team's busy schedule.

Key 3 -- Dongou only needed 11 minutes to score his first official goal with the Catalans. The first ever African player to graduate from La Masia impressed with his freshness and undoubtable goalscoring instinct.

Sure, it is definitely early days and the defence he was playing against were certainly not the strongest, but seeing the 18-year-old celebrating with leaders of the stature of Carles Puyol fills me with pride and hope for his future.

Great to see some young faces demonstrating their ability to make a positive impact if given the chance!

The Quote -- "We had to win this game and we did it. It was clearly an unequal game as our rivals normally play in the third tier of Spanish football. It is true that we missed several clear chances, as we did against Ajax and Athletic Bilbao. However, we had plenty of time to react and put things right. We got a great result in the end." -- Martino.

143,000 Cules follow Francesc Tomas at @TomasESPN and Barcablog Facebook for news and opinion notes on Barcelona.