Trusting Martino is the way forward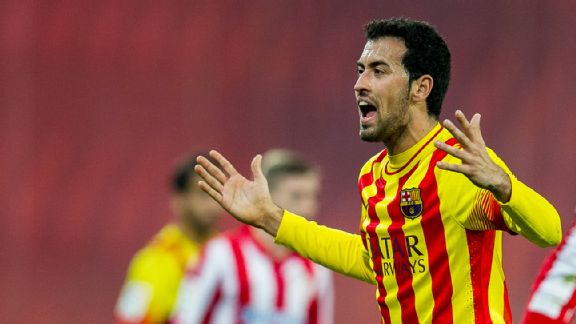 Juan Manuel Serrano Arce/Getty ImagesAfter two straight losses, frustration levels are high for both players and fans of Barcelona.
Barcelona lost their second consecutive game in a week against the relentless Athletic de Bilbao at the always hostile San Mames on Sunday. Regrettably, there have already been a number of voices in the Catalan media who are blaming Gerardo Martino for the latest negative results.

The Argentinean manager was brought in as a last-minute replacement to Tito Vilanova and, shortly after taking over the driving seat at the Camp Nou, he was quick to realise that rivals had found a way to defend against their increasingly predictable pass-and-move philosophy after many years at the very top of European football.

- Marcotti: Barca's bad week
- Ledwith: Barca stumble on road again
- Report: Busquets: Loss due to ref

There is no point on denying that Barcelona's football this season just isn't as attractive as it has been in the past but, honestly, the team had clearly reached a point when an evolution of the system was needed. As memorable as watching Pep Guardiola's team was, it became obvious that the movements and mechanisms had to vary slightly in order for the Blaugranas to continue to be effective.

Martino correctly identified that a more direct, dynamic and unpredictable approach was essential. After little more than 100 days in charge, there have been glimpses of what the new manager is trying to implement: Vigorous defensive pressure, a balanced mix of quick triangular combinations and longer through passes and a more direct search for the rival's goal.

Sure, these ideas haven't been fully implemented yet but, considering the underlying reasons behind the change, supporters should remain united and show their manager enough trust so that the team can succeed in the near future. Demanding excellent football and results so early in the current transition period is neither healthy not fair.

I am certainly not using it as an excuse, but it is obvious that Barcelona have been missing the magic of Lionel Messi during his absence due to the annoying string of muscular injuries he has been suffering since last April. Undeniably, the team is finding it hard to unbalance games without their attacking leader, the main player who can make the difference whenever the Catalans are found in need of incisive inspiration.

During the last two matches, the Blaugranas have only taken four shots on goal. Yes, you read that right: Four shots in the 180 minutes since the latest FIFA international break. Despite the golden chance that Messi's absence has given Neymar, Cesc Fabregas or Alexis Sanchez to prove themselves as worthy alternatives for the False 9 position, the painful truth is that none of the above players have been capable of filling the gap yet. Let's hope they regain their confidence and goal-scoring flair soon.

It was been reported that, as I have been arguing for a number of years, coach Martino agrees that the current squad could certainly make use of a taller, more traditional striker upfront as a different alternative when the team simply can't get through rival defences by constantly keeping the ball on the park -- a modern-day Henrik Larsson or Julio Salinas, if you like.

Having said that, Martino has no option but to make the most of his current squad until the club is capable of reinforcing that position in future transfer windows at this moment in time. Even without Messi, a squad boasting the likes of Neymar, Sanchez, Pedro and Cristian Tello in front of Andres Iniesta, Cesc, Xavi and Sergio Busquets should not be struggling to create plenty of chances in every game.

In other words: There is no point of endlessly waiting for the Plan B if the Plan A isn't working either.

I am also certain that Barcelona's attacking transitions will improve significantly once Dani Alves and Jordi Alba return from their current injuries. Their continuous overlaps usually create situations of numerical situations from the wings, giving the Catalans the momentary edge that has been missing in recent matches.

Whether Cules like it or not, the crude reality is that Barcelona have lost two matches in a week and must put things right as a matter of urgency in order to recover their former confidence. Winning matches and scoring goals is the only way forward and the best solution to an adverse situation which could potentially become a deeper problem.

Next up, Cartagena away in the Copa del Rey -- a great opportunity to return to the convincing Barcelona that millions around the world have come to love.

The Quote -- "We aren't used to losing -- particularly not two in a row. We had been looking to put things right after the defeat in Amsterdam. I think things would have been different if we'd scored first, their goal really hurt us. This team knows what we have to do and how we have to play." -- Martino.

140,000 Cules follow Francesc Tomas at @TomasESPN and Barcablog Facebook for news and opinion notes on Barcelona.