Lack of ambition and edge exposes Barcelona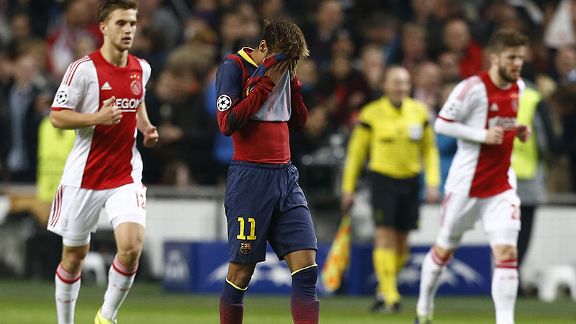 GettyImagesNeymar reacts to Barcelona's 2-1 loss to Ajax.
Barcelona were defeated 2-1 against Ajax at the Amsterdam Arena in Match Day 5 of the UEFA Champions League. Xavi Hernandez scored the goal for the Blaugrana, who enjoyed 64 percent of possession, created eight goal-scoring chances and attempted three shots, two of them on target.

Key 1 – This was one of the poorest Barcelona performances in recent years. However hard I try to think of positives, it's just not happening: The Catalans just didn't have a great game at all, due to lack of ambition, willingness and real desire to take the three points back to the Camp Nou.

Sure, the team had already qualified for the next round of the biggest competition in European football when the game started but, honestly, I was hoping for better attitude and effort to control the direction of the match from the Blaugranas.

Despite having more possession than the courageous hosts, the Barcelona midfielders were largely unable to connect with their forwards regularly and, as a result, their attacking transitions just didn't flow as Cules have come to expect.

In football, teams are only as good as their last performance and, judging by the below-par display on Tuesday night, there are many aspects for the coach to work on in the near future if this squad is to be successful this season.

Key 2 – Unfortunately, players such as Pedro, Cesc Fabregas or Andres Iniesta failed to provide the Blaugrana attack with any unpredictable edge. For whatever reason (lack of decisive ambition being the most likely), they clashed against the fairly well-organised Ajax defence continuously -- even when Ajax went down to 10 men after Joel Veltman was sent off early in the second half.

Neymar was also far from his best but, at least, he tried to make things happen by rotating into space from the wing into more central positions, eager to combine with those around him. Despite having a couple of chances to get that all-important second goal, his final touch just wasn't as accurate as it should have been.

Key 3 – Gerardo Martino was forced to get creative in order to field a reliable starting 11 given the variety of injuries and bans his squad was suffering from ahead of the initial whistle.

With that in mind, the back line consisted of a Gerard Pique and Javier Mascherano partnership at centre-half (no news there, as they are clearly the manager's trusted pairing in the heart of defence) and Carles Puyol and Martin Montoya as full-backs.

While I can understand the election of the youngster, I was puzzled to see the club captain returning to the position he used to occupy much earlier on in his career.

Having said that, Barcelona didn't lose this game because of the absence of key players such as Lionel Messi or Victor Valdes but, regrettably, due to a lack of clear attacking direction whenever in possession of the ball.

Key 4 – While it is clear that the Champions League clash at the Amsterdam Arena will definitely not go down in history as one of the most successful nights of Blaugrana history, such poor display should also be put into perspective.

This was the Catalans' first defeat of the season after an impressive run of 28 unbeaten matches. The team will need to achieve only one point in their upcoming game against Celtic at the Camp Nou in order to ensure they qualify at the very top of Group H.

It is clear that those doubters who always await adverse results to get off the Barcelona bandwagon will have plenty of negatives to cherish after this match but, ultimately, if Barcelona were to lose a match in the near future, I would have definitely picked this one.

Please note that I am not trying to take any pressure off the players after this defeat but strongly believe that, given their impressive streak of positive results so far this season, they deserve their supporters to at least give them the benefit of the doubt ahead of their battle against the ferocious Athletic Bilbao at San Mames on Sunday.

Time to move on, learn from the many mistakes made and focus on the next one!

The quote -- "Ajax were much more intense than us in the first half. We must have a hard look at ourselves and find out why the intensity was different after the break. We can't afford to have a first half like that. It is obvious that this can't happen again. We had the chance to seal the first place and we let it slip." -- Martino in Mundo Deportivo

136,000 Cules follow Francesc Tomas at @TomasESPN and Barcablog Facebook for news and opinion notes on Barcelona.