Martino must use youth in Ajax tilt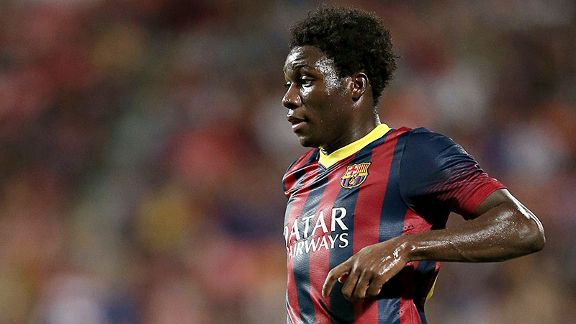 Chris McGrath/Getty Images18-year-old Jean Marie Dongou could be called upon by Barcelona manager Gerardo Martino in Tuesday's Champions League match at Ajax.
Barcelona need just a point in Amsterdam on Tuesday to guarantee first place in Group H of the Champions League and should look to their youth against Ajax with a number of injuries affecting the squad and more important games coming up in the next month.

Already classified for the last 16 of the competition, all attention at the moment is to remain at the top of La Liga where the club has now sat for 52 consecutive weeks, and Sunday's tricky away game at Athletic Bilbao should be in the forefront of manager Gerardo Martino's mind.

- Report: Pinto credits self-help books

Sporting director Andoni Zubizarreta, who signed an extension to his contract last week until 2016, admitted as much on the team's arrival in Holland on Monday.

"Yes, at this moment La Liga is our priority because we have already done things very well in Champions. All competitions are important to us and now the Spanish Cup is starting as well," he said, recognising that timing is everything during a long football season.

Ajax are still with a shot at second position in the group and need the points, but this is one game in which the Blaugrana can maybe relax, experiment a little and rest as many players who will be expected to start in Bilbao on Sunday as possible.

Certainly Martino has shown until now that he is not adverse to shuffling his team around to rest players, and Barca's two rivals in La Liga, the two Madrid sides, are in exactly the same situation.

Both topping their Champions League groups and with qualification guaranteed, they too will be rotating their sides when Atletico go to Zenit St Petersburg on Tuesday and Real entertain Galatasaray a day later.

It is in attack where Martino will have few options with Lionel Messi and Cristian Tello both out with injuries and Alexis Sanchez suspended in Champions League play, leaving Cesc Fabregas and Neymar as the obvious options of who to play furthest forward.

However, Fabregas is just back from a slight injury last week and the games are mounting up for Neymar who has been playing twice a week solidly since Martino first thrust him into his side at the beginning of the season.

Martino could rest one or both and look to start 17-year-old Adama Traore or 18-year-old Jean Marie Dongou. The two players looked the part coming on in their debuts against Granada on Saturday and starting an away tie against top European opposition would help fast-track their education.

Further back in the centre of midfield there is Sergi Roberto who hit his first goal for the club in the Champions League two years ago this week against BATE Borisov. Surely he can now to be trusted to start in place of Xavi Hernandez, who was rested at the weekend after suffering a strained hamstring, but has still made the trip to Holland.

Andres Iniesta, Pedro Rodriguez and Sergi Busquets were playing in South Africa this past Tuesday for Spain and all played major parts on Saturday, which can only further boost Roberto's claim to a starting position in the centre.

Patricio Gabarron and Sergi Gomez are two other young Barcelona B players who have made the trip and could be used at some stage.

While in Amsterdam, Martino and his side will be aiming for an outstanding club record for consecutive games without defeat; Pep Guardiola managed 21 in 2011 and Martino can draw level with that feat if his side leaves the Dutch capital without losing.

On the same date as Tuesday's game, two years ago Nov. 26, a then-unbeaten Barca lost 1-0 at Getafe to go six points behind Real Madrid in a league they would eventually lose.

If Barca do avoid defeat, the opportunity to beat that record will come in Bilbao on Sunday in a match much more crucial to their chances of titles at the end of the season.

What happens in Amsterdam will not matter in the long run. A point and first place in the group should be attainable no matter which starting XI is played, and of course it is important to keep that unbeaten run going as long as possible to build confidence.

Simply coming back from Holland with a fully fit squad and no more injuries would be a boost at this stage in the season. Martino's season has only just begun and he has set the bar very high. How he copes with the current injuries in the league is the most important thing.

For now, what happens in the Champions League is secondary, and Martino has enough credit in the bank to wait until 2014 for that competition to kick off again properly.