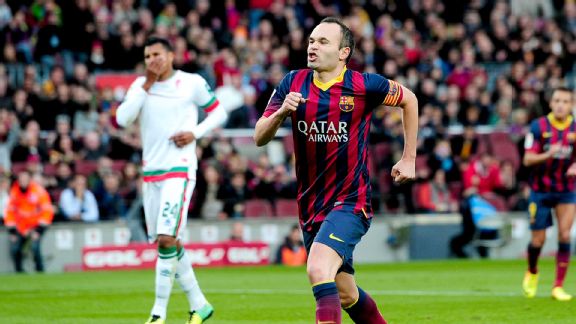 Josep Lago/Getty ImagesAndres Iniesta celebrates scoring Barcelona's first goal, which came from a penalty -- the first of Iniesta's career in La Liga.
The goals were shared by Andres Iniesta, Cesc Fabregas, Pedro and Alexis Sanchez as Barca strolled to a straightforward 4-0 win over Granada on Saturday at the Camp Nou in the absence of Lionel Messi and a number of other key players.

While they will be happy to remain unbeaten and clear at the top of La Liga, it was as tired and unconvincing a performance as a 4-0 win can be. Xavi Hernandez, Dani Alves and Victor Valdes were also missing through injury and substitute keeper Jose Manuel Pinto will be happy with his work and a clean sheet, but this was no classic Barca performance.

- Highlights: Barcelona 4-0 Granada

That is perhaps understandable after the globetrotting seven of the starting XI had to put up with to play meaningless international football in the past week.

As Spain gallivanted around Africa with Sergio Busquets, Pedro, Iniesta and Marc Bartra, Brazil and Chile met in Toronto in the early hours of Wednesday with Sanchez, Neymar and Adriano all involved. So perhaps it was the luck of the draw that this game was at home against weak opposition.

It is also a sad indictment on La Liga that Granada arrived at the Camp Nou in eighth place with the fourth-best away record in the league yet were unable to put up much resistance to an out-of-sorts Barca side -- although, in Granada's defence, they looked quite comfortable in a scrappy first half and only two penalties separated the teams. And neither of those were cast-iron, definite shouts, nor were they the type of dives in the area that will have the Madrid press howling.

In fact, if you look at the fouls in the area 100 times from 50 angles -- on Fabregas for the first and Iniesta for the second -- you would probably still not be able to make your mind up about how legitimate they were.

Barca were not complaining though, and both were taken brilliantly; first by Iniesta, amazingly his first penalty in La Liga, then Fabregas, who banged the second into the right-hand corner.

Neymar did not even get to take free kicks around the area; Fabregas grabbed the ball for those. The Brazilian was too busy getting fouled in every way you can imagine -- kicked, tripped, pushed -- as the Granada players had the full repertoire and it made for a poor game.

They lost Manuel Iturra to a second yellow and had to play the final 25 minutes with 10 men, but Barca also got involved with the physical stuff and failed to dominate possession like they usually do.

While there were adequate performances through the middle from Fabregas, Iniesta and Neymar, who dropped deep on every opportunity, the ball was rarely moved wide with the usual accuracy we have come to expect, meaning wide players Pedro and Sanchez had little chance to shine.

Iniesta was the pick of the bunch, and it is key for the Blaugrana that he keeps up this level of performance. He once again appeared to glide past the opposition in a tight midfield and picked out some lovely passes, something we have seen little of this season.

Pinto was called on to do little, but he can be happy with his game. He had to dive full length to parry a Piti shot wide in the second half and then made a great block at close range from Allan Nyom that helped start the counterattack for his side's third on 72 minutes. The ball fell to Neymar, who strode down the centre of the pitch before releasing Sanchez, who made no mistake.

Substitutions were made, and there was time to enjoy some future stars. Sergi Roberto was neat in everything he did and cleverly fed Fabregas on the left to give him an easy assist for Pedro and the final goal.

Adama Traore, 17, was given the final eight minutes to do something, and he nearly scored a dream goal after a few crossovers and a burst through two defenders and past another before he hit a weak shot. Will we be watching him do that every week in four years? Only time will tell.

For now, Barca will be happy with the day's work. It will be much more difficult at Bilbao next Sunday, but they have time and the personnel to prepare for that challenge. The one big positive is it's a good team that wins 4-0 without playing well.