Pinto playing for Barca future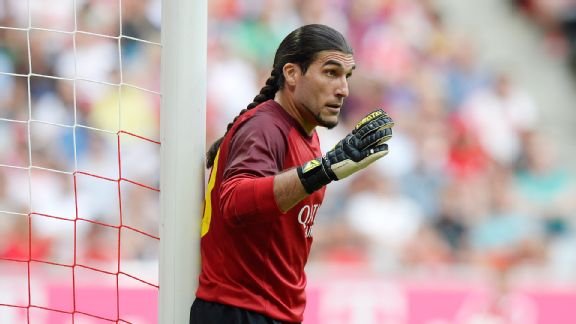 Christof Stache/AFP/Getty ImagesJose Manuel Pinto is expected to start in goal for Barcelona until Victor Valdes returns in early 2014.
Barcelona go into Saturday's home game with Granada in the midst of a mini injury crisis. The loss of Lionel Messi has been widely discussed for the past week, but for many the calf problem picked up by goalkeeper Victor Valdes in Johannesburg on Tuesday could disrupt the Blaugrana's season more than the loss of the little Argentinian.

- Tomas: Valdes injury a new blow
- Report: Martino calm over injuries

While most pundits, this one included, were proclaiming earlier this week that in Messi's absence Neymar will be the key player for Barca for the rest of 2013, the name of 38-year-old reserve keeper Jose Manuel Pinto must be added to that of the Brazilian superstar.

Pinto will substitute for Valdes, who broke down near the end of Spain's ridiculously pointless trip to Africa last week, during their 1-0 defeat to South Africa on Tuesday. Like Messi, Valdes will be ruled out until the beginning of 2014 at least.

Even if we have conjectures, we will never know why the Spanish Football Federation took the world champion on a short tour of Africa during the free week, courting much controversy due to Spain's playing the first game in Equatorial Guinea under the dictatorship of Teodoro Obiang, who came to power in 1979.

In the 1-0 loss, Spain players had to face a number of over-the-top challenges from the home team, and Real Madrid's Xabi Alonso survived a scare after a particularly meaty tackle. But it was in Johannesburg where disaster struck for Barca and Valdes.

Now it falls on part-time rap music producer Pinto, who signed for Barca from Celta Vigo in January 2008, to step up. Until now he has always been a reliable substitute for Valdes, but has never been offered such an opportunity as the one he has now.

In Pinto's five-plus years at the club, he has played 63 matches, in which he has conceded only 53 goals. Many of those games have come in the Spanish Cup, where he has been given the chance to shine 38 times and has won two of the three finals in which he has played.

In the league, he has managed six clean sheets in 21 games and has had to pick the ball out of the net only 23 times. But what Barcelona newspaper El Mundo Deportivo described as "spectacular" on Thursday was that he has managed to stop 72.3 percent of all shots that rained in on him; I'll let you be the judge of whether that stat is truly spectacular.

What is surprising is that after such a stop-start career, Pinto is so confident. On Monday, a day before Valdes' misfortune, Pinto was talking up his chances of replacing the soon-to-be departing keeper at the end of the season, telling a radio station, "I always fight for a place in the side. There is a long way to go until next season, but I am already training for my place in the side then."

Barca have of course been linked with a whole host of keepers to replace Valdes in the summer; Borussia Monchengladbach's Marc-Andre ter Stegen is mentioned most often. There has even been talk of bringing in two keepers and dispensing of Pinto. That could be an immediate option if he does not measure up over the next few weeks.

What the big man is able to do in the four league and four cup games between now and the new year will determine whether he has a future at the club. While he has always been steady, throwing in a veteran who struggled to be first-choice in 10 years at Celta does not inspire confidence.

Further injury problems have hit Dani Alves and Xavi Hernandez, who will also be missing on Saturday. Xavi has not recovered from a hamstring strain, while Alves will be out for up to 10 days after returning from friendlies with Brazil with a problem in his calf.

There is some good news: Cesc Fabregas and Gerard Pique will be available after missing the Spain games, which is just as well because this would be an injury crisis of worrying proportions if they couldn't play versus Granada.

Adama Traore and Jean Marie Dongou are the two latest graduates of La Masia to be called into the squad to help fill the gaps. Dongou is a strong Cameroon-born forward, while Barcelona manager Tata Martino describes the Catalan Traore as "perhaps one of the most important of the promising youngsters that Barca have."

So it will be all change on Saturday at the uncustomary kickoff time of 4 p.m. local time, when Barca will look to remain unbeaten with a severely depleted squad. However, Pinto is not losing sleep and is keeping calm; he is playing for his Barca future and he knows it, but he is far from worried.