Valdes injury new blow for Messi-less Barca
Victor Valdes will be sidelined for the next six weeks after picking up a right calf injury while playing a meaningless friendly with Spain 8,000 kilometres from the Camp Nou. And the worst thing is there is nothing Barcelona can do but to hope that their 7 million euro-a-year goalkeeper recovers as fully and as quickly as possible.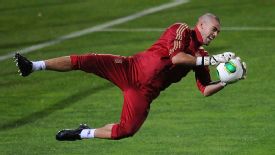 GettyImagesVictor Valdes will be replaced between the sticks by long-term deputy Jose Manuel Pinto.
I can't understand how long major clubs will have to put up with this FIFA friendlies nonsense. Can anyone please explain what the sporting benefit of traveling all the way to South Africa for 90 minutes of football actually is? Me neither.

If what the Spanish federation wanted was the chance of facing a competitive rival in order to prepare their team ahead of the 2014 World Cup, it surely wouldn't have been too difficult to find at least one nation which would be prepared to travel to face La Roja on their home turf.

Traveling halfway around the world doesn't strike me as an optimal way of preparing footballers for their competitive schedules ahead. I am aware that injuries are part of football but, as we recently saw in Lionel Messi's case, factors such as appropriate diet, schedule rest, tailor-made training programmes do have a part to play, however small.

Oh well. Trying very hard to put a positive spin on this, one could argue that having key men injured at this relatively early stage of the season should, in theory, allow them to be fresher in the decisive months in the season as long as they are capable of recovering their full fitness when scheduled. While you can't control misfortune, it is definitely better to have it now than further down the line.

Whether Cules like it or not, the unavoidable fact is both Valdes and Messi will be out of action until January 2014 at the earliest.

The goalkeeper had proved himself as virtually unbeatable, making at least a couple of decisive saves in every game and winning Barcelona several points in the process. Considering how badly the club's supporters pushed for defensive reinforcements in the summer, Valdes can certainly be happy after conceding only 11 goals in 19 appearances.

As for Messi, it is unquestionable that not being able to count on the genius of the best player in the planet is likely to have a negative effect on the team. The Argentine wizard is obviously disappointed about having to celebrate the 10th anniversary of his Barcelona debut away from the pitch but, unfortunately, all he can do now is rest patiently and continue his journey toward recovery when he is ready.

Looking at the squad, it is clear that both Jose Manuel Pinto and Neymar will be forced to step up in their absences.

Pinto, the 38-year-old keeper, will have the chance to show why the club continues to renew his contract year after year. Pinto performed fairly well when needed last season and, based on that, I trust that he will be a worthy replacement while Valdes is unavailable. My fingers are firmly crossed for him.

Despite having only just landed at the Camp Nou, the charismatic Neymar has already wowed the demanding Blaugrana crowd with glimpses of cheeky magic since his arrival during the summer transfer window. His partnership with the on-form Alexis Sanchez and the unpredictable Andres Iniesta will certainly need to be at its very best in the near future if the Catalans want to retain/extend their current three-point lead at the top of La Liga until Leo returns.

It is clear that the team, as a whole, will have to work extra hard in the absence of their key attacking and defensive players. To make the challenge even more difficult, Dani Alves picked up a knock while training with Brazil, as did Xavi Hernandez and Cristian Tello despite not being on international duty.

If we add all of the above players to the ever-growing list of Blaugranas in need of medical attention (Cesc Fabregas, Gerard Pique, Jordi Alba, Jonathan Dos Santos and Ibrahim Afellay are also on it), one can easily realise that Gerardo Martino definitely has a hot potato in his hands in coming weeks.

Let's hope that the enormous injury list doesn't grow even further before Saturday as, otherwise, the determined coach would have very little to choose from in order to field a reliable starting XI against Granada.

Get better soon, nearly everybody!

The Quote -- "Please allow me to say that, if you want to stay here for a while instead of touring the world next time, you can. It would be much more quiet for all of us." -- Sandro Rosell to Spanish football federation president Angel Maria Villar

116,000 Cules follow Francesc Tomas at @TomasESPN and Barcablog Facebook for news and opinion notes on Barcelona.