Saturday should see Neymar once again become the main man for Barca as Granada head to Camp Nou. That is of course if he comes back in one piece from Brazil's friendly with Chile in Toronto on Tuesday night.

Neymar failed to score in Brazil's 5-0 win over Honduras on Saturday, but he was at the centre of the action as the Central American players continued trying to see who can leave the biggest bruise on the Brazilian's legs.

It is testimony to his close control and silky skills that Neymar has become a marked man. But while his detractors claim he is prone to go to ground by his own accord, or at least with very little persuasion, if he is to turn into a world-class talent in the coming months he will need more protection from referees.

- Lionel Messi blames injury on 'bad luck'

Now with Lionel Messi out until the end of the year at least, Barca face four key league games to defend their unbeaten start to the season and the three- and six-point gaps they have opened up on the Madrid clubs at the top of La Liga.

Neymar's participation in the Chile friendly will finish sometime around 4am on Wednesday morning in Barcelona, where Cules will be relieved if they wake to hear that the Brazilian and his Chilean opponent Alexis Sanchez, another key sources of goals for Barca, are unscathed and on a plane back to the city.

Real Madrid have already suffered during this international break with a long-term injury to Sami Khedira on duty for Germany, while Xabi Alonso was on the receiving end of a bad challenge in Equatorial Guinea. Barca will be delighted to avoid any similar situation.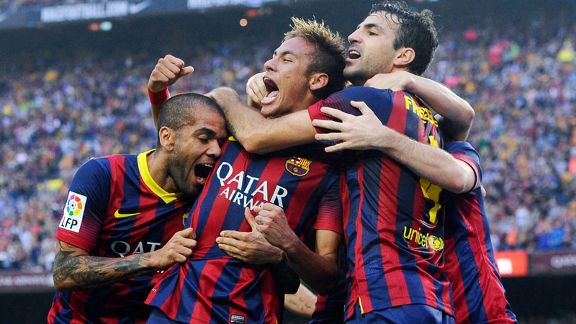 GettyImagesNeymar has eight assists and four goals for Barca thus far.
In an interview given to beIN Sport in the U.S. Neymar admitted his new life in Europe has not been too difficult to adjust to. "It is easy to live in Barcelona, it is full of good people ready to help you and it's a nice place, I like it a lot," he told the TV channel in Miami.

Whether or not it will become a city he will enjoy for many years will depend in some measure on how he can help Barca over this mini crisis. The club will now be looking for payback on their large summer investment, but Neymar appears relaxed about the challenge.

"I don't feel any extra pressure because of Messi's absence," he claimed. Neither does he seem bothered where he is deployed on the pitch, saying: "It's not too important, what matters is to play. I just want to keep playing well and go on to win the World Cup for Brazil." So no pressure there then.

With the grand old competition due in his own backyard at the end of the season these are critical months in the career of the young star, although you would not think it from his demeanour.

He has provided his national side with 10 goals and 10 assists so far in 2013 and helped Brazil to victory in the Confederations Cup with the 3-0 demolition of Spain, so his confidence is not misplaced and Brazil will start as favourites in the summer.

Since arriving at Barca his performances have been impressive, and come with eight assists and four goals. After Granada's visit on Saturday he will be needed to overcome tricky away games in Getafe and Bilbao before anyone can enjoy the Christmas festivities.

With the Champions League group stage to wrap up, at Ajax and a home game against Celtic, and the first leg of the Spanish Cup tie with Cartagena all to play, Neymar will be busy, and it will be no surprise if Tata Martino uses him strategically as he did at the beginning of the season.

The early-season promise will be put to the test more than ever, and Neymar finds himself at a crossroads where performances will decide whether we have a Robinho or Romario in our sights.

A hero of Neymar as a youngster, Robinho burst on the scene at Real Madrid from the same Santos side as Neymar, but by the time he became Manchester City's first big-money signing his career was on a downward trajectory.

Neymar described Romario last week as "lethal in the area, one of the best forwards I ever saw." It will be 20 years ago next summer since the legendary forward helped Barca to a La Liga title before becoming player of the tournament at USA 1994 as Brazil won their fourth World Cup title.

That is the aim now for Neymar. We should have a better idea by Christmas whether he is up to it.