Messi: 10 years of Barcelona's brighter star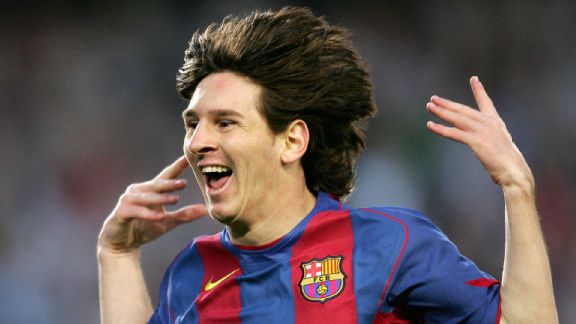 Lluis Gene/Getty ImagesA youthful Lionel Messi burst onto the scene at Barcelona a decade ago.
Lionel Messi has, deservedly, become a household name all over the world thanks to his unbelievable skills on the football pitch and low-key, humble attitude off it. While it was clear that the 16-year-old who made his Barcelona first-team debut at the Do Dragao stadium against Porto a decade ago had plenty of potential, the truth is that nobody could have predicted the legendary impact that the tiny Argentine wizard has made in the club's history since.

- Ledwith: Too much football for stars
- Ronaldo: Pique hits out at negativity

Back in 2003, the Blaugranas were in the middle of ongoing institutional stability. In Joan Laporta, the club members had just elected a new president who was eager to prove his supporters right. His early decisions to appoint Frank Rijkaard as coach and invest heavily on the signing of Ronaldinho from PSG seemed risky at the time but, fortunately, they both played a key role in the building of a new Barcelona which will, forever, have a preferential place in every Cules' heart.

Such drastic changes in the Catalans' structure, together with the huge amount of spotlight that Ronaldinho attracted thanks to his magical football and charismatic aura, helped the young Messi develop as a talented sidekick rather than a front-page hero. Training alongside other attack-minded professionals such as Samuel Eto'o, Deco, Ludovic Giuly and Henrik Larsson on a daily basis certainly didn't hurt, either.

His stellar performance at the Joan Gamper trophy against Juventus in August 2005 signaled the decisive and final step in his development, a glorious graduation from the La Masia youth system. The Camp Nou faithful witnessed how the young Argentine managed to shake off each and every one of his markers to, quite literally, rip the Italian champions apart with a jaw-dropping display of raw quality and extraordinary maturity despite his only 18 years of age.

From that moment on, Messi became unstoppable, the perfect partner for the ever-smiling Ronaldinho and the ruthless Eto'o up front. Coach Rijkaard was wise to exploit the youngster's blistering pace, dynamism and dribbling skills by placing him as a wide winger with the freedom to cut through diagonally while running at defenders.

Messi's hat trick against Real Madrid (which included a last-minute equaliser despite Barcelona being down to 10 men) and his Maradona-like slalom against Getafe in 2007 will forever be part of Blaugrana history, early signs of a glorious future.

Unfortunately for Leo, though, the earlier part of his professional career was hit by a recurring string of muscular injuries which could have seriously threatened his future if not treated properly by the Blaugrana medical services. Such series of difficult blows could have been too much for the youngster to deal with, but, luckily, his hard work and determination when on the sidelines allowed him to come back even stronger.

The arrival of Pep Guardiola changed Messi's career for the better. The newcomer decided to sell Ronaldinho to AC Milan on the cheap as, reportedly, the Brazilian's attitude off the pitch left quite a lot to be desired. Most importantly, the departure of his former role model enabled Messi to grow in importance within the squad, making him the key focus of the team's attack during the most successful years of the Catalans' history.

Under Guardiola, the talented Argentine was placed in a more central position as a so-called false striker with the freedom to roam around the space in front of Barcelona's attacking midfielders, but far enough from the opponents' centre-backs to cause mayhem in tight spaces. His individual goal-scoring record grew dramatically as a result, but most importantly, he also helped Barcelona reach the top spot of virtually every competition entered by practising the best football on the planet.

In sport, as in life, nothing lasts forever. Especially during the past two seasons, it has become increasingly clear that rival defences have progressively learned how to stop the pass-and-move philosophy which made Guardiola's team so successful.

Inevitably, Messi has been forced to vary his game slightly in search of the next step of his evolution as the world's best player. Despite being currently sidelined due to yet another string of muscular injuries (as it happened earlier on in his career), I am convinced that Messi will not only recover his former fitness and explosiveness, but also add a new dimension to his game in order to continue to dominate the sport in years to come.

He has 327 goals and 112 assists in 395 appearances, making him Barcelona's all-time highest scorer in official competitions. He has 21 collective trophies at club level including three Champions League and six La Liga trophies. Four Ballon d'Ors and a possible fifth one on the way. The list of individual records is already endless and, at only 26 years of age, it is likely to continue to grow in the future.

Gracias, Leo.

The Quote -- "I'm sorry for those who want to take Messi's throne. He is the best in every sense of the word. He can do whatever he wants, whenever he wants." -- Pep Guardiola.

PS: On a personal note, I'd like to thank the more than 103,500 Cules who follow my columns at @TomasESPN and Barcablog Facebook. I would have never, not even in my wildest dreams, considered having so many people around the world regularly reading my thoughts about my hometown club. Gracies a tots!