Too much football for Barca's star performers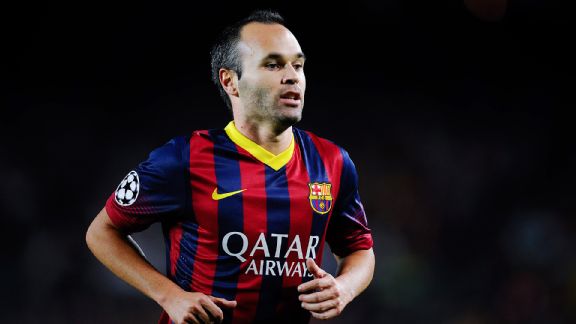 David Ramos/Getty ImagesIniesta will have to cram in games in Equatorial Guinea and South Africa.
Money makes the world go round, as the song tells us, and in football we became used to that fact a long time ago. While many fans hanker back to a golden age when players caught the same public transport to the game as they did, those days are over and we now live in a very different age.

Barcelona, as one of the biggest clubs in the world, are of course no strangers to high levels of finance and attempts to monetise as much of its brand as possible.

Indeed the Camp Nou has been turned into a highly successful tourist attraction, complete with the Barca Museum, which is now the second most popular in town with over 1 million visitors annually -- and well worth a visit it is.

- Hunter: How Iniesta almost missed out
- Gerard Pique hits out at negativity
- Messi injury: The blame game must stop

Club shops dotted throughout the city entice tourists and fans to part with their hard-earned cash for memorabilia, while newsstands sell two separate daily newspapers that report almost solely on the club, plus another two that deal mainly with archrivals Real Madrid.

Football sells, we know that, television channels around the world need it to push advertising space and subscriptions while brands want to align themselves with it and its major clubs to push their products.

Barcelona are no exception, with a hugely successful sponsorship roster topped this year by Qatar Airways, who are said to be paying around €30.5 million for the pleasure of having its name on the club shirt.

An international strategy means agreements have been reached in different territories to extend the Barca brand, so for example last month Saudi Arabian bank Samba Financial Group became the club's official bank in Saudi Arabia.

On the pitch, football is in the talent business and that comes at a price. While Barca can be lauded as one of the game's great producers of talent through La Masia, they still need to compete to keep that at the club and reinforce with the best players from around the globe.

While money talks, like much of the Western world Spain is currently going through tough economic times, recession is for many a reality that has no imminent end.

With World Cup 2014 around the corner we will soon all be told to forget economic pressures and enjoy the greatest sporting event in the world; protests from a cheesed off Brazilian population permitting.

In preparation for this global party, current world champions Spain have again qualified unbeaten from their group. This weekend La Roja continue preparations that have seen friendly games against opposition such as Haiti, Panama, Puerto Rico and Saudi Arabia in the past year.

Now another free weekend of La Liga takes the Spanish national team away again, to hawk its stars, including a number of Barca players, first in Equatorial Guinea on Saturday and then in South Africa four days later.

The game in the capital of the former Spanish colony, Malabo, is courting controversy after it was hastily arranged after matches against Gabon and Angola were turned down.

Amnesty International and various Spanish political parties have called on Spain to postpone the fixture because of the human rights situation in a country that has been run as a dictatorship by Tiadoro Obiang since 1979.

In the same week that Lionel Messi has broken down with his fourth and most serious muscle injury in 2013, Barca players Victor Valdes, Pedro Rodriguez, Sergio Busquets and Andres Iniesta will be asked to cram two extra games into an already busy season packed with other, more important, football.

Messi is of course susceptible to the commercial pressures football brings and extra games in Saudi Arabia for Argentina in the past year, as well as a tough schedule to help qualify for the World Cup, would have been in addition to the trip to the U.S. to play friendlies against Ecuador and Bosnia-Herzegovina in the next few days if his muscle injury did not flare up.

Meanwhile Neymar, Adriano and Dani Alves -- just back last month from a trip to Asia with Brazil for games in South Korea and China where they played Zambia -- are also in the U.S. for games against Honduras and Chile.

Back in Barcelona, Tata Martino had seven players in training Thursday, and that would have been less were it not for the injuries to Fabregas and Messi and the fact that Xavi Hernandez has been granted a well-earned rest.

It is fairly obvious that money and politics dictate why many of these games are played, even if the Spanish Federation insists it will not command a fee from Equatorial Guinea, whether money is involved we will never truly find out.

In a weekend when all eyes will be on key playoff ties starting Friday, such as Portugal and Sweden and Ukraine and France, do the world's top stars really need to be involved in these pointless exercises?

Would it not be more beneficial for the spectacle of the World Cup if its main protagonists, the athletes, were allowed to put their feet up at home in the next week, would it also help the attractiveness of the major leagues that will be back in action next weekend, with Barca entertaining Granada?

With the controversy of what will happen to the world football calendar for the Qatar World Cup in 2022 -- with its possible shift from summer to winter -- still to come, there are many battles between club and international football to come.