Barcelona show superiority despite Messi injury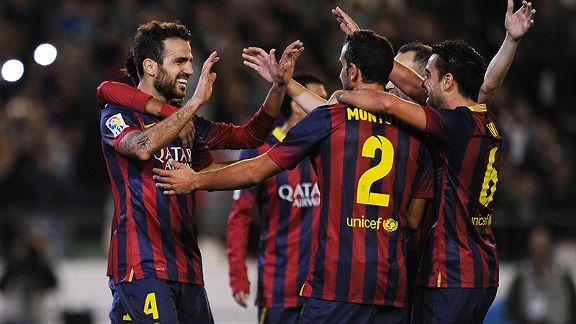 GettyImagesBarcelona celebrate after Cesc Fabregas ensured they took maximum points against Betis.
Barcelona achieved a valuable 1-4 win against Betis at the Benito Villamarin on Sunday to move three points clear of Atletico Madrid. Neymar, Pedro Rodriguez and Cesc Fabregas (brace) scored the goals for the Blaugrana, who enjoyed 57 percent of possession, created 11 goal-scoring chances and attempted 10 shots, eight of them on target.

Key 1 -- Unbeaten manager Gerardo Martino continued with his strict rotation policy and included many players in his starting XI who, for whatever reason, haven't enjoyed as much playing time as they would have hoped. Marc Bartra, Martin Montoya, Carlos Puyol, Alex Song and Pedro all had a point to prove to be considered once matches of a bigger magnitude come in the future.

Despite the hosts' electric start, Barcelona's quality up front was, ultimately, too much for Betis to handle. The double blow suffered by allowing two goals within a couple of minutes midway through the first half, together with their own limitations in attack, became a mountain far too high to climb for Los Andaluces.

Neymar found the net once, but the truth is he could have easily improved his goal tally had he shown a bit more composure in front of the opponents' keeper. Despite that, he continued to show how well he has adapted to his new team by always offering a dangerous attacking alternative from the wing.

Pedro had a better game after spending much more time on the bench than he would have wanted. His best individual effort saw him beat the whole of the Betis defence with impressive raw speed in the counterattack. I enjoyed the fact that, despite having a couple of passing alternatives at his disposal, El Canario netted his sixth goal of the season with a slightly selfish finish -- which felt like a momentary return to his former ultra-confident self.

Cesc Fabregas was also stellar and, with two goals and two assists, became the incisive attacking leader Barcelona needed. The dynamic playmaker was instrumental in finding the gaps in the -- let's face it -- below-par rival defence, especially after giving away the first two goals.

Barcelona have achieved 15 wins and are yet to be defeated in 19 matches. In fact, Martino is actually improving the records of his high-profile predecessors (Pep Guardiola and Tito Vilanova) at this point. While debate about El Tata's style may continue, the raw truth is that his results are impeccable.

Key 2 -- Lionel Messi came off after just 21 minutes due to yet another muscular injury, this time in the femoral biceps of his left leg. For the third time this season, the quadruple Ballon d'Or winner will have to undergo tests in Barcelona before deciding the next steps to take towards recovery.

La Pulga has only played 12 out of Barcelona's last 30 matches in full. It would be easy to say that the Argentine star is just not having that much luck this season. However, I believe that spending the whole summer touring the world playing friendlies didn't help much.

Having said that, all Cules can do at this stage is stand by the best goal scorer in the club's history and hope for a full recovery before the decisive stages of the season.

Luckily, and thanks to the international break, the next Barcelona game (at home against Granada) is two weeks away. Personally, I would give La Pulga as much time as needed so that he can recover from these ongoing injuries once and for all.

Let's hope Leo gives his body enough time to fully heal before making a comeback. Martino should certainly put his foot down this time, as we all know that Messi's eagerness to help the team as soon as possible isn't always the best solution.

Key 3 -- I felt that, once again, Bartra showed that he can now be considered as a true competitor for the spot alongside Gerard Pique at centre-back. The Catalan youngster was constantly making up a lot of ground to hide others' mistakes, always generous with his defensive effort and impressive when tackling.

Bartra is now even showing considerable leadership by correcting others' movements despite having enjoyed less playing time than his performances so far this season deserve.

Key 4 -- Alex Song was rock-solid in the absence of Sergio Busquets. Sure, the Cameroon international may not have the Catalan's flair when on the ball, but his power and relentless attitude make him an extremely valuable asset to the squad.

In fact, the Blaugranas' first goal came as a direct result of Song recovering then delivering a ball in the team's attacking half -- a clever play that ultimately unbalanced the game and enabled Martino's men to continue unbeaten at the top of the table after yet another match in the domestic Spanish league.

Key 5 -- Despite the seemingly comfortable final scoreline, Victor Valdes was in fact decisive once again in the early stages of the match with another couple of world-class saves when it mattered the most.

Despite not adding his 12th clean sheet in 19 matches this season (thanks to the highly ridiculous penalty Dani Alves gave away in injury time), the Catalan keeper was instrumental. Barcelona will definitely miss him next season but, as I have argued before, those who don't want to defend the Blaugrana colours should just leave after raising enough funds for the club to find a replacement.

The quote -- "Betis forced us to back up and we suffered, but despite that we created goal-scoring chances and convert them. Fabregas' goal killed the game." -- Martino.

79,000 Cules follow Francesc Tomas at @TomasESPN and Barcablog Facebook for news and opinion notes on Barcelona.