Neymar is welcome but not essential for Barcelona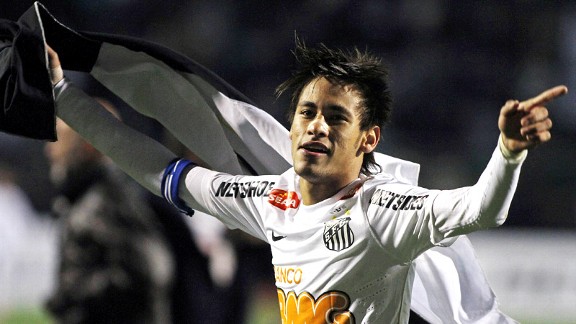 GettyImages / Rahel Patrasso/AFP/Getty ImagesNeymar is unquestionably a magical player, but is he what Barcelona needs most?
Neymar, Neymar, Neymar.

The Catalan media continues talking about the Brazilian youngster on a daily basis and to be honest, it's making me slightly bored of the story despite the fact that he is a very promising player who may very well be the next big thing in world football.

The latest rumor is that Neymar rejected a ludicrous PSG offer in August as he has already agreed to join Barcelona next summer after signing a 10 million euro pre-contract back in 2011. The report goes on to explain that this mysterious, hidden document supposedly includes a 40 million euro fine that Neymar would pay Barcelona if he chooses to stay at Santos or move to another club.

Not surprisingly, Santos president Luis Alvaro de Oliveira Ribeiro was quick to deny such claims in his usual assertive fashion: "Neymar is happy, he is playing well and more importantly, he is paid very well. Santos don't need to sell players. The economic situation of the European clubs is bad, they don't have money. If it wasn't for the Russians and Arabs, their situation would be even worse."

While the Catalan press seems quite convincing given the level of specific detail, I don't know what to believe. I doubt that they're being entirely truthful but the fact that Neymar's current contract with Santos expires in July 2014 makes the story more credible, as he would only have one more year remaining by next summer.

After only signing Jordi Alba (13 million euros) and Alex Song (19 million) this summer, Sandro Rosell has famously saved a considerable chunk of Barcelona's self-imposed 50 million euro transfer budget that will be added to next season's bankroll. This alone puts the club in a position of being able to afford a big signing if so desired.

In other words: Barcelona will be able to buy Neymar despite his 65 million euro buyout clause if we wish to do so.

Does Barcelona need Neymar?

At only 20 years of age, his 116 goals and 41 assists in just 195 appearances for Santos underline the point that he is a special player who would undoubtedly add an extra spark of magic to our attack. Fresh, confident and hungry for success -- a bonus for any team.

Signing Neymar also makes sense in terms of revenue and merchandising. The talented youngster is a national idol in Brazil, the next country to host both the World Cup and Olympic Games. I'm pretty sure that the Barcelona board is already relishing the opportunity to boost sales in the emerging Brazilian market.

Regular readers may remember how I have been critical of Neymar in the past as a result of his inability to decide whether he wanted to join Barcelona or Real Madrid. In recent months though, the Brazilian forward seems to be more inclined to praising our team.

After being destroyed 4-0 by the Blaugrana in the Club World Cup final, Neymar explained: "I don't know if Barcelona are unbeatable, but they are the best team in the world. Barcelona taught us how to play football." More recently, he has made an effort to publicly praise Lionel Messi ("Me? No, the Ballon d'Or is for Messi, who is the best in the world, there is no one like him, and he is the greatest!") and Andres Iniesta ("I really like Iniesta, he's a sensational player").

I keep wondering whether that huge amount of money would be better invested elsewhere though. Neymar has the potential to become one of the world's greats, but Barcelona already have Messi, David Villa, Pedro, Alexis Sanchez and Cristian Tello upfront --plus the very talented Gerard Deulofeu currently excelling for our B team.

The key question is: Would Neymar be humble enough to understand that the Barcelona system revolves around Lionel Messi and be satisfied with a starring role alongside (and not above) him? It remains to be seen...

If you look at our defense though, the situation doesn't look nearly as promising with players constantly picking injuries and the regular use of midfielders out of position as cover.

I honestly feel the Barcelona board should have given Tito Vilanova the central defender he so insistingly requested but then again, Neymar could bring back that magical Brazilian touch that his compatriots Ronaldinho, Rivaldo or Romario have given our club over the years.

Have your say

I welcome and appreciate all respectful feedback.

Would you like Neymar to join Barcelona?

Do you have any other important points you would like to share with us?

As regular readers have realized, I enjoy engaging in debate using the ESPN conversation gadget. Over 30,500 Cules follow all my posts and comments at @Barcablog_com and Facebook already. Feel free to join if you would like to keep updated.