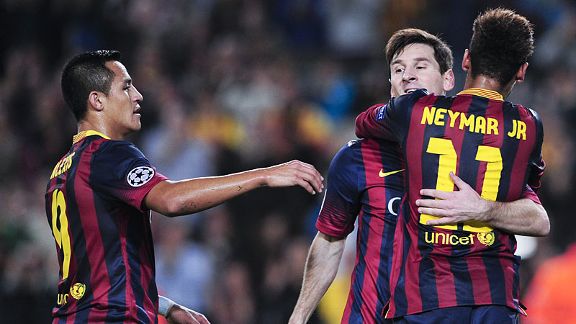 GettyImagesBarcelona celeb Lionel Messi's penalty against AC Milan.
Real Betis should be wary ahead of their home game against Barcelona on Sunday. After 18 competitive games without defeat, all the talk this week has been about Barcelona improving.

First it was Xavi Hernandez, who surpassed Raul Gonzalez as the player with the most wins in Champions history following the win over AC Milan on Wednesday, afterward confirming to TV cameras, "We can improve."

The feeling is Barca are not firing on all cylinders -- surely a positive thing for a side winning so many games. Andres Iniesta had to point out the club's achievements so far this season when questioned further Thursday.

The midfielder could not even enjoy an evening out at the premiere of his new film "Who Killed Bambi?" (honestly!) without answering questions about Barca's play and whether there was a crisis.

He answered correctly. "There is none," he said, almost laughing. "We are top and through to the last 16 of the Champions League, everything can be improved and we are trying to do just [that].

"We all try to make the team better. In the end, the important thing is that people trust in what we are doing, because we have not changed anything, it's the same as before with a few extra things added."

That same press pack must have been at a Nike event earlier in which Adriano Correia was asked the same.

"We want to play better than we are currently. We are lacking just a bit more to reach the highest standards and feel totally comfortable," the full-back said.

So where and how can Barca improve? It's worth remembering that Gerardo Martino has presided over 14 wins and four draws since beginning his reign as coach this season.

While Neymar has settled in well, he could improve on his record of three goals in 10 league appearances and none in the Champions League, and he undoubtedly will.

Martino has been lauded for getting better performances out of Alexis Sanchez and Cesc Fabregas. The former has most certainly given his best performances in a Barca shirt this season, and together they have added nine league goals between them.

While the defence was an early-season worry, it has proven to be steady and up to the job. Barca have only conceded 10 times in those 18 games, and while Victor Valdes has been crucial in goal, Carles Puyol's return from injury will only give more strength at the back.

Both the players and Martino have consistently insisted that any change in the playing style has been very slight and to little effect. Adriano implied as much again Thursday. "Our philosophy is the same as it always has been at Barca, but we need to improve our possession of the ball, we still lose it at times," he said.

Another facet to improve is from dead-ball situations. Sergio Busquets' header Wednesday was only a fourth goal all season from those positions, including a penalty against Milan, while nothing has come from 47 corners in the league.

However, Martino has explained that away by claiming the side opts for short corners so it can keep control of the ball. Which goes back to the question of style. Possession for Barca is everything, more important than slinging a corner over in the hope of someone getting a head on it.

Xavi also commented this week, "We are not the kind of team to get up high from dead balls. We don't practice that, in fact we practice more taking short corners and not crossing them in."

What could improve are the questions from the press corps. Come Friday and the press conference for the Betis game, Xavi had to face more enquiries about Barca's philosophy this season.

"I don't know how to explain it," he answered, obviously bored with the debate. "Our philosophy is to play well. In no circumstances do we think about changing our style, if we did that we'd be wrong."

Xavi is one of a trio of key players to have come in for some light criticism. Obviously the highest of standards are hard to maintain, and if he, Iniesta or Lionel Messi are able to improve steadily over the season, and remember this is a World Cup year, then Barca will be close to glory in all competitions.

In a week of constant talk of improvement, let's leave the last word to Xavi before his side do the talking on the pitch at Betis on Sunday.

"Apart from a draw at Osasuna, our results are great, but there is room for improvement, especially as a team," Xavi said. "I understand there is criticism because we are not yet at the excellent level of past seasons. We have to look at ourselves and think how we can improve."

Scary words for Betis and any other side that has to face Barca any time soon.