Martino 100: How have Barcelona changed this season?
Gerardo Martino has recently celebrated his first 100 days in charge of Barcelona. While it is clear that it is still early in what will hopefully be a long-term tenure as manager, the Argentinean tactician can be proud of his achievements and positive results in this considerable short amount of time.

- Ledwith: Title a three-horse race
- Ball: Derby days take centre stage in Spain

El Tata has led the undefeated Blaugranas to 13 wins and four draws so far. The team led La Liga by one point over a solid Atletico Madrid and are comfortably ahead of Real. Having a six point advantage over their archrivals at this stage was certainly not expected at the beginning of the season, considering the huge investment that Florentino Perez made for Los Blancos once again during the summer transfer window.

To be honest, the essence of this Barcelona team remains the same. The love for beautiful passing football and winning while providing the fans with the very best tricks and skills in every match hasn't necessarily changed that much. Having said that, Martino has very clearly explained that playing good football must be a mean to a more relevant end: winning football matches.

Under the Argentinean manager, there just simply isn't a need to pass the ball from left to right in excess of 25 times before attempting a risky through-pass. As long as there is a space within the rival back line, players are now urged to attempt to break into space with either diagonal runs, quick rotations or clever one-two combinations.

Long passes have also been introduced. Under former coaches Pep Guardiola and Tito Vilanova, these were seen as an absolute last resort only to be used if under extreme pressure. El Tata has instructed his players to play more direct football and look for the open man, regardless of how far away on the pitch he may be.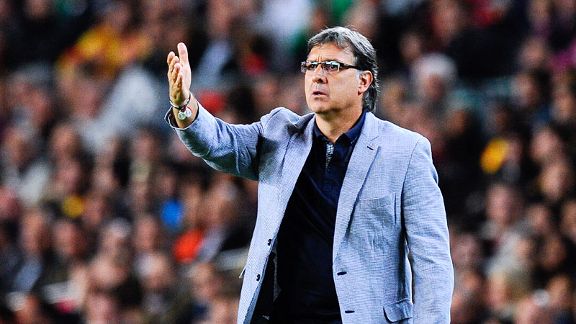 David Ramos/Getty ImagesGerardo Martino has led Barcelona to the top of the La Liga table in his first season in charge of the club.
The current manager, faithful to his Argentinean roots, wants his players to defend relentlessly whenever dispossessed. A hugely successful trait under Guardiola, Barcelona's lack of decisive desire to regain control of the ball as soon as they lost it was a huge step back under Vilanova, especially during the second half of his one and only season in charge. While there is still plenty of work to do, it is obvious that Martino is on the right track on this point.

Surprisingly, El Tata closed the never-ending chase for a new centre-back by refusing to sign anybody and trusting the current squad members instead. The brave move instantly gave him the trust of his defensive players who have, fortunately, been able to respond quite well up to this point. The 10 clean sheets that on-form Victor Valdes has been able to keep are not only a direct result of his own individual efforts, but also the more solid back line in front of him.

The arrival of the dynamic Neymar and the rebirth of Alexis Sanchez has given the Blaugrana attack a much-needed facelift. The Brazilian youngster has taken virtually no time to adapt to his new club and is already a key attacking option who established midfielders such as Andres Iniesta or Xavi Hernandez constantly look for in times of need. The self-proclaimed Chilean jugadorazo has rewarded his new manager's trust with an even greater amount of intensive effort and, most importantly, decisive goals that have taken Barcelona to the very top of the Spanish league.

Unavoidably, the rise of Neymar and Sanchez has had an impact on Lionel Messi's game. The gifted Argentinean has suffered from muscular injuries in the earlier part of this season and, by his own admission, is still far from his optimum physical condition. Martino's decision to take him off the central striker position toward either the wings or deeper into midfield has freed him from some of his markers but, at the same time, has also taken his area of influence farther away from the opponents' goal.

Personally, I feel it's only a matter of time until Messi recovers his former confidence, pace and acceleration and, as soon as that happens, he will become as decisive and focal to the Blaugrana attack as he has been for so many years. Having said that, the freshness of Neymar and the poignant Sanchez alongside him will, rightly, take a fair share of goalscoring responsibility off his shoulders.

Martino has also established a clear rotation policy that provides all players, regardless of their status within the squad, with scheduled rest. The regular inclusion of former nonstarters Cesc Fabregas, Adriano, Alex Song or Marc Bartra has brought a much-needed breath of fresh air that will, hopefully, ensure the manager has many more confident, reliable options when the decisive games of the season come further down the line.

On this point, I'd like to add that I would love to see more of Cristian Tello and Martin Montoya, as they have already proven to be more than capable of performing at the required standard when needed. Personally, I believe Tello to be one step ahead of Pedro in terms of raw speed and ability to make an impact as a power sub.

Barcelona obviously haven't really won anything of relevance this season (the Spanish Supercopa is little more than a glorified summer friendly, to be honest). However, there are early signs of a more robust team defensively that is capable of transitioning faster and less predictably into attack when needed. Sure, there is still room for improvement in many areas but, with such obvious desire to overcome challenges, I am certain the best is yet to come.

The incredibly positive results so far will surely give coach Martino enough time and credibility to implement his ideas in more depth and, hopefully, take Barcelona back up to the very top of Spanish and European football this season and for many years to come.

Next up, the vital match against AC Milan in the Champions League -- another chance for Martino's men to prove that the various changes their new coach has introduced this season is the right way forward.

The Quote -- "I have a lot of respect for the club and players of Milan. If you don't play well, they can hurt you. We need to have a very good game to win the three points. There's room to improve and I don't have any doubt that we can do it, both collectively and individually. I believe that our collective form influences the individual form of the players." -- Martino.

Have your say

I welcome and appreciate all respectful feedback.

For more news and opinion notes on Barcelona, follow Francesc Tomas at @TomasESPN and Barcablog Facebook; 63,000 Cules have already joined.