Barcelona gear up for derby versus Espanyol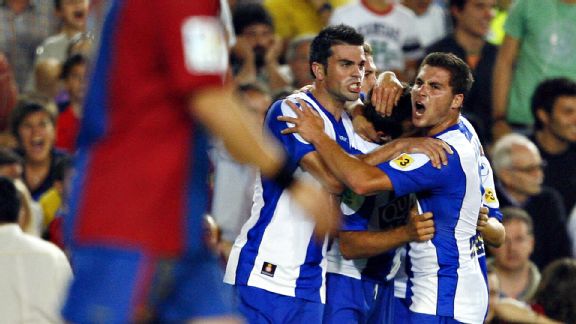 Lluis Gene/AFP/Getty ImagesThe victories at the Camp Nou have been few and far between for Espanyol. But the famous "Tamudazo" of 2007 serves as a reminder that anything can happen in this derby.
It must be hugely difficult to be an Espanyol fan. To rival a side like Barcelona has to be one of life's most unthankful tasks, but they have a chance for a bit of glory when the two sides meet.

Not only do they have to contend with the glitz, star signings and trophies of the near neighbours, but they must also accept that locally in Barcelona and Catalunya, nationally in Spain and on an international level, it is Barca that will always attract the attention and focus of the press.

- Report: Messi distanced from tax issue

In Spain, the big two hog so many headlines it is often difficult to find out what is happening elsewhere. Watching the daily news bulletins and late-night football chat shows, you would be forgiven for thinking that only Barca and Real Madrid matter.

El Mundo Deportivo and Sport, Barcelona's two main football dailies, make little effort to hide any bias to Barca. They know which side their bread is buttered, and Barca sells.

Atletico Madrid fans suffer from the same problem in the capital. Marca and As are so Real Madrid obsessed that Atletico fans find more emphasis on their side in Barcelona-based El Mundo Deportivo than anywhere else.

The local rival is the first of three hurdles in the next week that stand between Barcelona arriving to the next international break in massively high spirits.

League wins on Friday and next weekend at Betis, sandwiched by at least a point against AC Milan on Wednesday in the Champions League, will leave the club in a fantastic position going into a blank week club-wise.

Fans of Los Periquitos, or the Budgies, as they are commonly known, have suffered at the hands of their bigger brother in recent years. In the Camp Nou, Barca has won the last four derbies without conceding a goal, the last two finishing 4-0.

Lionel Messi scored all four in the final game two seasons ago in a night remembered more poignantly for being Pep Guardiola's last as Barca coach.

Ivan de la Pena, the former Barca youth team hero, was the hero in Espanyol's last win in 2009, when he scored both goals in a 2-1 win over the Blaugrana.

The little Buda -- as he was also known -- is one of a number of players who have pulled on the shirt of both sides. Other players in recent years include Joan Verdu, who started at Barca before becoming an important player across the city, and brothers Oscar and Roger Garcia, who both started at Barca before spells at Espanyol.

One of the problems Espanyol currently have with Barca is what they consider to be the poaching of their better youth team players. This summer, four young players moved across the city, much to the anger of Espanyol.

Since De la Pena's goals, Espanyol have only two home draws to show from the "derbi." What all Espanyol fans do remember fondly is the climax to the 2006-07 season, when a late goal by club icon and all-time top goal scorer Raul Tamudo levelled the game 2-2 in the final minute in Camp Nou to hand that season's title to Real Madrid.

Indeed, Espanyol have always had a special relationship with Real; they share a common enemy and take great delight in any Barca mishap.

Barcelona fans, meanwhile, point to the fact that their rival plays outside of the city in Cornella de Llobregat, close to Barcelona's airport, as justification to being the only club in the city.

Espanyol played in Barcelona's Olympic Stadium between 1997 and 2009 until the move to Cornella after leaving their historic home for 76 years in the Sarria district of the city.

Whatever the different arguments between the two, there is no doubt that this is a local derby that means very much to both sides, and that means, like all derbies, there is an unpredictable side to the events that unfold.

Tata Martino will savour it for the first time. Until now, he has come through all his new tests with flying colours, and on the eve of the game, he underlined his rival's combative character and said he expects "an aggressive Espanyol and a battle."

A rest is just around the corner for the Barca squad. Take care of Espanyol and they are two games away from that, but it won't be easy. Derbies rarely are.

Barca's home form this season, in which they have won all five league games, scoring 20 and conceding five, is another reason why Espanyol have a mountain to climb Friday.

Indeed, Barca have won their last 20 league games at home, but this is football where the unexpected regularly happens.