Cesc shoots down Celta Vigo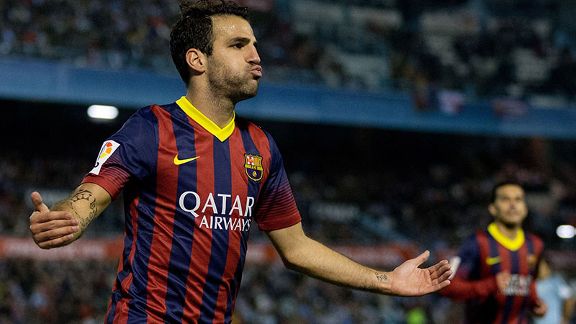 GettyImagesCesc Fabregas sealed the win for Barcelona with a goal of his own.
Luis Enrique was considered a brave man a long time ago when he crossed the divide to sign for Barcelona from Real Madrid as a player. Nothing seems to have changed for him as a coach after seeing his Celta Vigo side out to go head-to-head with Barcelona on Tuesday night.

The 3-0 win perhaps flattered Barca, who again needed good work from Victor Valdes to guarantee a win which moves them four points clear of Atletico Madrid and a staggering nine ahead of Real Madrid, having played a game more than both sides.

- Celta Vigo 0-3 Barcelona

Don't get me wrong, the Blaugrana fully deserved the win, and although he did not manage to score, Lionel Messi, with so much space to work in, appeared back to his mazy dribbling best.

An early Alexis Sanchez goal and one and a half from Cesc Fabregas in the second period were enough to seal the victory -- more of that in a minute. The game provided useful run-outs for those two and other players on the edge of the starting 11 such as Alex Song.

Enrique, the fitness fanatic who took to Triathlon and Ironman competitions when the buzz of being a full-time player came to an end, is trying to cut his teeth as a coach at midsized Celta through a Barca-based style of attacking football based on possession and sharp passing.

An end-to-end game like this one is normally won by the side with more quality and that is how it turned out, but Celta should be safe this year if they persevere with their slick play.

Another of Enrique's idiosyncrasies has been to erect scaffolding at the club's training ground that he calls a "technical observations station" from which he views the movement of his players from above. His methods appear to be slowly paying some dividends.

The way Celta traded blows with Barca was in sharp contrast to Real Madrid's use of its resources on Saturday, and after the 5-0 away win at Malaga on Saturday, they were feared and respected by Barca on Tuesday, for the first half at least.

Barca made five changes from the side that beat Real Madrid and left Xavi, Iniesta and Neymar on the bench and Pique back in Barcelona.

A full house in Balaidos enjoyed their team's approach and it could have been closer if Gustavo Cabral did not make an early mistake to gift Cesc a run on goal. Yoel saved well but Alexis was quick to pounce on the rebound to add to his delightful chip on Saturday.

Alexis hit the foot of the post minutes later with a header and now has six goals this season for the club, capped off in his 100th game in a Barca shirt. They go with five more for Chile and the week has been kind to a player who is now showing his best form since arriving from Udinese.

Celta's ambition left so much space for Barca to play in that Messi could twist three times in the area on 28 minutes before shooting wide, but by this stage at the other end Celta had already tripled the chances Madrid had created in the first half on Saturday.

Just before Adriano limped off, replaced by Montoya, with a hamstring problem on 31 minutes, Valdes was quick to block a Rafinha strike after a lovely sweeping move from the Galician side and the game was finely balanced.

Valdes was called on again just before halftime to stop a strike from Alex Lopez and the home side must have gone in at halftime strangely inspired despite the 1-0 reverse in the score line. For Barca there was some consolation that they still hold the registration of Rafinha, Celta's best player.

Soon after the break Barca grabbed two more goals and the result was no longer in doubt. Messi and Song exchanged passes before the Argentinian laid off a pass for Fabregas to hit a first-time shot that curled in off the crossbar via Yoel's back. If the shot was not hit with such venom it would not have beat the keeper before going in, but that will not stop some spoilsports from taking the goal from Fabregas and marking it down as an own goal by the keeper.

Then Messi went galloping, attracting defenders to him before supplying Fabregas, who made no doubt over who got the third goal with a rasping left-footed drive. The former Arsenal man almost blushed afterward when it was suggested it was his best performance in a Barcelona shirt.

It certainly is good news for Barca to have him, Alexis and Song on song ... without forgetting another comfortable night for Carles Puyol and Marc Bartra at the back, so lots of positives all round.

Celta deserved a goal, Nolito smashed the bar with a free kick and the young substitute Santi Mina saw his goal-bound shot somehow blocked by Montoya, but they never changed their game plan all evening and contributed to the entertainment. Sometimes we forget that that is what sport is all about and Luis Enrique should be congratulated for providing some.