Ten keys to Barca's Clasico win
Although Saturday's Clasico was not the greatest of spectacles -- ultimately, it was a more tactical and less pretty contest than recent ones -- it served to give Barca an important three points, doubling their lead over Real Madrid at the top of La Liga.

Here are 10 key factors to Barca's victory.

Doing what they do best: As highlighted as crucial in this column before the match, Barca played with the tried and trusted style of play that most of these players have grown up with. It's a style ingrained on the club for decades that dictates that possession is everything. There was never any question of these players having the confidence and ability to carry it out. Xavi, as always, was at the centre of this -- how can he be replaced when his time comes? Tata Martino has arrived to continue implicitly with this philosophy and not much has changed, except an injection of quality.

Neymar delivers: The Brazilian clearly enjoyed his first Clasico, causing Madrid trouble down the left-hand side and coming up with the vital opening goal. He has blended in perfectly with the Barca system, quick to know when to attack and when to make a simple pass to help his side keep possession. He hit his goal a split second earlier than the Madrid defence anticipated and managed to thread the ball through two defenders past Diego Lopez and inside the post. His assist for Alexis Sanchez was the icing on the cake and he fully deserved his ovation when substituted toward the end.

So did Iniesta: As did Andres Iniesta, who was Barca's other top performer. Critics have been quick to write off the early-season form of the little man but on Saturday, he was brilliant. His sublime quick change of feet, from right to left, was enough to put off the retreating Dani Carvajal as he advanced toward the penalty area on 19 minutes. His timing to then switch the ball out to Neymar gave the Brazilian enough space to hit the first goal and, like most things Iniesta does, it was made to seem easy. Iniesta is back to his best and should never have been doubted in recent games.

- Hunter: Barca too good for Real
- Tomas: Neymar, Alexis tip the scales
- Report: Ancelotti bemoans penalty decision
- Rigg: Madrid left with 'what-ifs' after loss

A perfect game plan: Tata Martino got his tactics right and denied Real Madrid's attacking players any space to run into. It was an open secret that Gareth Bale was to start the game and Martino anticipated that well. With Cristiano Ronaldo posing a similar threat of speed and power when given space and time to attack, how Martino set his side up was key. Sergio Busquets did his usual job while Iniesta and Lionel Messi robbed more balls than usual. Madrid were choked, especially in the first half when they found it completely difficult to create anything. As such Ronaldo and Bale were often forced to come deep with their backs to goal to receive the ball.

Carlo Ancelotti, not so much: Despite the money spent on the side, Madrid's starting 11 and lack of any recognisable style of play curtailed their ability to hurt Barca. While Barca continue to deploy tiki taka, Madrid are still searching for an identity. What Isco and Asier Illaramendi must think on seeing Sergio Ramos played ahead of them in midfield is anyone's guess. Ancelotti defended his selection afterward, but he was the only one. Madrid's handling of Bale until now must be questioned, for example. It may take until the two sides meet in the league again to see a side comfortable with itself; by then it could be too late for Madrid.

Strong between the posts: When Madrid did break through Victor Valdes was there again to make some fine saves, five important ones in total. The pick was a close-range stop from Sami Khedira's shot in the first half, Madrid's best chance, and from a well-hit Ronaldo shot at the near post in the second half with the game finely balanced at 1-0 and Madrid at their most dangerous. He will be a big miss when he goes.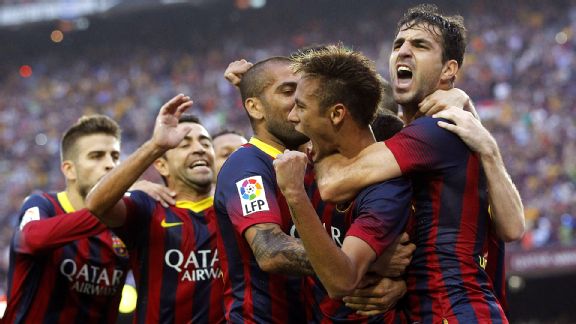 Angel Martinez/Getty ImagesNeymar was superb in his first Clasico as Barca deserved all three points.
A proper defence: The other defensive hero was Gerard Pique and it was crucial that he recovered in time to play. Martino raised a few eyebrows by pairing him with Javier Mascherano -- while Marc Bartra can feel aggrieved at being relegated again to fourth choice centre-back now that all are fit -- but Pique showed the class he was missing at times last season. The big defender was dominant in the air and on the ground and turned up to cause trouble in Madrid's area on a number of occasions, as is his custom.

Using the bench properly: Strength in depth and good substitutions at key times allowed Martino to introduce Alexander Song, Pedro and Alexis Sanchez when needed most. Sanchez will take the plaudits with his brilliant goal but the other two played important roles; Song in particular was asked to close the game down with 15 minutes on the clock and did just that, winning some important possession in the heart of the pitch.

Good fortune never hurts: A bit of luck, the rub of the green, call it what you want. On another day another referee could have awarded Ronaldo a penalty for his second-half fall in the box. Whether or not it was a penalty depends on your allegiances -- they have been given for similar actions in the past. Was it a push, or simply contact? Did the Madrid player make too much of it? He did in midweek in a similar situation and got a player sent off -- maybe his reputation precedes him. Khedira was equally furious in the first half when Adriano was not penalised for a handball after Valdes' save from the German, but it was quite clearly involuntarily as it first hit the prostrate player's chest before contacting his arm. Madrid fans will see it differently and on another occasion may get the slice of luck but no conspiracy theories here, though -- in general the refereeing (and indeed the players' conduct) was of the highest standard.

Home comforts: Home advantage and fervent support throughout always help in games like these. Barca did little more than what was expected and won at home by the odd goal, meaning that the Camp Nou played its part. The mosaic in support of Tito set the scene and helped lift the stadium and the team to three deserved and important points. Yet there is still much work to be done and this side needs to improve over the season to secure the title.