Style and confidence key to Barca success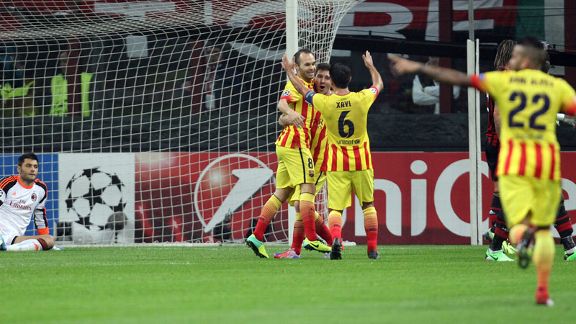 PA PhotosLionel Messi is mobbed after scoring another goal for Barcelona in Europe.
Barcelona go into the first Clasico of the season against Real Madrid on the back of two draws that has served to bring down to earth a side that had previously put together an amazing start to the season.

Apart from two ties against Atletico in the Spanish Super Cup, Barca had won all 10 of their competitive matches until the draws in Pamplona and Milan in the past week that have allowed some doubts to creep in about their play.

There is no better game to resolve the situation than against the old rival, who have not hit top gear themselves in early season, and an entertaining match is expected.

- ESPN FC Clasico video analysis:
Lowe | Rest Bale? | Predictions
- More Clasico video:
Martino: No clear favorite | Bale on fitness

The permutations could not be simpler: a Barca victory will double their lead over Madrid to six points at the top; a win for the visitors will reel in Barca's early-season advantage.

The Catalans need to quickly lock into the style of play that has been instilled in these players for years against a Madrid that, while effective, are yet to find their feet under new coach Carlo Ancelotti, especially away from home.

It is the simple standards of passing and possession that could be key. While talk of a change of style was briefly mentioned earlier in the season under Tata Martino, Barca's play has only been tweaked rather than radically affected.

Madrid struggled again in midweek to impress any superiority over their opponent, a 10-man Juventus, for the best part of 45 minutes, in a similar way to struggling away performances in the league at Granada, Villarreal, Elche and Levante so far this season.

Ancelotti also has doubts over his best attacking options, and Gareth Bale may be thrown into the game in place of an out-of-sorts Karim Benzema, thus enforcing a new system on Los Blancos.

Barca will have no such changes in system and can rely on a style of play that has worked so many times for them in the past.

However, this is a huge game in which nothing can be taken for granted. If an improved Madrid turns up it could be high-scoring, as Barca's main worry is in the centre of defence.

Gerard Pique is a doubt with a hamstring problem, and his fitness will be uncertain right until kickoff, which will cause more uncertainty in a Barcelona backline that has already been picked out as a weakness this season.

That criticism has been a little unfair if you consider that the leaders have the best defensive record and have conceded only six goals in nine league games. Pique has played in every minute of all but the game at Osasuna last week and will certainly leave a big hole if not fit for Madrid.


No sooner do all four centre-halves finally become available for a game than, as was the case in Milan, one may be lost. Carles Puyol's and Javier Mascherano's returns from injury in the past week carry a risk if either is expected to be at 100 percent on Saturday.

Mascherano improved on Tuesday against Milan after his early mistake gifted the Italians their goal, but Puyol's character and experience make him the safer bet if fully fit. Amid the defensive crisis, Marc Bartra has impressed alongside Pique and could save the club a lot of money in the long term if he continues with that progression and turns into a world-class player. The question is: Has he done enough to be trusted against Madrid? Certainly his height could be decisive and help Barca to defend set pieces where the likes of Sergio Ramos, Pepe and of course Ronaldo are dangerous.

Further up the field Martino will have to decide on an attacking lineup to break down the strong Madrid defence. As always, a lot will fall on the shoulders of Lionel Messi, who was back with a goal in Milan after a month out.

It is expected that Neymar will offer a twin threat, however it would not be a shock if Martino springs a surprise and asks him to start from the bench. A lot has been demanded from the Brazilian since his arrival and, while he is undoubtedly a great talent, this is the Clasico and Martino has shown he has a conservative side.

Tried and tested options are available to the Argentine coach in Pedro, Alexis and Cesc Fabregas. Martino also needs to decide if recent performances from Iniesta and Xavi merit a guaranteed place in the starting XI. He has fantastic options but difficult decisions to make.

Where Barca do enjoy the one distinct advantage over their opponents is in that style of play, developed to such an optimal level over the years. They have proved in the past that it can be too much even for Madrid and, if they have the confidence to parade it again on Saturday, they can double that lead at the top over their rivals.