Martino facing squad decisions in Clasico lead-up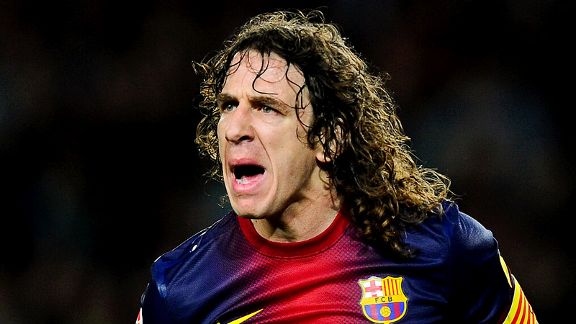 David Ramos/Getty ImagesCarlos Puyol is set to return from injury this weekend for Barcelona.
On the eve of the game at Osasuna on Saturday that starts a vital week for both Barca and rivals Real Madrid, all anyone seems to want to talk about are the two games scheduled for the following week.

With the first 'clasico' of the season looming, it is clear that this weekend's fixtures are already being overshadowed by the events in the Camp Nou a week from Saturday. Midweek Champions League games against Italian opposition for both sides mean that both Tata Martino and Carlo Ancelloti face their most demanding weeks yet in their new roles.

However, this Saturday, Barca attempt to extend their run of league wins to nine in what is always a tricky stadium in Pamplona, and they will have the advantage of knowing how Madrid fared at home earlier in the day versus Malaga.

- Tomas: New child guideline at Camp Nou
- Report: Puyol return thrills Martino

The aim of course is to go into next week's game with at least a five point lead intact, without of course forgetting about even closer rivals Atletico, currently level on points at the top, who also play Saturday evening at Espanyol.

A huge bonus for Barcelona is the return of Carles Puyol to the squad for the first time in seven months, along with Javier Mascherano and Lionel Messi.

While Martino will be thinking deeply of how to use his personnel over the coming games, Sergi Busquets prefers to knock out one of the game's biggest cliches.

"We have to take it game by game. Madrid comes next, but we have to beat Osasuna so things don't get tighter in the league. We know it is a difficult place to go, but we can't talk about the future if we don't win in Pamplona, and it would help us going into the Clasico".

Of course Busquets is right. He is a player and only has to think about what he is asked to do. What Martino must do is decide who will do what. Until now, squad rotation has been a key part of his tactics and now with added options, he will be looking to rest key players with Real Madrid and AC Milan in the back of his mind.

Martino made it clear on Friday that all those picked could feature against Osasuna: "At the moment, the future games do not come into our thinking. The best will play in Pamplona."

Given that comment, it is likely that Puyol will be asked to start either in Pamplona or against Milan as Martino seeks to rest Gerard Pique, the only outfield player to have played every minute in the league so far this season for Barcelona.

Another dilemma is what to do with Messi, who declared himself 'ready to return' on Friday alongside an Instagram photo of him striking ball. His stop-start season so far has been due to a nagging thigh injury which has kept him out of the past two games for Barca and international duty for Argentina.

Martino's previous cautious approach to team selection dictates that Messi will not be asked to play 90 minutes in all three games, and with Neymar just back from jet setting with Brazil in Asia, the two stars may be asked to share minutes ahead of Real Madrid's visit.

In other good news for Messi fans on Friday, reports claim the little magician turned down three separate offers from clubs in the summer and as a consequence Barca will be again increasing his salary before the end of the year to give the lad no reason to go anywhere else. Messi himself is reported to have no desire to listen to offers from other clubs.

One man who has no doubts about Messi is Diego Armando Maradona, who told La Gazzetta della Sport on Thursday that his compatriot is, for him, the best player in the world.
"Ronaldo shoots better, but Lio (his name for Messi) is the number one ahead of Ronaldo, then Neymar, Balotelli and a few more. Messi can go past five opponents when he wants and Ronaldo can't".

The watching world should get its first taste of both this season on the same pitch next Saturday, two days before the list of players to be considered for the Ballon d'Or will be released.

Before then, Messi has some work to do to help Barca potentially go eight points clear of Madrid and all but seal qualification for the Champions League for the knock out stages.

Martino's job is to decide for Messi how much work that will actually be.